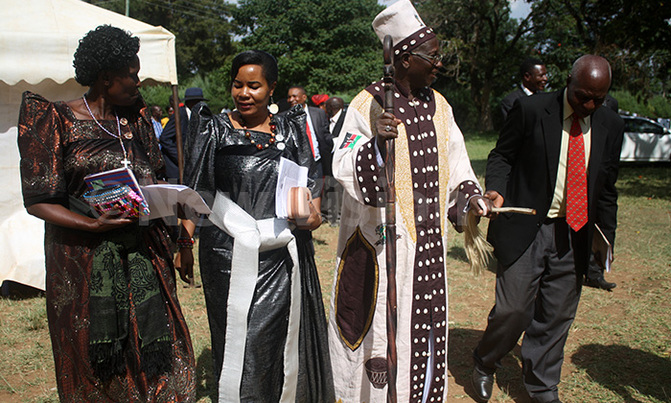 "People that attempted to impeach me are conservative thinkers and they need to go back to school to widen their thinking capacity." Mushikori said.
CULTURE
MBALE - Bamasaba Cultural institution leader (Inzu Ya Masaba), Bob Mushikori has clashed with the speaker of the institution Nelson Wedaila, who attempted to impeach him, telling him to go back to school to enhance his reasoning capacity.

Mushikori's made the remarks as he delivered his speech during the opening day of the first ever General Assembly of Bamasaba of Kenya and Uganda held at Mabanga Agriculture Training Centre in Bungoma County in Kenya.

"People that attempted to impeach me are conservative thinkers and they need to go back to school to widen their thinking capacity. I am very sorry for using such language before you my subjects but its describing them that way." Mushikori said.

"These imposters are greedy and fight hard to penetrate into the institution, steal institution property that includes Mbale UPDF Barracks land, they do not want to work, please go back to school." he added

Mushikori encouraged his subjects to spend time and do whatever it takes to take our children to school, adding that his critics have been able to shake him making him think positive and straight.

Mushikori told the delegates assembly that his efforts to fight and protect the institution's property has created more enemies, adding that the move to impeach him was masterminded by politicians and other some Mbale district local government leaders.

"I thank Kenyan and Busano delegates that rejected the move to impeach me (Umukhuka), they took a wise decision and have a clear vision for Bamasaba." He said.

Recently a team headed by the Bamasaba cultural institution speaker, Nelson Wedaila, attempted to mobilize other delegates to impeach the Mushikori from his position as the cultural leader of Bamasaba.

Wedaila also wrote a letter to the ministry of Gender asking government and accusing Mushikori of attempting to amend the constitution from the current five years to ten years so that it could favor him to remain in office.

In the same letter, Wedaila also appealed to government to stop recognizing Mushikori as the true cultural leader of Bamasaba, adding that fresh elections will be organized and a new Umukuka will be elected.

This did not go well with the government and state minister for Gender, Peace Mutuzo and the commissioner for culture who rushed in Mbale to restore sanity and the two sides agreed to reconcile.

However during the delegate's assembly deliberations chaired by the institution's deputy speaker Rose Nelima, the delegates passed a vote of no confidence in Wedaila over abuse off office and disrespect for the cultural leader and immediately was replaced by his deputy Rose Nelima as full speaker.

Other people that filled different positions include, Alice Neksa Wafula as chairperson governing council, Omar Njofu as chairperson culture council, and Gerald Simbati as Vice-chairperson governing council.

Nelima in her speech appealed to Bamasaba to avoid infighting and corruption tendencies but focus on development of the institution, adding that Bamasaba are good at wasting time fighting endless and useless wars.

"We know politicians who turned it into a game to sponsor other people to cause confusion in the institution because of their selfish interests. We would be looking at value addition to our products." Nelima said.

She also said that people had started encroaching on the cultural site land, adding that Bamasaba have rich values that need to be protected to foster development in the institution.

Nelima also appealed to Bamasaba to avoid hatred for one another and urged them to learn to respect one another, adding that Bamasaba are time wasters and do not value work but spend alot of time gossiping.

"Please I appeal to you Bamasaba to value one another. We are going to call those ready to reconcile as the state minister for Gender had requested us for the good of the institution." Nelima said.

However our efforts to reach Nelson Wedaila for comment of his side of the story was not successful as his known phone number could not go through by the time this story was filed.