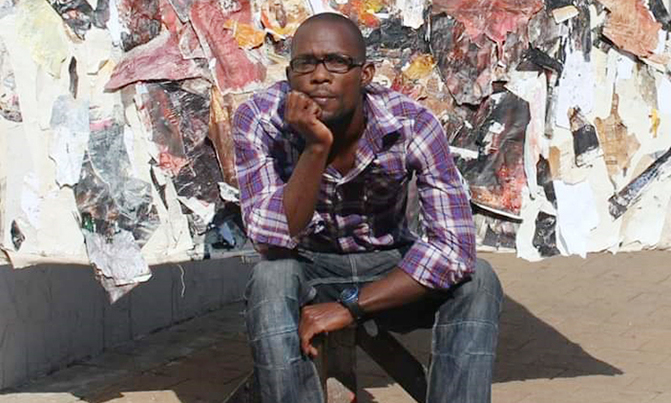 Benon Lutaaya has been battling brain cancer
Ugandan artist Benon Lutaaya passed away on Sunday afternoon at Edenvale Hospital in Johannesburg, South Africa from cancer.
According to Patrick Seruwu, a colleague also based in South Africa, Lutaaya has been battling brain cancer.
Seruwu explained that doctors had told them that Lutaaya had a cancerous tumour on the brain.
Hassan Isilow, another friend of the deceased said many Ugandans and art lovers have gathered at one of his studios in Malvern in Johannesburg to plan for the return of the body to Uganda for burial in Matete, Masaka.
He is survived by two children.
Who is Lutaaya
Benon Lutaaya, a Johannesburg-based visual artist acquired a Bachelor's degree in Fine Art with Education from Kyambogo University.
He was born December 4, 1985, in Mengo Kampala. He moved to South Africa after winning an international artist residency award by the Bag Factory Artists' Studios, Johannesburg in 2011.
He was the founder and executive chairman of THE PROJECT SPACE a cultural institution centred on creating spaces, increasing opportunities and access to networks in a bid to encourage and empower more female African artists to engage in the full-time activity as artists.
Lutaaya's work was collected in some of South Africa's top corporate entities; ABSA Museum, RMB bank, First Rand, Southern African Foundation for Contemporary Art, Ellerman's Contemporary Art Collection, and countless top private collections of major significance locally and internationally.
He was a past recipient of the BASA Creative Grant 2015, Lovell Tranyr Art Trophy 2012, Ithuba Arts Fund Grant winner 2011, The Bag Factory international artist residency 2011, and a finalist of the BBC MyWorld documentary global competition in 2010.
He has been recognised by several institutions globally for his works.