Cheptegei made history recently in Denmark by becoming the first Ugandan to win gold at the IAAF World Cross Country.
When the confetti finally settled down on the floor of the stage, there was one exceptional athlete. A smile of a choirboy on his face and the 2018 USPA personality award in his clutches, Joshua Cheptegei!
A special crowning moment that surely left the Friday night audience at Imperial Royale Hotel in rather suspended animation. For Cheptegei, he literally ran to the stage to collect his accolade.
The big call for Ugandans to embrace sports was a central message throughout the entire night event.
"I hope more Ugandans can learn from me and all that I have achieved. Sport should be seen as a big industry. I feel humbled upon receiving such recognition" he said.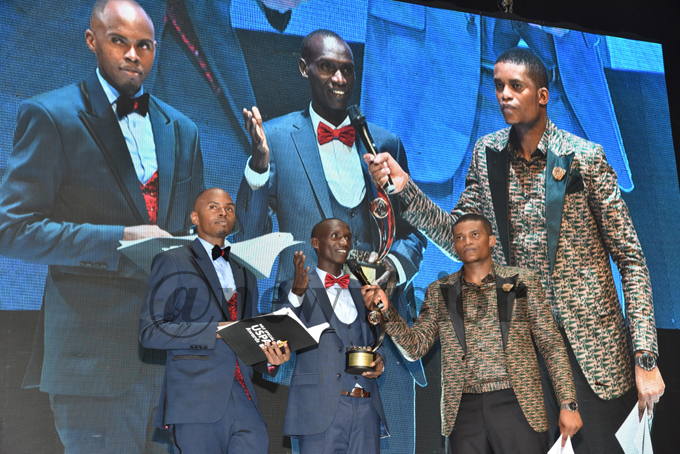 Cheptegei giving a speech after receiving his award
Cheptegei made history recently in Denmark by becoming the first Ugandan to win gold at the IAAF World Cross Country. He beat seasoned stars Philip Wokorach, Lilian Ajio, and Dennis Onyango.
A double gold medalist at last year's Commonwealth games added onto his feats means necessitated another award in male athlete of the year at the glamorous ceremony.
Onyango and Wokorach in absentia, however, won elsewhere. The former guided Uganda Cranes to the 2019 AFCON finals due in Egypt to win male footballer of the year.
Wokorach who remains such a consistent rugby player alongside Emily Lekuru won the best male and female players respectively.
USPA President Patrick Kanyomozi on phone
FMU president Dusman Okee and Salim Uhuru share a light moment
Stella Chesang who won gold in the 10000m at the Gold Coast Commonwealth games deservingly clinched female athlete of the year.
Meanwhile, this particular gale presented a fair bit of firsts with the inaugural fan favourite award creating a special engagement with fans who voted Phillip Wokorach.
Interestingly, it is hard to ignore the glitz and glamour at the event with title sponsors Nile Special, USPA, Standard Chartered Bank taking the plaudits. Guitarist Myco Ouma and Joseph Sax music were irresistible as Lydia Jazmine worked the crowd.
"We are indebted to our sponsors who have fueled our ambitions with Nile Special staying on board for a long time", said Patrick Kanyomozi, USPA President. Charles Bakkabulindi, state minister for education and sports, businessman Charlie Lubega, Henry Ssekabembe (Buganda sports minister) were some of the big wigs at the meet.
FMU president Dusman Okee has a little moment with ICT minister Frank Tumwebaze and Sports Minister Charles Bakkabulindi as Buganda minister for youth, Henry Kiberu Sekabembe looks on
Stella Chesang receives her Female Athlete of the Year award from Standard Chartered Bank Uganda Corporate Affairs, Brand & Marketing Manager Cynthia Mpanga as Brussels Airline's Catherine Pauline Lutaaya looks on
Ben Misagga (Nyamityobora FC and Agrey Ashaba KCCA, Martin Ondeko (UCA) were some of the sports administrators present.
Frank Tumwebaze who represented the First lady Janet Museveni expressed that sports define health and employment urging sports people to make known their demands to the government which is willing to help.
With USPA set to mark fifty years next year, its significance and authority on local sport grows deeper.
USPA Gala
Venue: Imperial Royale Hotel
Sports Personality of the year
Legendary award
John Oduke
Team of the year
She Cranes
Best run federation
FUFA
Best Sports event
2018 Africa Para-badminton
Fans choice
Phillip Wokorach
Best Male footballer
Dennis Onyango
Best Female footballer
Ruth Aturo
Best male athlete
Joshua Cheptegei
Best Female athlete
Stella Chesang
Best Male Rugby player
Phillip Wokorach
Best Female Rugby player
Emily Lekuru
Best male Badminton player
Brian Kasirye
Best Female Badminton player
Husnah Kobugabe
Best bodybuilder
Isaac Mubikirwa
Best Male golfer
Ronald Otile
Best female golfer
Eva Magala
Best boxer
Juma Miiro
Motorsport Crew
Susan Muwonge & Edmond Kyeyune
Best male basketballer
Jimmy Enabu
Best female basketballer
Jamila Nansikombi
Best male cricketer
Riazat Shah
Best female cricketer
Imaculate Nakisuuyi
Best kickboxer
Patricia Apolot
Best male handball player
Francis Ongom
Best female handball player
Sara Nanyanzi
Best weightlifter
Hamdan Ssemwanga Lutaaya
Best male pool player
Mansoor Bwanika
Best female pool player
Rita Nimusiima
Best netballer
Lillian Ajio
Best male karateka
William Birimuye
Best female karateka
Carol Pulkol
Best male chess player
Arthur Ssegwanyi
Best female chess player
Peninah Nakabo
Best Tennis player
Boris Aguma
Best male hockey player
Colins Batuusa
Best female hockey player
Doreen Mbabazi
Best male woodball player
Watson Mugume
Best female woodball player
Denise Nanjeru
Best male volleyball player
Smith Okumu
Best female volleyball player
Habiba Namala
Best Ludo player
Rose Nsereko
Best male darts player
Eddy Baguma
Best female darts player
Harriet Akot