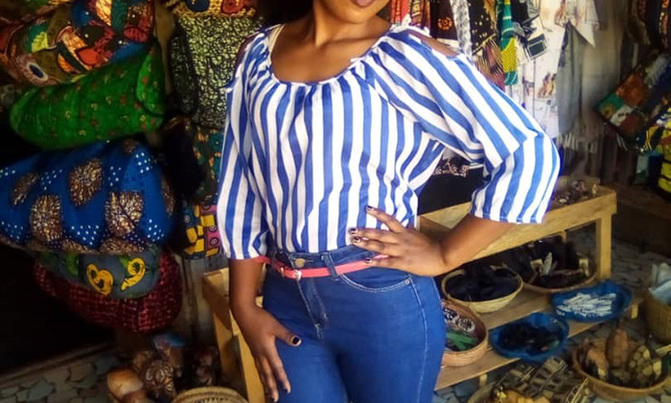 Elizabeth Muhooza, 18, a resident of Mafubira zone C, in Mafubira sub-county, Jinja district is admitted in ward C after sustaining injuries on her face, chest and thighs.
ACID ATTACK

JINJA - An 18-year-old mother is nursing acid burns at Kiruddu general hospital in Kampala following an attack by her ex-lover.

Elizabeth Muhooza, 18, a resident of Mafubira zone C, in Mafubira sub-county, Jinja district is admitted in ward C after sustaining injuries on her face, chest and thighs.

The Kiira regional police spokesperson Diana Nandawula has confirmed the incident saying Muhooza who operates a crafts shop near Rendezvous restaurant and bar, along the Jinja main street was allegedly burnt by her former lover, Derrick Gamutamburi, 24.

Nandawula explained that the incident occurred on March 27, 2019 at about 8:00PM shortly after Muhooza returned from work.

However, the mother of one accounted her ordeal to New vision saying her attacker burnt her as she was seated on their verandah while chatting on WhatsApp using her mobile phone.

Muhooza pins her lover, saying she was shocked when Gamutamburi allegedly called her the following day after the incident wondering if she had died.

She adds that the suspect was earlier seen by neighbours moving with a small jerrycan suspected to have contained the acid.

She narrates that they cohabited with Gamutamburi for about one and a half years in Mpumudde/Kimaka division, Jinja municipality.

However, in December last year, they separated and she opted to stay with her parents in Mafubira where Gamutamburi kept pursuing her on top of abusing her father.

She explained that Gamutamburi, a resident of Namulesa in Mafubira sub-county in Jinja district had earlier taken their 2-year-old baby girl Matinah 3 days before the incident occurred.

Muhooza says Matinah's unknown whereabouts is also tormenting her.

"I need my child, she is too young to stay away from me yet I can fend for her, let police help me trace her whereabouts." she laments.

According to police, Gamutamburi is still at large but his two brothers were arrested on suspicion that they had a hand in the act.

However, after submitting the file to the state attorney for sanctioning the preferred charges against the suspects, Nandawula said they were advised to release the two suspects and instead hunt for the prime suspect who is on the run.

Nandawula said in January this year, Gamutamburi attempted to set himself a blaze at Muhooza's home but police swung in and he was detained for some days before being released.

Once nabbed, Nandawula said Gamutamburi would be subjected for a mental checkup to ascertain if he is mentally normal or it was love rendering him mad.

"You know how love can make people mad, he should be mad with love or mentally sick." Nandawula said.

However, a police officer who preferred anonymity said Gamutamburi was a habitual criminal who is always in and out of jail.

"This girl must have been attracted by the suspect's appearance because he used to look handsome without knowing his characters, but he is a habitual criminal," the officer noted.

Consequently, Nandawula urged parents to always find time and counsel their children on how to make right choices of their partners instead of bumping into each other on streets and start marriages.

"Marriage means selecting your life partner by critically taking time to learn each other before making a decision, but these days, people just meet on the way and start marriage immediately. Parents must play their roles to avoid breakups among couples which are leading to heartless acts like this one." she urged.

She said the state attorney had preferred charges of attempted murder against the suspect on case file CRB 054/2019.