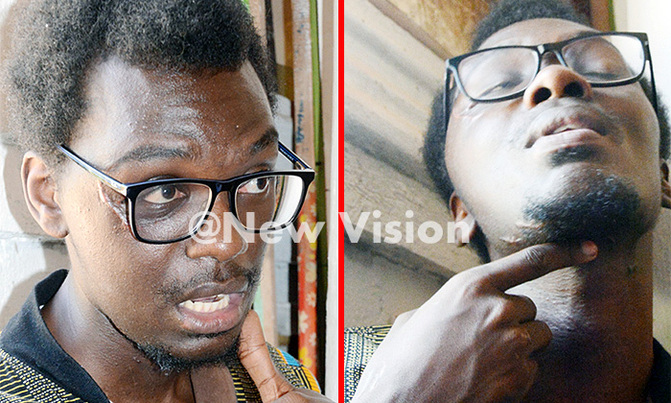 "I have my suspicions. Some people think I am going to contest for Member of Parliament in my village, Nyanja."
CRIME | SUSPENCE | INTRIGUE

Bwesigye Bwa Mwesigire, an activist and academic, travelled by bus from Kabale town. He woke up in hospital, with severe injuries on his face and neck. Was it an accident or was he drugged and an attempt made on his life by beating, asks Carol Natukunda.

______________________

HIS STORY


At 7:00pm on January 6, this year, I left my village, Nyanja, for Kabale town. I was going to catch a night bus back to Kampala. Most of the buses were already booked.

However, I was informed that there was a Modern Coast bus coming from Kigali, which had two vacant seats. It would be arriving and leaving at midnight. I paid for that one. I was lounging around the Modern Coast Kabale offi ce when I met Zion, an Old Boy from Kigezi High School.

He works with the Uganda Revenue Authority (URA). He told me that he, too, was headed for Kampala. We casually talked, like old acquaintances, having met a weekend earlier, at a funeral service of another OB. He asked me about my uncle who he used to work with at URA.

I innocently shared information about him and our family generally. The bus delayed by two hours. When it finally came, we boarded and I slept. Somewhere after Mbarara, the bus parked and most of us got out for short call. When I got back on the bus, I slept again. That is what I remember last of this journey. When I 'woke up', I was in Rubaga Hospital.

Apparently, I was not even recognising people. I was, for example, calling my brother Michael, Sam, a name of a village friend with whom we had spent a lot of time over the festive season, talking.


I ordinarily live in Nyanja, my ancestral home when I return for holiday, from Ithaca New York, in the United States, where I study and work. My brain was full of Nyanja stories, faces and names when I woke up; and, despite my condition in Rubaga Hospital, the mind recreated Nyanja.

I have a memory, however scanty, of the time in Rubaga. There was my mother. I was told that several people had come to hospital to visit me, and were collecting money for my medical bills. Several people were making phone calls to mum to wish me a quick recovery.

According to mum, I regained consciousness after the first surgery.

This is when I was told that we had had a terrible accident and I had been brought to Rubaga for treatment. I saw emails, about photos of me in a terrible condition, that had apparently circulated on Facebook, as my brothers were sending news about the accident trying to alert Cornell University, where I study and work.

At this point, I wanted to see these pictures. But I was told they were distressing.

I looked "dead" in them. I was not a case that could have hope for life again. I insisted I wanted to see the photos. However, I had no will to fi ght. I was further told that the accident happened at Bukango (northeast of Masaka), which is close to the place, where we had briefl y stopped for a short call.

I thought I should have heard a bang or something if indeed it was an accident. I do not think anyone would be sound asleep on a journey as not to hear the loud bang of a collision. Anyhow, I learnt that Zion, the OB I had met earlier, is the one who called my cousin (a son to my uncle who used to work with URA).

He says he called him when they were at Lukaya, to inform them of my predicament. Apparently, once we had an accident and we were injured, for them they were put on the next bus.

I was seated in the second seat behind the driver. That is what they told my cousin. My cousin called home, to inquire if indeed I had travelled that night, to which my mum confirmed I had. My cousin is a medical doctor. They had told him that we, the accident victims, had been dumped at Masaka Hospital. (Although I have since not heard of the rest of the victims).

He called his friend who works at Bulamu clinic in Masaka to go and check on me. I was told that at Masaka Hospital, I was found isolated. I was told that I was aggressive and that I was talking. However, I do not remember any of these things, or what I was saying.

This is the state I was in (shows the pictures of him his face severely bruised, and blood dripping). Anyway, my cousin's doctor friend took me to his clinic- Bulamu - and cleaned me up.


Meanwhile, my family sent an ambulance to drive me to Rubaga. By the time mum arrived at Masaka, from Kabale, I had already been transferred to Rubaga Hospital. She proceeded and joined us. Rubaga Hospital did a scan and found that my brain was fi ne. However, my right eye was closed, my mouth could not open properly and I had cuts on my neck.

The hospital said although I was reported as a traffic accident victim, the injuries could have been due to a history of assault. My family, on the advice of my cousin who is a doctor, decided to take me to another facility for further management. On January 9, we eventually left Rubaga hospital for Platinum Hospital, where we had the fi rst surgery. There, it was found that below my right eye, all bones were shattered.

My face and neck sustained life-threatening injuries. Therefore, they had to do two surgeries to try to put plates in the affected area. My face was not mine in those days. In fact, the joke, much later was that I would need a new passport because immigration offi cers may query whether the passport info page is mine (He says showing us the poignant scars on his face). I was discharged from hospital on January 16 and have since been on a steady path to recovery.


THE STRANGE THINGS

There are things that do not add up about this accident. I have not seen photos of the wretched bus after the accident. The bus people brought to us my bag, my laptop, books and clothes that I had with me, that fateful night. My wallet got lost.

It had sh100,000, my ATM and identity card, among other items.

My phones and eye glasses got lost. However, there is a nurse at Masaka Hospital who was apparently given my SIM card and she gave it to my family. The question we ask ourselves to date is: Who gave her the SIM card? It was the MTN SIM card. My other number, a US SIM card, went with my other phone.

Who could be interested in my phones and why would they return the Ugandan SIM card? We asked the bus people who else was a victim of the accident. They said the driver, but did not give us ways to condole with the family.


Another family friend came to visit me and said there was someone else who was a victim of the alleged accident. He actually gave us a phone number we could call and follow through. However, the person kept avoiding us. As though that is not enough, someone we do not know called a family member and gave him the photos of me bruised in the alleged accident through WhatsApp. However, we do not even know who this person is.

We did not know the source of these pictures and who took them.

Then we saw the "assault" bit in the Rubaga medical reports and we wondered whether these doctors did not know what they were talking about. Was I a victim of assault of road accident as they had indicated or a victim of beating? My suspicion is that I was drugged on the bus and then pulled out and beaten. My suspicion is that Zion was part of the plan.

He was never the same again. He earlier called to ask how I was doing but that was it. It is strange that even in my phone; I did not have my cousin's number (the one Zion called.) There are other things. However, I do not want to over think about them as my mother likes to say.


WHY HARM ME?

I have my suspicions. Some people think I am going to contest for Member of Parliament in my village, Nyanja. That is not true. This was the fi rst time, I went and stayed in the village for over a month.

And in one of my phones that went missing, I had recorded interviews on a project I was doing on tracing the history of the village. I was investigating things such as, did we take part in the Nyabingi rebellion against colonialism in 1910s? When did we join the church? When did we start worshipping the God in a European Caucasian image?

When did we get converted? These were valuable things for my academic research.

I think when they saw me doing that, they suspected I was up to something. Then, a friend and I are working on a book on Bobi Wine, and I think that is where the problem started. Some of the interviews were on one of the phones they took. Then I also had a plan to go and visit rights academic researcher Stella Nyanzi, who is in jail.

As someone who is critical of the Government, I know they follow and tap my phones. However, my work is not so much against them. Even when I gave a speech on imperialism and Uganda at the Party for Socialism and Liberation in the US, just before I returned, my analysis in that speech was that the primary enemy of the people is imperialism.


My view is that President Yoweri Museveni is just a cog in a wheel he does not control. There are many more issues. In hospital, the narrative was that I was dying. It was weird who got to know fi rst about this incident and their immediate responses.

What is even more weird is that the one person (I suspect is) embedded in the Government's online counter intelligence and propaganda operations that I had publicly called out on Twitter, was involved in "fundraising" for my treatment. It was not just her. Many other suspicious characters showed up to pretend and show compassion.

It seemed to me it was a desperate move to legitimise the accident narrative. What is paining me is my recorded info on my phone. All the interviews I had done were personal. Most of my family members are NRM-supporting people. I get migraines many times. In addition, I have to go for further checkups. Am I scared? This incident has taught me that I am not in control of what they can do to me.


OUR INVESTIGATION

Accounts from sources at Masaka Hospital say, Bwesigye was left unattended to for several hours, until a private doctor authorised by the victim's family arrived. "He was fi erce and looked like someone who was not aware of what he was doing. He was left to sit on the fl oor. By 10:00am, blood was still all over his face. Remember he had been brought in at about 4:00am," a source says.

The hospital principal administrator Edward Kabuye declined to comment on this particular case, saying he needed to fi rst establish facts from their records.

However, Kabuye stated that they have a robust emergency system to handle every accident victim. "I am confi dent of our system. Our goal is to save life fi rst. We have trained health workers and ambulances just in case a patient has to be moved to Kampala.

Even if we have so many accident victims who do not have any identity on them, we still classify them, admit and treat them," Kabuye says.


A January 7, 2019 medical report from Bulamu Clinic Reference No 19-0074, where Bwesigye received his fi rst aid says he was picked from Masaka Hospital as a case of injuries sustained from a road accident. The report says he was bleeding from the nose, and looked "confused and aggressive".

It also indicates that he had a cut on the right side of the face. The report recommended a detailed scan for further management. A CT Scan report No: 028/19 done on the same day at Rubaga Hospital says Bwesigye presented a "history of assault and sustained multiple skin lacerations."

The report, signed by Dr. Chris Jabo, a radiologist, concludes that the patient "sustained multiple skull fractures" among other conditions. Ironically, two days later, on January 9, Rubaga gave a conflicting report on its discharge form, signed by a one Dr. Lydia .K.

It did not mention assault in its clinical details, but stated traffi c road accident as the cause of admission.

This was when Bwesigye's family had decided to transfer him to another private facility - Platinum Hospital on Buganda Road. When contacted to elaborate on the contradictory reports, Rubaga Hospital executive director Andrew Ssekitooleko said the mistake was made by the radiologist, who "transcribed the indication wrongly."

"I have looked at the request note and the doctor who asked for the CT scan indicated road traffi c accident, so the mention of assault only appears on the CT scan report and nowhere else," Ssekitooleko explained.

"We are going to correct the error and issue a report with the right indication," he added. At Platimum Hospital, the medical form No. 255 says Bwesigye had facial trauma, following involvement in an accident. "He also lost consciousness, which was managed before admission to our facility," the report signed by Dr. Gonzaga on January 16, reads in part and explains the surgical procedures that were taken.


POLICE

What remains unclear is whether indeed there was an accident that fateful night. What exactly happened that night? Zion, an Old Boy from Kigezi High School, Bwesigye's OB, who broke the disastrous news to his family, maintains there was an accident. "It looks like our driver was asleep as he was driving. He got into the lane that was not his.

There, our bus met a Fuso and they hit each other. There were barricades on the side of the road. The metals of the Fuso entered the bus and those who were asleep or seated in front like my OB Bwesigye were injured."

"It was in the middle of the night. There were cries everywhere. The rest had to quickly get out. It was only natural for me, to look out for the person I knew and when I saw him in the state I was in, I called his cousin," Zion says.

"At that point, we waited for another Modern Coast bus to pick us. The injured were taken to hospital and, for us, we proceeded to Kampala," Zion says. When contacted, an official at the Modern Coast bus Kampala offi ce who declined to be named, asked Sunday Vision to send queries through their email 'info@modern. co.ke'.

However, for nearly two weeks, there has not been any response. When contacted, the regional traffic boss for the greater Masaka area, Anthony Nkesiga said he does not recall any such accident in the area.

"I cannot confirm the accident. I don't even recall that incident," Nkesiga said, but expressed willingness that the victim would be listened to, if he officially approached their office.

Nkesiga referred Sunday Vision to one of his junior offi cers, the offi cer in charge of traffi c at Masaka, Winfred Mulera, who also said: "We have not registered any bus accident this year."

A Police offi cer at Bukomansibi Police Station, which is closer to the alleged scene of accident, also said that they had not registered any accident by press time. At Lwengo Police Station, a senior traffic officer said he was new in office and could not confi rm the accident claims.

(Were you in this bus? Tell us what happened at: sunday@newvision.co.ug)


This story first appeared in the Sunday Vision of March 31, 2019