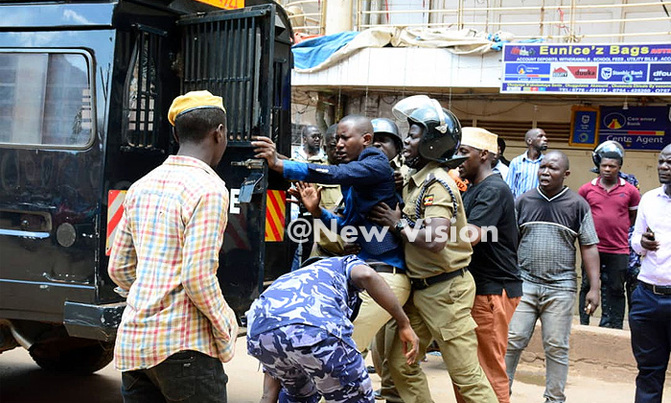 Wednesday morning's episode follows a move by tenants of both buildings to refuse to pay rent for the month of March.
BUSINESS

KAMPALA - Police in Kampala have sealed off Qualicel and Nabukeera commercial buildings in downtown Kampala after traders protested the closing of their shops by owners Drake Lubega and Mansoor Yanga Matovu.

Security personnel also arrested several leaders of traders for mobilizing others to march to the Central Police Station to demand the release of their arrested colleagues.

A one Edward Ntale and a councilor were among those arrested.

Police and army personnel drove off people with water cannon blasts to clear the area and ordered traders in opposite buildings such as Nakasero Complex, Skylight and Midcity to close and also leave.

Police and army personnel took over the area and surrounded the buildings after blocking all the tenants.


Many traders showed up Wednesday morning for work, only to find their shops sealed off. They found their padlocks had been sealed.

It immediately emerged that the owners of the arcades had hired some men to weld shut the doors of the buildings. In the process, one shop of mainly women's bags caught fire, destroyed most of the merchandise.

The shop belongs to Faisal Katumba. His wife Aisha Mbago said they lost an unspecified amount of money and merchandise worth over sh30m in the fire.

Police later extinguished the fire.


Wednesday morning's episode followed a move by tenants of both buildings to refuse to pay rent for the month of March, demanding that court rules on who was the rightful owner between Lubega and the family of the late Charles Muhangi.

They also refused to pay arrears of four months, which the owners demanded for the period Muhangi occupied the premises.

Traders appealed to President Yoweri Museveni and Parliament to intervene, saying they were making losses in the saga since customers now fear to buy from them.




The scenes in downtown Kampala on Wednesday . . .



k