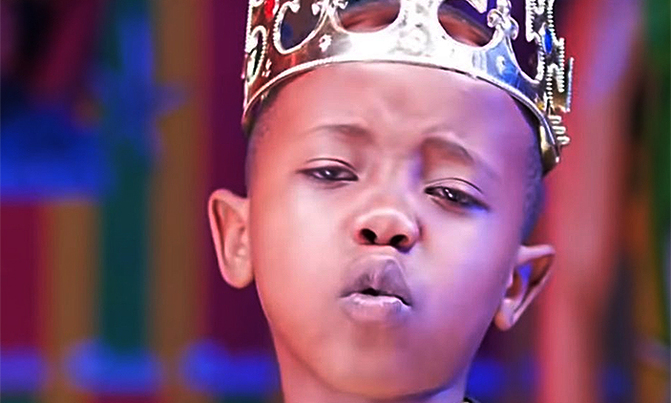 The MPs urged the minister to put more efforts in lobbying for young people in a bid to fight unemployment rather than blocking young talent
Youth MPs under the Parliamentary Forum for Youth Affairs want the government to make a bill that promotes children's talents in addition to attending school.
In a press briefing on Monday at Parliament, the MPs criticised state minister for youth and children affairs, Florence Nakiwala Kiyingi, for her efforts blocking seven-year-old musician Patrick Ssenyonjo alias Fresh Kid from pursuing a career in music.
The legislators led by national female youth MP Anna Ebaju Adeke and western region youth MP Mwine Mpaka said the proposed bill should promote children's talents alongside attending school rather than killing their talents.
"We are troubled by recent statements made by youth minister Florence Nakiwala Kiyingi regarding the career of Fresh Kid who has recently found himself a place in the entertainment industry," Mpaka said.
"The ministry should actually take this kid to a music school. No one talked about the Ghetto Kids who even made it to MTV, so why Fresh Kid? We now need a law to protect such young talent because many of them are coming out," he added.
He said the law should also have a section that allows minors to have access to government funds such or significant resources such as the Youth Capital Venture to enable them to promote their talents.
Mpaka requested Nakiwala to put more efforts in lobbying for young people in a bid to fight unemployment rather than blocking young talent.
"Nakiwala should know that Uganda has a lot of economic imbalances and many Ugandans are jobless. If a child like Fresh Kid can find ways to utilise his career to support himself and his family, we find this very noble and urge Nakiwala to back off," Adeke said.
Yeri Ofwono Apollo the Tororo Municipality MP said: "In common law, an infant can actually engage in such trades aimed at utilising his career such as sports as entertainment because getting educated is not a guarantee for a bright future."
Last week, Nakiwala told the promoters of rapper Fresh Kid to put his music career on hold because he is too young to perform.
"The country's labour laws state that no one under 18 should work," Nakiwala said.
She also warned that her directive was disobeyed, he could face juvenile prison saying he needs counselling
Nakiwala also expressed concern the rapper missed school since he was always busy performing while children his age were studying.
The legislators, however, cautioned Fresh Kid's managers and promoters against exploitation and subjecting the minor to child labour.
At his age, Ugandan labour laws do not allow minors to enter a contract, run or operate a bank account.
"One way to curb unemployment is through nurturing talent. But how can we harness young talent when the likes of Fresh Kid are stifled? We speak in solidarity with Fresh Kid and encourage those in charge to continue educating him but at the same time harness his talent," Adeke said, adding that in developed countries like Russia, tennis players are identified at the age of 4.
She said that he should not be exposed to hectic schedules like late night performances that jeopardise his health and mental state because this is an industry dominated by adults.
Section 19 of the Liquor Act places a restriction upon the licencee not to allow persons under the age of 18 to be in a bar or licenced premises during the period of the sale and consumption of liquor.
Kasambya County MP Gaffa Mbwatekamwa pledged to sponsor Fresh Kid's music career.
"I am here to support Fresh Kid who is a new kid on the block. If there is any person who needs counselling then it is the minister [Nakiwala] and being a professional psychiatrist, I am willing to give pro bono counselling services to her. Fresh Kid has no problem; it is the minister with a problem," Mbwatekamwa said.