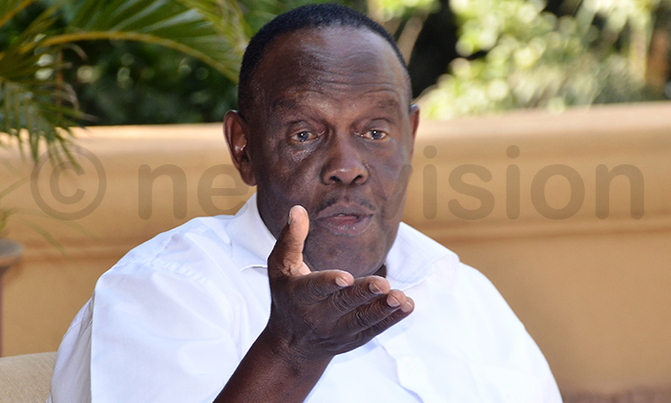 Uganda's envoy to Burundi who described himself as an astute and civilised person, wondered why some people are bent towards soiling his name
Uganda's ambassador to Burundi Maj. Gen. (retired) Matayo Kyaligonza has vehemently denied assaulting a female traffic Police officer and a journalist.
Kyaligonza defended his integrity and diplomatic career describing himself as a signature of a very sane person whose contribution to Uganda's liberation struggle cannot be underestimated. He said he is being victimised.
"I'm not a slapping machine. This Kyaligonza is provoked all the time. He fought for freedom and he needs freedom too. The one who brought the peace everybody is enjoying is being 'castrated'. Don't forget that I'm number four in the army after Yoweri Museveni, Salim Saleh and Elly Tumwine," Kyaligonza told a news conference on Monday.
Kyaligonza has dragged the traffic officer and a journalist to court for defamation and general damages.
In late February, the media was awash with reports accusing of Kyaligonza alongside his bodyguards L/Cpl Peter Bushindiki and Pte John Robert Okurut, of assaulting Sgt Esther Namaganda at Seeta in Mukono.
"I condemn the act of defamation and falsehood written against me. I was there and I saw what happened. The traffic policewoman is a very undisciplined officer; why did she hold my escorts by the collar? She must retract her falsehood and failure to do so, we shall meet in court. She must prove that she was assaulted," Kyaligonza said.
Kyaligonza said as an aggrieved person he had instructed his lawyers Balondemu and Company Advocates to sue Namaganda and Uganda Broadcasting Cooperation journalist Peter Otai. The journalist was also allegedly assaulted for recording the incident at the scene.
Otai, through his lawyers, Alaka and Company Advocates is demanding for sh500m from Kyaligonza over assault and violation of his rights.
But Kyaligonza's lawyers have also written to Otai's lawyers demanding for sh1b in damages and another sh300m as legal fees.
"We have full instructions to vehemently defend the intended frivolous suit your client's chagrin and colossal costs in the event you wish to pursue lackadaisical threat…As a result, our client has suffered damages that your client pays sh1b and sh300m legal fees within seven days," Kyaligonza's lawyers wrote.
"I will sue that woman and a journalist who claim to have been assaulted they will regret," Kyaligonza one of the pioneer bush war fighters who ushered in NRM government said.
Speaking to New Vision on Monday, Otai vowed not to bow to intimidation from Kyaligonza.
"It is okay, we shall meet in court and I will prove beyond reasonable doubt that his escorts assaulted me. I have a letter from a Police surgeon which confirms that I was assaulted. I have pictures of wounds on my body," Otai said.
Namaganda said she had no comment because the case was still under investigation. She, however, wondered why Kyaligonza would sue an assault victim.
Kyaligonaza who described himself as an astute and civilised person wondered why some people are bent towards soiling his name. "I'm a human being with a family and people who look up to me," he said.
Asked why it took him a month to react to what he describes as false accusations, Kyaligonza retorted: "I'm a trained soldier. If an enemy strikes, you wait for the next action and calculate his intention. I was waiting for their story to get finished. I was calculative."
He slammed MPs for passing a resolution urging President Museveni to recall him as the envoy to Burundi.
"MPs are stupid. You cannot condemn a person who has not been given a fair hearing. You cannot recall me because you are not the one who appointed me. The President asked me about what he was reading in the press and I told him my side of the story. What the MPs passed was wastage of time. How did the Speaker fail to guide them?" he asked.
He particularly blasted MPs for saying the traffic officer should be promoted because she was assaulted. He said promotions are done on merit not on how many times a person has been punched.
He said it was unfair to arrest his bodyguards over assault but hastened to add: "It was to impress the public because we are a law-abiding government. That traffic woman belittled me before my escorts and they took offence."