Nakiwala gave instructions to Fresh Kid's promoters and managers restricting them from taking him to shows to perform during school days.
State Minister for Youth and Children Affairs, Florence Nakiwala Kiyingi interacting with Fresh Kid in her office at Ssimbamanyo Building at the Ministry Of Gender Labour and Social Development. Photo/Eddie Ssejjoba


Presented by Brenda Nakayiwa
@bknakayiwa


(Scroll down for earlier posts)


6:11pm

Nantaba saga: Police fails to meet Ssebulime's family
Police's effort to meet the family of Ronald Ssebulime who was recently shot dead by a police officer after he was arrested for allegedly trailing ICT state minister Idah Nantaba with an intention to assassinate her have proved futile.
"We waited for the family until 7:00 pm and without seeing anyone, we had to leave," Police spokesperson Fred Enanga said.
Enanga also stated that the matter is highly publicised and politicised.
''I think the family is finding itself in a dilemma to work with police or probably go with what the politicians are saying."
Minister Idah Nantaba . Photo/File
#UgandaToday

____________________________________
5:30pm

Besigye is confusing the Opposition- Bwanika
The Peoples' Development Party (PDP) leader, Dr. Abed Bwanika has accused the former Forum for Democratic Change (FDC) president, Col. Dr. Kizza Besigye of sabotaging the opposition parties' plans to take over power.
Bwanika says Besigye always comes up with issues when they talk of fronting a single presidential candidate.
"We are seeing Col. Besigye and his team confusing the people of Uganda, that there is no reason for us to bring a unified candidate.
Dr. Abed Bwanika

#UgandaToday

____________________________________


5:00pm

The friendly match between Uganda's U17 team and Kenya's U18 ends in a goalless draw at the Utali grounds in Nairobi, Kenya. The team is Kenya to prepare for the 2019 U17 AFCON finals in Tanzania on April 14 to 28.
Test Match 1 - FT' Kenya U18 0:0 Uganda U17. Utali ground Nairobi, Kenya.@NCSUganda1 @Airtel_Ug @MosesMagogo @CAF_Online @Parliament_Ug @alimwebe @newvisionwire @DailyMonitor @EstherMusoke @EcobankUganda @JanetMuseveni @KagutaMuseveni pic.twitter.com/K2vyts9g38
— FUFA (@OfficialFUFA) April 2, 2019

4:30
Cranes face Ethiopia in a 2020 Olympic football qualifier
Uganda v Ethiopia-Kampala
Crested Cranes head coach Faridah Bulega is optimistic that her side will put up a good show against Ethiopia in the Tokyo 2020 Olympic Games women football qualifier.
"All my players are in camp and have been working hard. I am sure the 20 I have selected will do what is expected of them in Addis Ababa," Bulega said.
#UgandaToday

____________________________________
4:00pm

Principal Judge writes to Police over land evictions

With Police playing an integral role in effecting land evictions, Principal Judge Yorokamu Bamwine has written to Police's top echelon in an attempt to have the roles played by the two entities streamlined.
According to the Supreme Court registrar, Vicent Mugabo, the reason behind justice Bamwine's letter is the decision by Police to stay all land evictions until they sanction the same


Judge Yorokamu Bamwine. Photo/File

#UgandaToday

____________________________________

3:20pm
NIRA staff impersonator arrested
A travel and clearing agent who pretended to be a National Identification and Registration Authority(NIRA) staff member has been apprehended for purportedly soliciting over sh170,000 from a desperate youth.
Musa Walugembe ,30, a resident of Mengo in Kampala was caught red-handed by security officials as he allegedly received money from Joyce Ritah Nakacwa,30, a resident of Nabbingo in Wakiso district.

#UgandaToday

____________________________________
2:40pm
Cabinet approves teacher policy
Cabinet has approved the National Teachers Policy to control moonlighting and also make it compulsory for proprietors of private schools to provide appointment letters to teachers.
Curbing absenteeism, especially within government schools, is the other element that the new policy seeks to address.
The Government spokesperson Ofwono Opondo said the National Teachers Policy will streamline teachers' management from pre-primary, primary and secondary school levels.
"The objective of the policy will include streamlining teachers' management for better productivity, discipline, retention and motivation," he said.
International Conference on sanitation treatment underway
Uganda National Bureau of Standards (UNBS) is hosting a four-day international conference on sanitation treatment systems.


The workshop seeks to address challenges faced by the majority of urban dwellers in developing countries that use on-site sanitation systems (septic tanks, pit latrines) in densely populated slum areas.


The meeting shall discuss the safe disposal of fecal sludge into the environment.
Ben Manyindo, UNBS executive director, said urban sanitation is the root cause of an average of 3000 cases of epidemic diseases affecting Uganda and costs the country sh389b annually.
#UgandaToday

____________________________________

1:00pm

Minister Nakiwala meets Fresh Kid

The State Minister for Youth and Children has met the seven-year-old Lugaflow music icon, Patrick Ssenyonjo also known as Fresh Kid and his parents.
In the meeting which took place her at office in Kampala, the minister issued guidance on how the young star can benefit from his talent.

Nakiwala gave instructions to Fresh Kid's promoters and managers restricting them from taking him to shows to perform during school days.

Ssenyonjo's manager, Francis Kamoga also denied information circulating on social media that the minister offered sh5m and pledged to educate him up to end of Primary Education.



#UgandaToday
____________________________________
12:15pm
Bodaboda riders have been cautioned against working late hours so as to avoid risking their lives.
A mini survey conducted by Police on the killings of bodaboda riders in the last three months showed that many are killed in the dead of night, usually between midnight and 1 am.
Police spokesperson Fred Enanga said 28 bodaboda operators were brutally murdered during the time of the survey.
He said out of the 28 cases, 14 were murdered late in the night, and that only five motorcycles were recovered.
"We took 17 suspects to court and charged them. We are still hunting for the remaining suspects and the motorcycles," he noted.
Enanga was addressing the media at Police's weekly press briefing at the Police headquarters in Naguru, Kampala.


Police spokesperson Fred Enanga

#UgandaToday

____________________________________
10:20am
Museveni concludes two-day visit in Moroto, Pader

President Yoweri Kaguta Museveni has concluded his two-day tour of the UPDF 3rd Infantry Division Headquarters in Moroto and the 5th Infantry Division in Acholi Pii, Pader District.

Museveni said his visit was aimed at reminding the soldiers about the spirit in which UPDF was founded, diagnose the tactical and strategic challenges faced presently and offer solutions.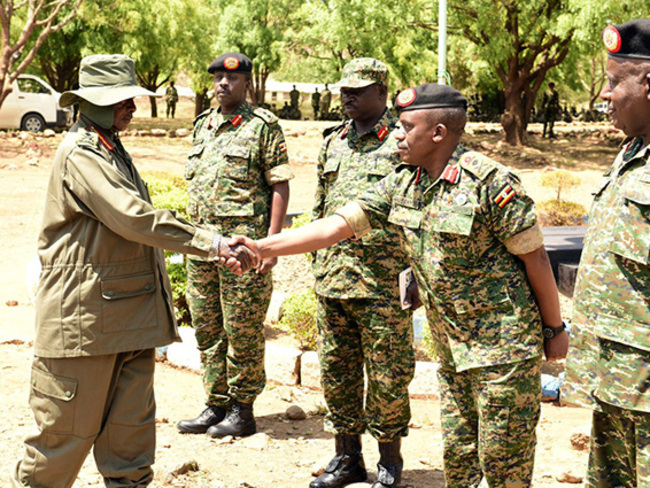 Museveni on a two-day tour in Moroto. (Credit: PPU)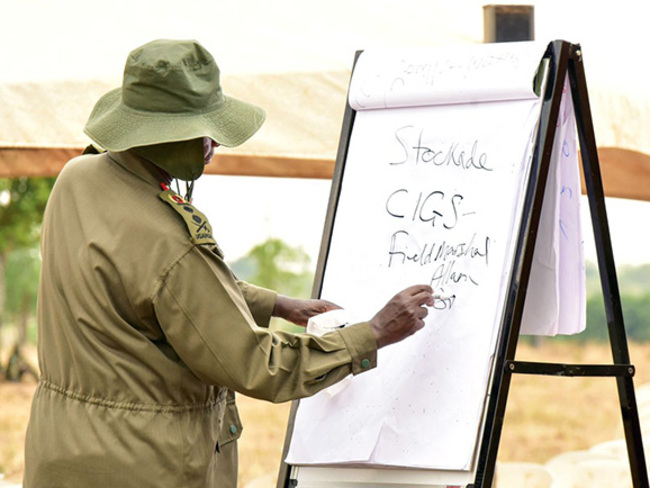 (Credit: PPU)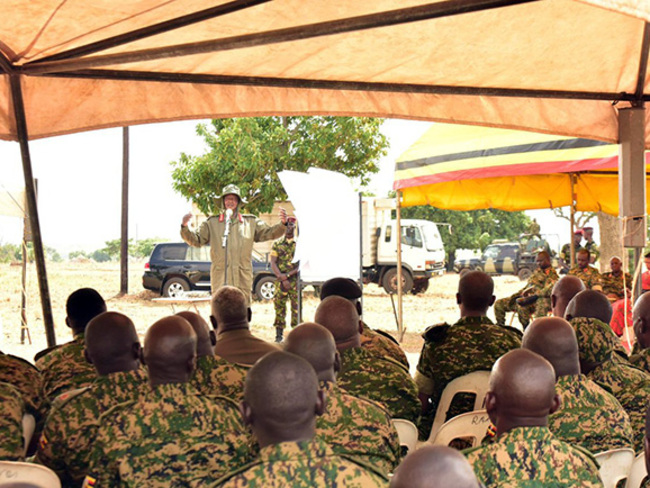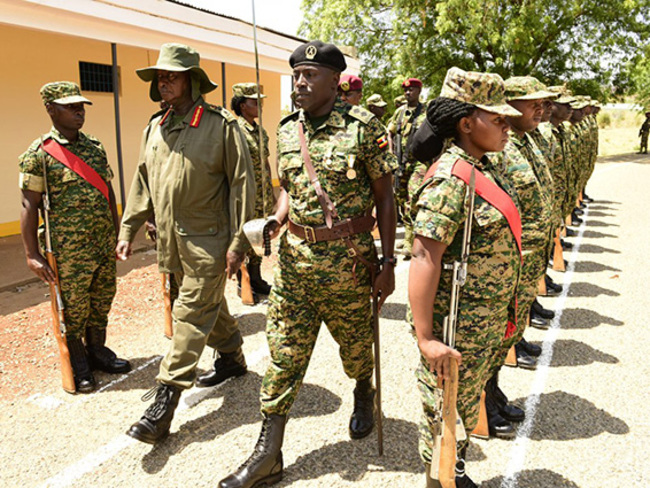 #UgandaToday

____________________________________

9:57AM
Nipsey Hussle death underscores deep-rooted violence of US streets
The shock murder of Nipsey Hussle triggered an outpouring of grief among artists and activists alike -- and for many crystallized the chronic dangers of street life the LA rapper aimed to uproot.
For some, his death recalled the 1990s era of targeted hip hop killings thought to be bygone: the assassination of Hussle, 33, comes more than two decades after a spate of slayings claimed the lives of rap superstars including Tupac Shakur and The Notorious B.I.G.
Sunday's killing in broad daylight, which Los Angeles police believe is gang-related and personal in nature, prompted some comparisons to those fatal shootings: all talented musicians, all from impoverished neighborhoods, all shot dead at a young age.

#UgandaToday

____________________________________


9:15am
Boeing must do more work on proposed 737 fix: US regulator

Boeing must perform more work on a proposed fix to its 737 MAX aircraft before it can be submitted for review, US officials said Monday, suggesting the planes could stay grounded a while longer.
Additional work is needed "to ensure that Boeing has identified and appropriately addressed all pertinent issues," a Federal Aviation Administration spokesman said in a statement.
"The FAA will not approve the software for installation until the agency is satisfied with the submission," he added.
The FAA statement is the bureaucratic equivalent of a "stop" sign after Boeing officials touted their proposed remedy last week during a media tour at the company's manufacturing plant in Seattle, Washington.
Boeing's 737 MAX planes were grounded globally last month following the second of two deadly crashes to occur in less than five months.

-AFP

#UgandaToday

____________________________________


8: 40am

Youth MPs rubbish minister Nakiwala's order on Fresh Kid

The Youth MPs through their umbrella, the Parliamentary Forum for Youth Affairs have advised the Government to bring a Bill that promotes children's talent.

The legislators were led by National Female Youth MP Anna Adeke and the Youth MP Western Region, Mwine Mpaka.

Last week, the Minister of State for Youth and Children Affairs Florence Nakiwala Kiyingi ordered Fresh Kid, a seven-year-old talented artiste to stop performing and return to school.

Nakiwala's directive sparked off outrage on social media with the youngster's fans castigating her for undermining children's talent. In response to the directive, Fresh Kid told the minister to go to hell.

Mpaka said the ministry should actually take this child (Fresh Kid) to a music school.

"We need a law to protect such young talent because many of them are coming out," he said.






#UgandaToday

____________________________________
8: 35am
Let's take a look at what's happening around our beautiful continent
Cholera cases mount to over 1,000 in cyclone-hit Mozambique
Cholera has infected at least 1,052 people in Mozambique's cyclone-hit region, the health ministry said Monday in a new report, marking a massive increase from 139 cases reported four days ago.
The mounting cases represent on average more than 200 cases of new infections each day.
Although hundreds have been taken ill with cholera since last week, only one death has been reported so far, tallies compiled by the ministry showed.

____________________________________
8:25am


Hope you're prepared for Today's weather
Kampala will have a thunderstorm in spots this morning and clouds giving way to some sun during the day. The night will mainly be clear and a thunderstorm in spots late


#UgandaToday

____________________________________
8:15am
Today's inspirational quote

"Don't just accept whatever comes your way in life. You were born to win; you were born for greatness; you were created to be a champion in life." - Joel Osteen
#UgandaToday

____________________________________
8:00am
Good morning Uganda
April concluded the 1st quarter of the year, so it's time to check on your resolutions. Are we still on track or deviating from the goals we made at the beginning of the year?