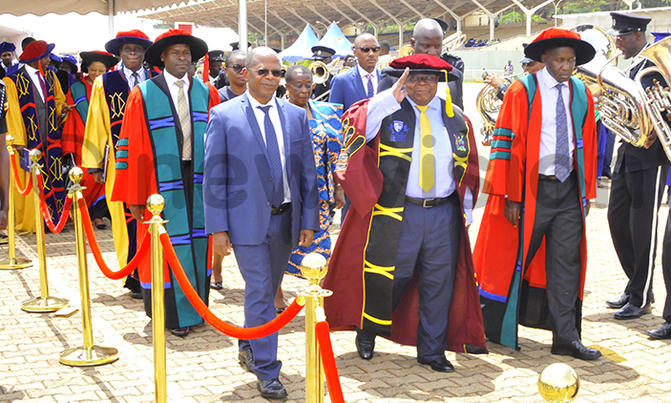 Nineteen nationalities graduated from the institution
President Yoweri Museveni on Friday said universities had a duty to develop Africa and called the institutions of higher learning to focus on relevant research and disciplines that can address the continent's challenges such as poverty and disease.
In a speech read by Prof. John Chrysostom Muyingo, the minister for higher education, Museveni said schools and education were a channel "we can use to pull Uganda and the African region from poverty to middle-income and to modernization."
To do this, universities and institutions of higher learning on the continent needed to design courses and programmes that are relevant to the continent's needs.
This was at Kololo Independence Grounds, during the eighth graduation ceremony organised by Cavendish University in Uganda.
A total of 966 students graduated from the institution of higher learning, with certificates, diplomas and degrees.
Benjamin Mkapa, former president for Tanzania and chancellor of the university, also graced the function.
Museveni challenged the graduates to use their acquired skills to develop the continent.
"Uganda and Africa needs graduates who appreciate their background and can contribute to the development of the continent through innovation and new research," said Museveni.
He commended the administration at Cavendish University and the students, who he said developed a mobile application that was adopted by the Uganda Police to find lost items. The app is termed the Lost and Found.
He said he had been told the students at the university had also developed another application which can help improve tax collection.
"These are the innovations we need," said Museveni.
He said Uganda was peaceful, the reason more students from all over Africa came to pursue their education here.
Nineteen nationalities graduated from the institution, the majority from South Sudan, Tanzania, Burundi, Sierra Leone, Rwanda, and Uganda.
"The cross-cultural networks will create a sense of pan Africanism that we need to move the continent forward," said Museveni.
Mkapa called the graduates to be "proactive, have self-drive and enthusiasm and capacity to think independently" to contribute to the development of Africa.
"You have a duty to create a better life for your selves, your family, country and Africa," Mkapa told the graduates.
He challenged them to go into the world with confidence and to target "groundbreaking achievements" for the bloc.
Mkapa commended Museveni for his "good stewardship" and for creating a secure country, which allowed students from the rest of Africa to pursue their education here.
Professor John Mugisha, vice chancellor for Cavendish University, called the graduates to serve and not to wait to be served.