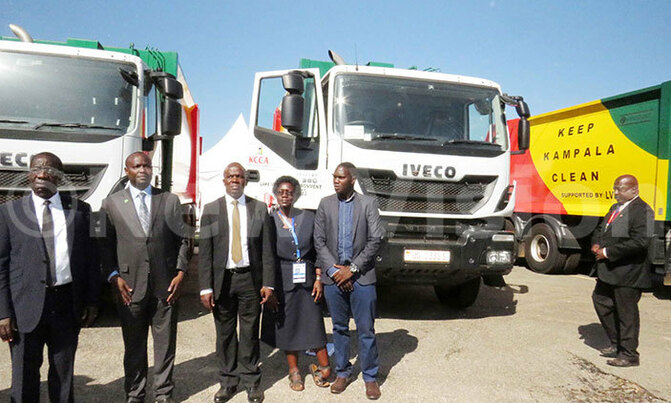 Kitaka said that the city is still facing challenges of garbage collection since; there are only 14 trucks which collect waste in the city.
Kampala needs about 65 trucks to manage garbage generated daily, the acting executive director, Kampala Capital City Authority (KCCA) Eng. Andrew Kitaka has said.
Kitaka said that the city is still facing challenges of garbage collection since; there are only 14 trucks which collect waste in the city. He added that these 14 trucks collect garbage for those who cannot afford to pay the private collectors.
He made the remarks while receiving three more trucks from Lake Victoria Environmental Management Project (LVEMP II) a project implemented under the Ministry of Water and Environment to reduce pollution on the lake at the KCCA head office in Kampala.
Kitaka said city residents are charged a small fee for the garbage generated urging that of late the situation in the city is not any better as garbage generated is too much for KCCA to collect.
Kitaka said KCCA has been working with LVEMP II since 2014 and a lot has been achieved including three trucks, six tipper trucks and a recycling plant at Wankoko Industrial Area.
He revealed that with the three trucks a capacity of 20% of garbage has been collected adding that with the new trucks the capacity of garbage collected will increase which will improve on the cleanliness of the city.
While receiving the trucks, the Kampala minister, Beti Kamaya reminded city dwellers that it should be their responsibility to manage their waste.
"Garbage management is a serious controversy in the city today. I urge all city dwellers to play a role in complementing KCCA duty," Kamaya said.
On behalf of the permanent Secretary of the Ministry of Water and Environment, Florence Adongo the director of the Directorate of Water Resources was delighted to witness the second batch of solid Waste Management Equipment for KCCA.
"This is an important milestone in our effort to reduce environmental pollution in the City, the equipment we are launching was acquired with the support from LVEMP II to address environmental concerns that adversely affect the water quality of Lake Victoria,"she said.
She observed that KCCA has been one of the key partners in implementing this project as it plays an important role of collecting garbage and maintaining drainage channels, thereby reducing pollution of the city runoff that finally ends up in Lake Victoria.
She explained that before the partnership, KCCA was collecting about 360,000 tons of garbage in 2013 representing only 50% of the garbage generated at the time.
"With a population of about 1.5 million people in Kampala city, this translates into about 1500 tons of garbage. The authority can only manage to dispose of 40% - 50%, whereas about 80% of this garbage is organic matter which makes it very bulky to handle.
"This only represented 50% of the garbage generated at the time while the uncollected waste is being dumped indiscriminately with most of it ending up in channels draining into Lake Victoria," she said.
She explained that the MWE has supported KCCA in acquiring solid waste Management and channel dredging equipment worth sh4.2b which has boosted KCCA's capacity to handle solid waste and drainage channel maintenance by 40% and 50% respectively.
'It is my sincere hope that with this additional equipment, KCCA will experience new levels of cleanliness and where the urban pollution due to indiscriminate disposal of solid waste will significantly reduce, "she said.
She reported that basing on the good lessons learned with KCCA, the ministry also supported Entebbe and Mukono municipalities to acquire similar equipment worth sh4.1b and all the equipment were handed over during the water week that was held in Entebbe recently.
"As we prepare the third phase of the project, we intend to upscale similar efforts and also cover other towns within the Lake Victoria Basin including Kira, Masaka, Mbarara, Busia, Jinja among others, "she pledged.
Adongo also urged all Ugandans to take keen interest in environmental conservation and particularly proper waste disposal and management.
The LVEMP 11 project coordinator Sowed Sewagudde pledged to continue working with KCCA in an effort to save Lake Victoria.