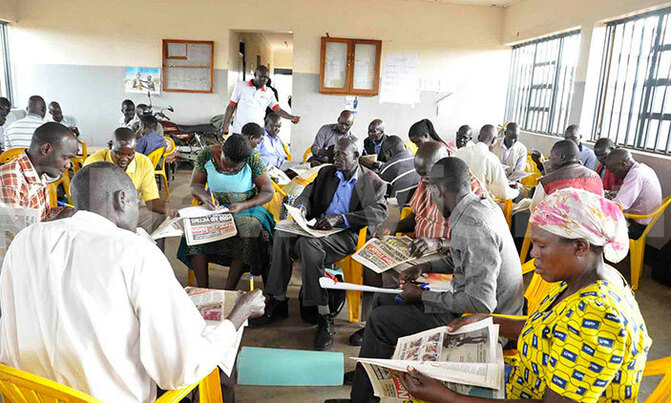 Helder Ochan Lakot, the headteacher, Acet Primary School could not believe that from one newspaper you can teach all the subjects.
EDUCATION
OMORO-By 2:00pm, teachers and head teachers from various schools in Omoro district were already gathered at Odek Sub county hall in Olam village, Palaro parish in Omoro district waiting to take part in the training on how to use newspapers to deliver the curriculum.
The training was organised by Vision Group in partnership with Save the Children.
By 2:10pm, they were organised in groups after each received a newspaper and groups were asked to make lessons plans using the newspapers. Unlike textbooks that can be used for one subject at a time, teachers were asked to use newspapers to make lesson plans for all subjects.
In groups, some teachers were seen kneeling on the flow making cuttings from the newspapers, others were reading to get answers while others were making various drawings and writings out of the newspapers.
After, each group was asked to present to the class the lesson plans they had made using the newspapers. And by the time the presentations ended, all teachers were praising newspapers for being a good tool for delivering the curriculum.
Helder Ochan Lakot, the headteacher, Acet Primary School could not believe that from one newspaper you can teach all the subjects. She noted that it is like magic.
"All along I was thinking that newspapers are for just reading and getting news I did not know that a newspapers can be used to teach. She promised that after the training, her school is going to make good use of the newspapers," she stressed.
Another teacher Denis Olara, from Oapwoyo Primary School said he has now discovered they have been crying for nothing that they don't have textbooks.
Dyefred Okello, a teacher from Jing Komi Primary School said after the training, he discovered that newspapers can be used to help pupils read and improve their confidence.
"I have also discovered that the newspaper also helps the pupils to think critically and improves on their reading," he noted.
In his speech, the chief guest David Adonga, who is the secretary education, advised the parents to take the trainings serious because these are rear opportunities that other schools would dream of getting.
He advised the schools that are receiving newspapers to ensure that they utilise them in order to improve performance.
"After this training, I don't expect any school that is receiving newspapers to perform poorly. You should ensure that you take all you have learnt in the training back to schools," he notes.
In his address, John Eremu, the features editor Vision Group noted that a number of schools that are already using newspapers have improved in their performance because a newspaper is like a text book.
He explained that teachers can make lessons using the papers, which will help supplement on the textbooks that are in most cases not available in schools.
He advised the teachers to allow pupils read papers, because they offer current news that is not in the textbooks.