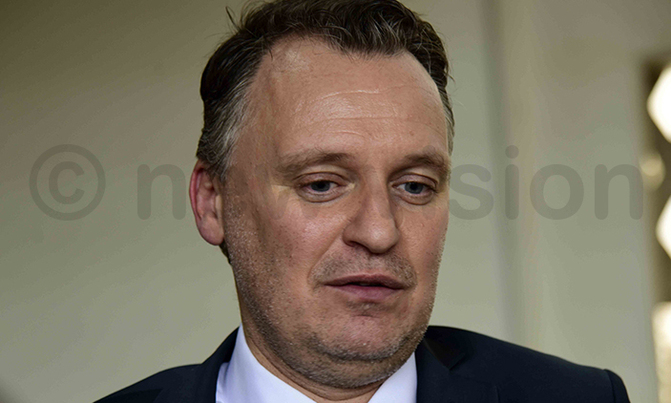 Wim Vanhelleputte says since 1993, he has been a regular visitor to Uganda and is married to Barbra Adoso, a Ugandan
The High Court will on April 11 hear a case in which the former chief executive officer of telecommunications company MTN Uganda, Wim Joris Vanhellepute, is challenging his deportation.
When the application came up for hearing on Wednesday, state attorney Kodoli Wanyama told court presided over by Justice Henrietta Wolayo told the court that government is still looking for information from relevant departments and authorities in order to file a response in the case.
Last month, Vanhelleputte filed a suit against the Attorney General at the Civil Division of the High Court, purporting that his deportation from Uganda to Belgium on February 14, 2019, was irrational and illegal.
Vanhelleputte says the process used by the Ministry of Internal Affairs to declare him "undesirable" and his subsequent deportation was high handed and contrary to the law, as he was never accorded a fair and just treatment before, during and after making of the deportation order.
"I am entitled to fair and just treatment and due process before an administrative body/or any person and also a right to be heard which was never done," he contends.
Vanhelleputte, who says he resides in Lubowa, Makindye-Ssabagabo, Wakiso district, also seeks for damages over purported illegal detention and deportation and any other reliefs that the court shall deem fit.
Vanhelleputte says since 1993, he has been a regular visitor to Uganda and is married to Barbra Adoso, a Ugandan citizen and that the deportation will keep him away from his family.
The couple has two children, namely, Jonathan Vanhellepute, 17, and Jason Vanhellepute, 13, who is currently living in Uganda.
Vanhelleputte reveals that he got married to Adoso on April 29, 2000, and that their marriage was celebrated both in Uganda and Belgium. He attached a marriage certificate and documents in support of his submission.
Vanhelleputte says that he has never committed any offence or criminal act under the laws of Uganda and neither is he responsible for breaking the law. "There is no lawful reason whatsoever for my deportation."
He disclosed that he had been the MTN CEO and other telecommunication companies since October 2001 in various countries including Ivory Coast, Senegal, and Gabon but he has no criminal record at all.
Summons
Vanhelleputte says that on January 22 and 29, 2019, was summoned to appear for interrogation at the Special Investigations Unit (SIU), Kireka, which he did and left the premises.
Vanhelleputte says he had appeared before the senior commissioner of police Elly Womanya and the Chieftaincy of Military Intelligence (CMI) head, Brig. Abel Kandiho, who interrogated him and handed him to another officer to record a statement.
During interrogation, Vanhelleputte says security personnel asked him whether he was communicating with the deported MTN staffs.
Vanhelleputte says he explained to the security personnel that he communicated to the deported MTN staffs because they had not handed over office at the time and that there were issues to sort out with them to ensure continuity of operations and company business within the departments.
Other MTN bosses who were deported were Olivier Prentout (French), the chief marketing officer, Annie Tabura, a Rwandan national, who was MTN's general manager for sales and distribution and Elza Muzzolini, an Italian national, who was the general manager mobile finance services.