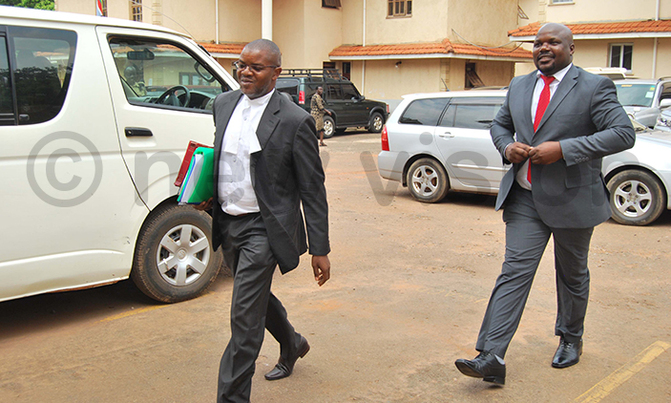 He seeks to block his trial at the Anti-Corruption Court, contending that the complainant abandoned the charges of corruption preferred against him in 2015
Clad in a grey suit, white shirt and a red tie, Kawempe South MP Mubarak Munyagwa on Wednesday appeared before the Anti-Corruption Court to answer charges in connection with defrauding a businessman of sh178m.
The controversial MP, who doubles as chairperson of the Committee on Commissions, Statutory Authorities and State Enterprises (COSASE) arrived in court in a silver grey Toyota Fielder at about 11:00 am and went straight to the courtroom.
Appearing before Chief Magistrate Pamela Lamunu Ocaya, lawyer Chrysostom Katumba requested the court to hear an application in which Munyagwa wants the court to stay criminal proceedings against him before the same court, pending determination of his constitutional petition.
"I pray we proceed with the matter although the state attorney who is handling the case is absent," he requested.
In his petition, Munyagwa seeks to block his trial at the Anti-Corruption Court, contending that the complainant abandoned the charges of corruption preferred against him in 2015.
"The act of the DPP in resurrecting the case after abandoning it for over four years is inconsistent with the Constitution."
State attorney Marion Aciro was holding brief for Senior Assistant Director of Public Prosecution (DPP), Alice Komuhangi Khaukha, who travelled to South Africa on official duty.
However, the magistrate declined to proceed, stating that it would be unfair to hear the application when the state attorney handling it is indisposed.
"Justice of the court requires that the state attorney handling the matter be involved in the application because it emanates from the main case," she stated.
In his application filed at the Anti-Corruption Court on March 20, 2019, Katumba says Munyagwa stands charged with three counts of corruption contrary to section 2 and 26 of the Anti-Corruption Act at Buganda Road Court.
The offence attracts a maximum penalty of 12-years-imprisonment upon conviction.
Katumba purports that the DPP has continued to prosecute Munyagwa in total disregard of the complainant's loss of interest in the case.
Background
Under the first count, prosecution alleges that Munyagwa in December 2014 at Haks Investment Limited on Sixth Street, Industrial Area, in Kampala, being a mayor of Kawempe division solicited for a gratification of sh100m from Francis Kakumba in exchange for him to influence Kawempe division urban council, to nominate his son, Isaac Muyanja, for appointment as a member of the Kampala City Land Board.
The prosecution further alleges that Munyagwa in the same period and place received $20000 (about sh74m) and sh4m from Kakumba to nominate his son for the job.
Police records indicate that Munyagwa used one Vicente Mulondo to approach Kakumba to ask for the money that he received.
It further indicates that Munyagwa had received a letter from the then minister of presidency, Frank Kagyigyi Tumwebaze, asking him to nominate somebody to represent the Kampala Capital City Council (KCCA) division land board.
After some time, it is alleged that Munyagwa informed Kakumba that his son had been rejected because he was underage and later promised to compensate him with a piece of land in Kalerewe, a Kampala suburb.
According to Police, a disagreement ensued between Munyagwa and Kakumba when the former mayor offered the latter a small piece of land, which he rejected. It is purported that Kakumba wanted the land plus some money.
Failure to fulfil the requirement prompted Kakumba to lodge a complaint at Kabalagala Police Station and Munyagwa was arrested and detained, before he was released on bond.
Munyagwa speaks out
Speaking to journalists outside court, Munyagwa said the offences preferred against him are trumped up.
"These are fictitious and frivolous charges which are meant to keep me reporting to court," he said.
The case resumes on April 5, 2019.