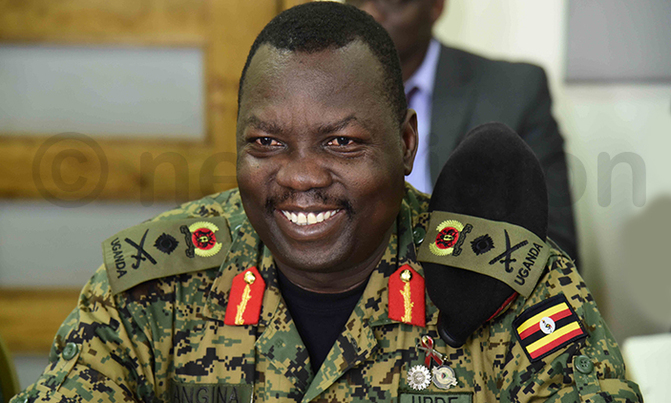 Operation Wealth Creation was set up in 2014 and UPDF officers were appointed to implement the programme crafted to enhance the household income of citizens
The deputy coordinator of Operation Wealth Creation (OWC), Lt Gen. Charles Angina, has described as "unfortunate" and "unfounded" claims by a top agriculture ministry official that soldiers have messed the programme.
In 2014, President Yoweri Museveni set up Operation Wealth Creation and appointed UPDF officers to implement the programme that was crafted to enhance the household income of citizens.
According to a statement issued by OWC on Tuesday, Angina says soldiers under OWC do not handle money or procurement related to farm inputs.
Angina says that under the implementation of the OWC activities, procurement roles are exclusively handled by the National Agricultural Advisory Services (NAADS).
The OWC deputy coordinator was responding to allegations made by a top official from the agriculture ministry that: "the Army's Operation Wealth Creation intervention made the Government suffer huge losses in the initial stages because the programme was messed up by soldiers."
Angina has described the allegations as "unfortunate" and "unfounded", saying they lack basic facts.
"It is categorically clear that OWC plays an oversight role through monitoring, evaluation and effective coordination of service delivery of both inputs and their progressive growth as NAADs drives the procurement process," he said.
Angina added: "There is no truth in comments attributed to Beatrice Byarugaba (the director of extension services in the Ministry of Agriculture) as OWC does not handle the procurement system which involves huge sums of money."
Angina said that the overall objective of OWC is to ensure mindset change and positive attitude of the 68% of the masses outside the money economy.
The deputy coordinator, however, notes, that there are some challenges such as lack of coordination by mandated agencies, lack of structured marketing system, low level of financing and failure to work out a partnership between the public and the private sector, which must be addressed for OWC to achieve its targets.
"OWC efforts brought about an increase in the coffee export value from $407m to $555m, maize export value from $79m to $130m, cotton export value from $31m to 51m all between 2013 to 2017, among other export values," Angina said.