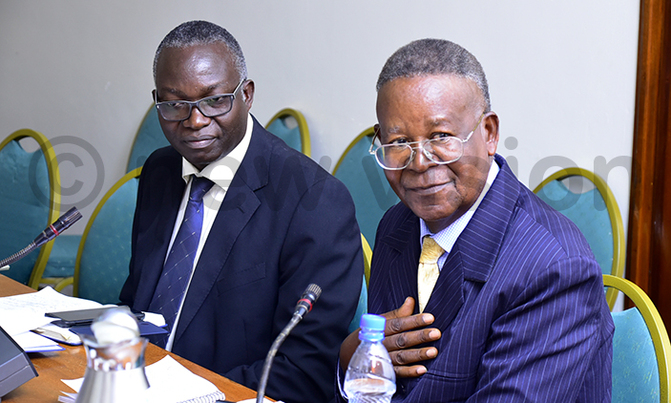 The money will be used to finance the implementation of conservation projects identified in the four districts surrounding Bwindi Impenetrable Forest
The Uganda Wildlife Authority has earmarked sh4b as part of the 20% revenue sharing with the communities surrounding Bwindi Impenetrable Forest.
UWA Executive Director Sam Mwondha revealed this yesterday while appearing before the select committee investigating the Apaa land Conflict.
"We have earmarked sh4b that we plan to share with the communities in Bwindi as part of the revenue sharing. We have written to the Minister to allow us release the money to the beneficiaries," Mwondha said.
The money was a mandatory 20 per cent revenue sharing agreement with the neighbouring communities and local governments as prescribed in law.
According to Mwondha, the money will be used to finance the implementation of conservation projects identified in the four districts surrounding Bwindi.
The money from revenue sharing is sent by UWA to the districts who keep 5% to cover administration costs and pass the remaining 95% on to the parishes for the agreed projects.
Before the Wildlife statute which later became the Wildlife Act Cap 200 of 2000, communities neighbouring the National Parks were not benefitting from park revenues.
However, the policy was changed and guidelines formulated on who should receive the money and how to invest it.
The revenue sharing programme is meant to strengthen partnerships between local communities, local governments and management of wildlife areas leading to sustainable management of wildlife resources in protected areas.
"When we developed the guidelines, we started sending the money to the districts for accountability and monitoring purposes. For Bwindi we have agreed that the money goes to counties to support projects that directly benefit the communities," he said.
The Bwindi Impenetrable National Park is a biodiverse, mountainous area in southwest Uganda. The park is part of the Bwindi Impenetrable Forest and is situated along the Democratic Republic of the Congo (DRC) border next to the Virunga National Park and on the edge of the Albertine Rift.
The Park is best known for its Mountain Gorilla populations and gorilla tracking although, it also offers some of the finest montane forest birding in Africa and is a key destination for any birder. It's home to about 340 individual mountain gorillas known as the Bwindi population, which makes up almost half of all the mountain gorillas in the world.
It also provides refuge to elephant, chimpanzee, monkeys and various small antelope and bird species.