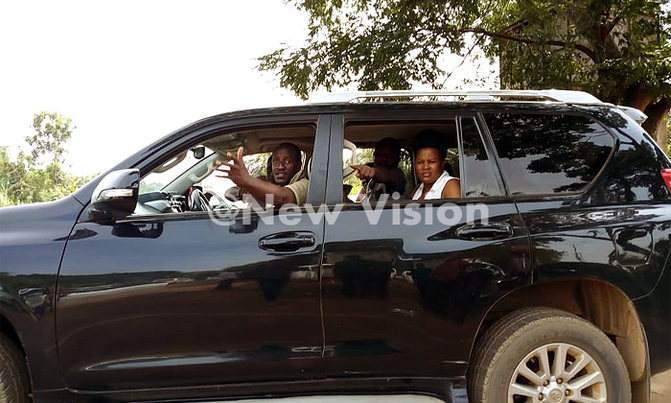 "The fact is they attempted to finish us from a road side grocery where I usually stop to buy my groceries," says the minister in her detailed account.
CRIME

Aidah Nantaba, the Minister of State for ICT, has in detail provided her version of what transpired on the day she survived an alleged attempt on her life. That was Sunday.

Here is the minister's full account (unedited):

_______________________


Accounts of my recent attempted assassination

On the 12th of March, I suspended my son and driver Isaac who had been reported by residents of Kayunga that he was in company of people I had suspended from my political Camp.... I then requested the PS to allow Yasin one of the drivers at the Ministry to drive me to Kyankwanzi. But before the retreat ended, I had to leave for Kayunga to mobilize the residents to attend the Isimba HHP Dam commissioning.....and by last Friday, Yasin was evidently tired. He then requested to go home which I allowed bcoz Saturday is a SABBATH/Resting DAY. On Sunday morning at around 10am I asked my bodyguard to drive me back to Kampala....so we set off....


The assassination incident/attempt

The fact is they attempted to finish us from a road side grocery where I usually stop to buy my groceries and if God had not helped me to see the assassin fast enough before he got close to us ....we would have been murdered......good enough i quickly shouted on seeing a Sports bike riding from Kabimbiri towards us and my body guard quickly cocked the gun and jumped out of the car very fast ....then the assassin pretended as if he was heading to Kayunga/ Sezibwa Bridge, but then made a Uturn in a few meters this time riding on the left side towards my vehicle I think to try his luck again ..... at this time Tugume is on Standby with his gun ready to shoot and the assassin gets close to my car passes by and parks right infront of my official car and Tugume moves very fast and stands just behind his bike... I quickly asked the woman/ attendant at the grocery to go and ask this suspect what he wanted..... she then reached out to this man and asked him ...."oyagala ki".....he replied...."where is Kambimbiri town"? ......the woman responded ...."yeyo town mwoyise sebo, he then looked back and only to see that my bodyguard was right behind him with a gun in his hands....and then started the bike and rode off heading to Kampala......Tugume then asked me to drive and follow the bike Which I did....i drove off also and shortly reached him...here, Tugume asked him to stop as he waved his left hand prompting him to stop .....here he slowed down pretending as though he was parking by the road side...but again he took off at a very high speed.....i then asked my body guard to shoot him or atleast in the air or atleast his tyres...but he replied that ....."let's wait to see whether he stops at Kabimbiri" ...to our surprise the man just continued past Kabimbiri.....and that's when Tugume advised that we follow him to Naggalama as he started calling his SFC counter parts to contact Naggalama Police Station to cut off/ to mount a road block......as we continued following this man from a distance bcoz he had to keep his eyes in all directions without loosing track of this man.....after Nakifuma ....he slowed down and branched off to the left just before Naggalama Police Station.....indeed I had taken a decision to follow him all through but Tugume shouted stopping me saying we may end up in their ambush....i stopped immediately and reversed to the main road and drove to Naggalama Police Station where indeed the DPC responded very fast sending out Police Patrols to cut off all the routes.....I was then advised to go back to the Police Station.... After two hours, the O.C station got information that they had arrested them.....i then informed him..that it was only one man who was riding the sports bike....the O.C then replied... "Hon. It's true but he was later on joined by another person..... it seems his accomplices were waiting for him from that same route.....so they are two but one has escaped and they are coming back with the other," he said......i then asked my bodyguard to rush to the scene to verify and either confirm the O.C station's report.....unfortunately they found the suspect/assassin shot dead and they communicated accordingly.....

But before all this, we had stopped right before the Sezibwa Bridge to greet Hon. Mutebi who was also heading to Kampala... as I was talking to him, a boda boda carrying two men riding towards Sezibwa bridge first passed by us and the two men waved at me....three minutes after, the same Boda came back and stopped right next to us ....and they jumped off and greeted me and one of them asked me to visit Buyobe Village.....then they again took the direction of Kayunga ....but we did not mind about them.....but , as Tugume is standing behind this suspected assassin at Sinda market, the boda boda resurfaces again with the very two men ....and stops a few meters ahead ......and as we were about to approach Kabimbiri town ridin after the Sports bike .....we saw them again one on the Boda boda the other standing on the road side but did not get to see them again.....


Questions

1. If he was an innocent man....why didn't he stop the bike when we first stopped him....?

2. If he was going to visit his children to a school located in Kabimbiri...then how come he passed Kabimbiri and proceeded to Sinda where I had parked to buy my groceries ????

3. Why did he again make a U turn after passing by my vehicle at a very low speed as we suspected that he wanted to make another attempt .....????

4. Why run all the way to Naggalama from Sinda and then to Naggojje if he had reached his first destination????

5. Why did he run away from Police Patrol vehicles as they persued him....why didn't he stop and declare his harmlessness or innocence .....?

6. When their bike hit a hump and fell off.. ...why again did they run to the Bush as the Patrol approached them.....why not stop and declare your innocence????

7. Then finally....under whose Orders was this man shot dead.....as the eye witnesses broadcasted on NTV yesterday narrated?

8. May the name of the Lord be praised for saving my life


Hon. Nantaba Idah Erios
Maama Kayunga and
Minister of State ICT and National Guidance