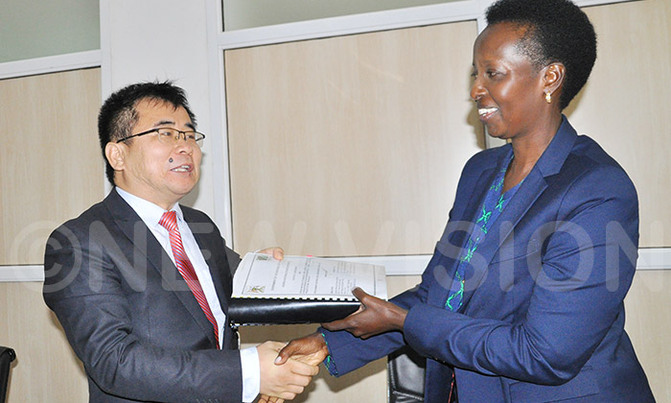 Kagina said the contractor will start building the roads as soon as possible. The cost for the three roads is shs504b.
INFRASTRUCTURE | OIL

The Uganda National Roads Authority (UNRA) has signed a contract with the China Railway Seven Group to build the 97km of roads in Bunyoro region.

The company will build Masindi-Biiso (54km), Kabaale-Kizirafumbi (30km) and Hohwa-Nyairongo-Kyarusesa (25km) roads in the oil-rich region.

The length of the oil roads in the Albertine Graben is approximately 700km. The other roads include; Hoima-Butiaba-Wanseko (111km), Masindi-Bugungu (23km), Buhimba-Nalweyo-Kakumiro-Mubende (93km) and Lusalira-Nkonge-Ssembabule (97km).

The Bugungu-Buliisa (29km), Kabaale-Kiziranfumbi (30km), Kabwoya-Buhuka (43km), Karugutu-Ntoroko (55km via Semliki National Park) and Tangi junction-Paraa (22km including Tangi bridges and Emmi bridges) roads are also among the oil roads to be constructed.

The UNRA executive director, Allen Kagina, signed a contract with China Railway Seven Group representative, Bian Deng, at UNRA offices in Kampala on Tuesday. Other Chinese companies are already constructing some of the oil roads.

Kagina said the contractor will start building the roads as soon as possible. The cost of the three roads is shs504b. The contractor will design and build the roads and finance their construction for a year. The Government will reimburse the contractor.

The Government chose to build 12 roads a few years ago to facilitate the delivery of equipment for building oil facilities in the region ahead of petroleum production.

The 12 oil roads were split in six packages. Kagina signed the contract for the construction of the fifth package of the roads on Tuesday. She explained that the construction of the sixth and last package of the roads will also start soon.

"In order to achieve the first oil target, key enabling structure, such as roads must be put in place. The government together with the oil partners identified the roads to be constructed to achieve the oil target, "she said.

UNRA said it has been carried out preparatory studies and compensated over 60% of the project affected persons ahead of the commencement of civil works on the Masindi-Biiso, Kabaale-Kizirafumbi and Hohwa-Nyairongo-Kyarusesa roads.