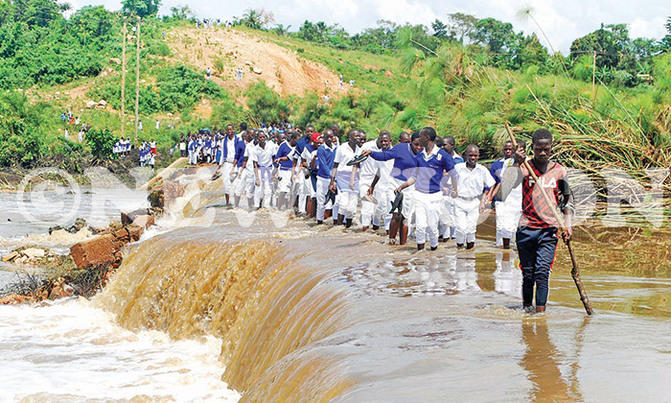 "Because Uganda is so watery, we suspect that there are many drowning deaths although we don't know how many..."
ACCIDENTS|HEALTH

David Wafula, 12, was excited about his impending swimming expedition. He had finally mustered the courage to brace the deep River Namatala in Mbale district. Little did he know that his first dive into the river would also be his last, for after plunging into the river, his tiny lifeless body was seen floating, moments later. In a matter of seconds, Wafula had added himself to the thousands of people who die due to drowning.

Drowning is the process of experiencing respiratory impairment from submersion or immersion in liquid. In 2015, an estimated 360,000 people died from drowning, making drowning a major public health problem worldwide.

Drowning is the 3rd leading cause of unintentional injury death worldwide, accounting for 7% of all injury-related deaths. Global estimates may significantly underestimate the actual public health problem related to drowning. Children, males and individuals with increased access to water are most at risk of drowning.

The global burden and death from drowning is found in all economies and regions although low- and middle-income countries account for over 90% of unintentional drowning deaths.

Unknown Burden

Dr. Kelly Henning, the head of public health at Bloomberg Philanthropies, says that the number is probably an underestimate because drowning is very poorly recorded in terms of the cause of death.

"Because Uganda is so watery, we suspect that there are many drowning deaths although we don't know how many. Many of the drowning-related deaths are not reported so there is little data about them," says Henning.

Mable Nakitto Tomusange, the executive director Injury Control Centre, an organisation that aims at reducing injuries through advocacy and research, says there is limited information on the burden of drowning due to the lack of a systematic process to record and track drowning-related incidents and deaths.

She notes that hospital trauma registries underestimate the drowning cases since not all cases are reported to hospitals.

"Systematic community-based surveys are needed to quantify the burden of drowning and act as baseline research for drowning interventional research in Uganda," she says.

Global Issue

WHO released the first ever Global report on drowning in November 2014. The report pointed out that drowning has been highly overlooked, and that more should be done by governments and the research and policy communities to prioritize drowning prevention and its integration with other public health agendas.

The report indicates that younger children aged between one to four years are at a higher drowning risk than the older ones. This group is closely followed by children five to nine years. This relationship is often associated with a lapse in supervision.

Henning says drowning is one of the top five causes of death among children aged between one to 14 years for 48 of 85 countries across the world.

The report indicates that in China, drowning is the leading cause of injury death in children aged one to 14 years while it is the second leading cause of unintentional injury death in children of the same age group in the United States of America.

In Australia, drowning remains the leading cause of unintentional injury death in children aged one to three years while in Bangladesh, drowning accounts for 43% of all deaths in children aged one to four years.

According to the report, males are especially at risk of drowning, with twice the overall mortality rate of females. They are more likely to be hospitalised than females for non-fatal drowning. Studies suggest that the higher drowning rates among males are due to increased exposure to water and riskier behaviour such as swimming alone, drinking alcohol before swimming alone and boating.

Other risk factors include; access to water, flood disasters and travelling on water.

Prevention

Henning says that there are many actions to prevent drowning. However, she notes that different communities need different interventions, based on their circumstances.

Henning notes that installing barriers such as covering wells, using doorway barriers and fencing swimming pools controls access to water hazards, or removing water hazards entirely, greatly reduces water hazard exposure and risk.

She further notes that community-based, supervised childcare for pre-school children can reduce drowning risk and has other proven health benefits. Also, teaching school-age children basic swimming, water safety and safe rescue skills is another approach.

"Most countries would need multi-prong interventions," Henning says.

She also recommends survival swimming for adults and children over five.

Dr. Olive Kobusinge an injury epidemiologist at the Makerere School of public health says that effective policies and legislation are important for drowning prevention.

She notes that setting and enforcing safe boat use, shipping and ferry regulations is an important part of improving safety on the water and preventing drowning.

"For instance, people using water transport should be mandated to wear life jackets," Kobusingye says adding that people should be also be sensitized about water transport.

Kobusingye adds that there is a need to raise awareness of safety around water, build consensus around solutions to the problem.

In her 2017 study aimed at determining the drowning burden in four Ugandan lakeside districts, she found that the prevalence of life jacket use was low, and community knowledge and attitudes regarding water safety were wanting.

During the same year, WHO released an implementation guide on preventing drowning. This publication builds on the Global report on drowning and provides concrete guidance for drowning prevention practitioners on how to implement drowning prevention interventions.

The guide provides recommendations to governments to tailor and implement effective drowning prevention programmes to their settings, improve data about drowning, and develop national water safety plans.

The report also points out the multi-sectoral nature of drowning and calls for greater coordination and collaboration among UN agencies, governments, key NGOs and academic institutions to prevent drowning.

To this end, WHO has worked with ministries of health in some low- and middle-income countries to prevent drowning through the use of barriers, controlling access to water and the establishment of day care centres for pre-school children. In addition, WHO has also funded research in low-income countries, exploring priority questions related to drowning prevention. At a regional level, WHO organises training programmes and convenes workshops to draw together representatives of governments, NGOs and UN agencies working on drowning prevention.

National intervention

In January 2017, Centre for Disease control teamed up with Makerere University in a two-phase project in a study aimed at establishing the drowning death burden in the country.

Henning who is on the research team, says the first phase entailed looking at data sources to find information about drowning. These data sources include police reports, maritime police records, hospital records and any other records.

"In a couple of months, we should have results for the first phase while the second phase results are expected to be ready in a year," She says.

The second phase, Henning says, will involve assessing the circumstances of drowning and a deeper insight to the country's situation in relation to drowning.

Henning says that Uganda will be the first country in sub-Saharan Africa to have data about drowning deaths.

"This information is likely to be useful to the neighbouring countries," Henning says.

She maintains that the drowning fatality rate is very high, making it a prevention issue rather than a treatment issue.

First aid for drowning victims

Health experts note that if you suspect someone is drowning, notify a lifeguard and call for help without wasting any time. However, rescue is only half the job. Reviving someone who has drowned or swallowed water is the other half, and it's equally important when it comes to saving a life.

Having pulled the drowning person back to dry land, the next step to reviving them is performing mouth-to-mouth resuscitation. It is advisable to call for help before beginning these important first aid emergency measures.

You should implement universal safety guidelines whenever possible. If you have an airway bag in your first aid kit, use it. It will provide safety during mouth-to-mouth resuscitation, keeping HIV and other infections at bay.

Steps for Mouth to mouth resuscitation
Turn the drowning person's head to the side, allowing any water to drain from his or her mouth and nose. Turn the head back to the centre.

Begin mouth-to-mouth resuscitation on land, if possible, or in the water if the injured person needs immediate life-and-death measures.

Strongly breathe four times into the mouth of the injured person as you pinch his or her nose. This helps air get past any water that is clogging the breathing passageways and the lungs.

After four strong breaths, put your ear near the mouth and watch the chest for any breathing movement.

Check the pulse for signs of life.

Repeat the cycle.

Seek medical attention

Having resuscitated the victim, it is important to seek medical attention immediately. Experts warn that the first 48 hours after a drowning incident can be the most dangerous. Complications resulting from water exposure such as pneumonia, infection and heart failure, among others can all occur during this time. Therefore, you should always take a drowning victim

RELATED