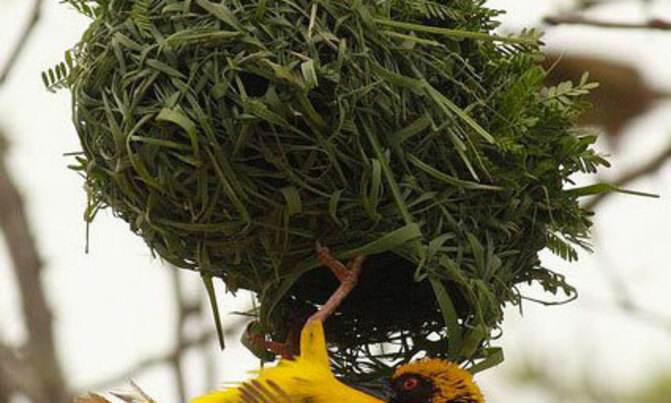 "Did you know that for a female weaver bird to submit to a suitor's proposal, he has to prove his weaving perfection"
PIC: Courtesy photo
TOURISM WILDLIFE
Wandegeya (home of weaver birds) a suburb within a walking distance of Kampala City's Central Business District was named after one of the noisiest birds in the world which is endowed with vibrant yellow feathers and ear assaulting tweets.
It was named after its weaving skills."Did you know that for a female weaver bird to submit to a suitor's proposal, he has to prove his weaving perfection" revealed Hassan Mutebi, tour guide during a bird watching expedition in Mabira Forest.
"For 48 hours he is tasked to ferry; strands, stems and leaves to weave an up a class home."
According to Mutebi, the architecture must have the desired qualities or the groom with great devotion expectations risks dying a lonely heart and childless.
"Facts have it that a bird worth her salt will not give in to advances to any male suitor unless he proves himself man enough to weave a nest according to a list of requirements," revealed Mutebi. "They include having an entry which cannot be accessed by predators that feast on the eggs and chicks."
Confirming Mutebi's allegations, a Uganda Wildlife Education Center (UWEC) marketer Scovia Musiimenta says it is easy to identify the male and female weaver.
"To be able to catch the eye of the females, the males naturally have vibrant colours - yellow and black feathers. Once you see one ferrying building materials and using their beaks to weave," confided Musiimenta. "Be sure he is courting. Before getting conjugal rights with the apple of his eye - a home is a prerequisite."
She adds that like humans, besides the females being materialistic when it comes to relationships there are some male weavers that are polygamous.
"This lot sweet tweet themselves hoarse," adds Musiimenta. "They also build several nests to accommodate their harem."
UWEC's Musiimeta called upon the citizens to stop encroaching on swamps and cutting forests, where weavers live. She hopes the future is very bright, given the revival of Wildlife Clubs in schools.
Another birder in Kidepo Valley National Park (KVNP), Joseph Logwe has another point to stress, the importance of the quality of the weaver's nest.
"Should the female inspect the nest after falling for the suitor," pauses Logwe for the point to drive home. "She will give him a second chance by shredding the poorly woven nest and challenge him to put up something more decorous and safe for their chicks!"
A glance at Birds of East Africa authored by Dave Richards pointed out six different types of weaver birds. They comprise: the Baglafecht Weaver, The Taveta Golden Weaver, The Black headed Weaver, A Spectacled Weaver, Spekes Weaver, and Holobs Golden Weaver. Audibly irritated about their vanishing habitat, as Wandegeya did, they are scattered in most parts of the country.