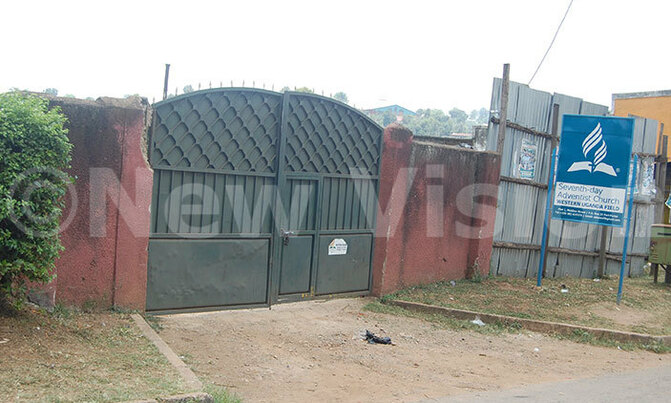 The angry Christians who were led by Jonathan Kihumuro accused the bishop of mismanagement of church funds and failing several projects which they had initiated.
The bishop of the Seventh Day Adventist Rwenzori field, Samuel Mwebaze is nursing injuries after a group of Christians attacked him and caned him on Tuesday afternoon.
Bishop Mwebaze was dragged out of his office at the SDA headquarters in Fort Portal town at around 1:00pm.
The angry Christians who were led by Jonathan Kihumuro accused the bishop of mismanagement of church funds and failing several projects which they had initiated.
Kihumuro who is currently being held at Fort Portal Central Police Station on charges of assaulting the man of God said that several projects which include church construction and health centres have stalled due to the mismanagement of funds by the bishop.
Grace Kabagweri another member of the SDA church said that that they wanted to punish the bishop and accused him of disrespecting the church members.
"As members of the SDA church in Rwenzori region we thought it was wise if we could bring back to order our bishop by giving him strokes," Kabagweri said.
She said that their intention was not to kill bishop Mwebaze but rather punish him for his actions that have slowed down development in the church.
"We tried to advise him for many years but he didn't adhere to our advice for over two years and we decided to punish him," Kabagweri said.
It took the intervention of the people around the offices of the bishop to rescue him as more Christians were advancing towards him with sticks and stones.
"It started like drama and we didn't expect the Christians to behave like that we thought they were shooting a video but all of the sudden they started beating the man we called Police but it arrived late," said Patrick Kasangaki a businessman in Fort Portal municipality.
Lydia Tumushabe the Rwenzori west regional police spokesperson said that Police had arrested seven people in connection with the incident.
"It was an embarrassment canning a bishop in public he has reported a case of assault at Fort Portal Central Police Station and we have seven people in custody," Tumushabe said.
She identified some of the arrested as Jonathan Kihumuro, Amos Mugenyi, Julius Kakwezi, Moses Mutegeki, Bob Kaheebwa and Joshua Kakwezi both members of the church.
Tumushabe said that the Christians stole the bishop's valuables and damaged his laptop during the scuffle at the office.
She said that police was tracing for other suspects because the group was big and that after investigations they will be arraigned in court to answer charges of assault.
"The bishop is the complainant in this case because he reported the case at Police and we immediately started investigations and we condemn such acts," Tmumushabe said.
Stephen Asiimwe the Resident District Commissioner for Kabarole condemned the actions of the Christians.
"That is totally indiscipline on the side of church members attacking a bishop with sticks and canning him strokes we shall not entertain that nonsense all those who participated in the beating will be hunted for and arrested," he said.
"It was a very big embarrassment to the bishop and we have asked the head of the SDA church in Uganda to come in and intervene because they have been embroiled in very many wrangles," Asiimwe said.
By press time the bishop couldn't be traced for as his phone was off and the offices in Fort Portal town remained closed.