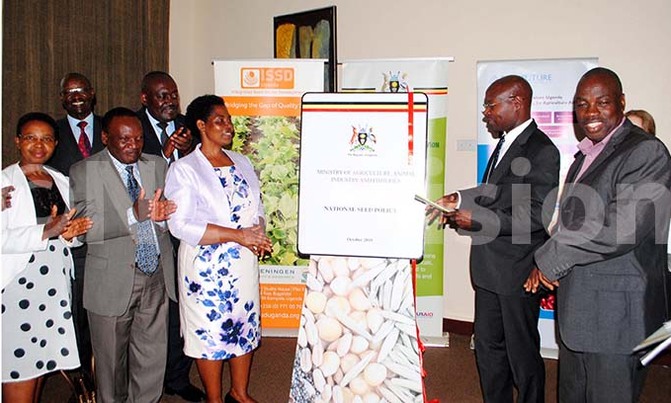 There are only 35 certified seed companies in the country producing an estimated 18,000 metric tons of seed which represents a dismal 30% of the required seeds for local market
AGRIBUSINESS

KAMPALA - Farmers are grappling with lack of high quality seeds due to absence of enough registered and certified seed companies in the country.

There are only 35 certified seed companies in the country producing an estimated 18,000 metric tons of seed which represents a dismal 30% of the required seeds for local market, Ministry of Agriculture top official has revealed.

"Despite the rapid growth of the seed industry, the country still faces lack of enough high quality seeds. There is a very big gap which needs to be narrowed," the director agricultural extension services, Beatrice Byarugaba, said.

Byarugaba said that the certified seed companies import small quantities of seeds from countries such as Kenya, South Africa and the The Netherlands. Such companies are cleared by the National Seed Certification Services which is mandated with the regulation of formal seed system.

"As government, we have given seed companies an enabling environment to thrive, they should build capacity to vigorously market their seeds and sensitize farmers on the need to buy high quality seeds for improved yields," she advised.

Byarugaba noted that over 68% of Uganda's farming households largely rely on home-saved seed of low quality which results into low productivity due to insufficient availability of affordable high quality seeds and lack of trust in the certified seed available on the market.

She said the inability of seed companies to supply required quantities of certified seed and the limited capacity in the regulatory system is responsible for an estimated 30-40% of counterfeit seeds on the market.

Byarugaba was speaking at the launch of a national seed policy and strategy yesterday at Protea Hotel in Kampala.

Statics show that due to limited use of improved seed, the current farm level crop yields are far below potential. For instance, yields of bean a major food crop ranges between 300-500kg per acre per season compared to a potential of up to 900kg per acre per season.

The policy was launched jointly by the Ministry of Agriculture permanent secretary Pius Wakabi, seed industry stakeholders; USAID, the Royal Dutch embassy, Integrated Seed Sector Development (ISSD Uganda) and Uganda Seeds Traders Association.

Wakabi said quality seed is the most renewable agricultural resource and one of the determinants of farming success to transition from subsistence to a market-oriented agricultural production and food secure population.

Ministry of Agriculture commissioner for crop inspection and certification Paul Mwangu said Uganda's seed testing laboratory is yet to be accredited to the International Seed Testing Association but the process is underway.

USAID senior resident legal officer, Laura Gonzales hailed the Government for robust policies including in the seed sector.

"US government is proud to have supported the formation of the seed policy. It's essential for improving food security, nutrition and healthy population," Laura said.


What the policy entails

The seed policy envisions a competitive, profitable and sustainable seed sub sector where farmers access affordable quality seeds and to intensify utilization of arable land and adoption of high quality seed and other planting material supplemented by other technological packages for all agro-ecological zones.

The policy will enable Uganda to exploit the huge opportunity in the regional and international seed market through an expanded, well-regulated and competitive seed sub sector.

It will also ensure that Uganda meets her international commitments while competing favorably in the regional and international seed markets and contribute to the realization of the agricultural outcome envisaged in Vision 2040 and National Development Plan II.


Seed dealers speak out

Narcis Tumushabe of Uganda Seeds Traders Association was optimistic that the policy, the first of its kind in Uganda will bring about government interventions on how the seed sector should develop and operate.

Tumushabe called for coordination and adherence to set regulations in the seed sector by the different players in the seed value chain.

Uganda has favorable conditions for seed production with two main cropping seasons.