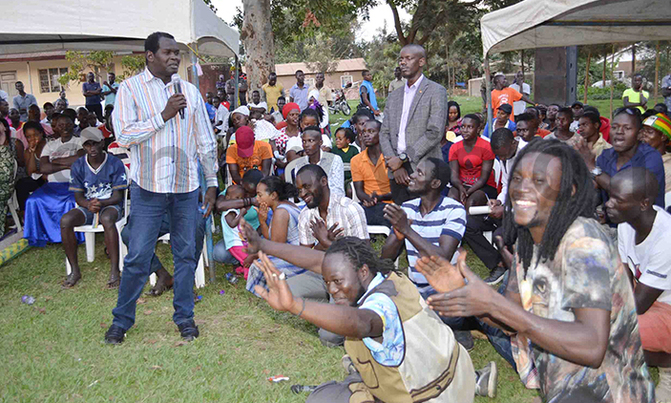 He donated sh1.8m to a group dealing in crafts to purchase a machine to ease their work
It takes a wonderful shepherd to follow the lost sheep and show them the right path.
This is exactly what happened when Miracle Centre Cathedral Senior Pastor Robert Kayanja paid a courtesy visit to Kyadondo East Ghetto Youth at Kasangati Ssaza Grounds in Kampala.
Kayanja had honoured an invite from the deputy Resident District Commissioners of Kasangati and Wakiso, Justine Mbabazi on Wednesday to lead the Kyadondo East Ghetto Youth onto a new path to success.
"I am the happiest person to be here. Let us thank God, then Jesus and clap for our RDC," Kayanja said.
"I am not here to change you, no one can change you but yourselves. All I can say is that love God and your neighbours as you love yourself. That way you, will not harm others and we will have a peaceful world," he added.
"You have a good number and if you support one another by buying your own things, you shall kick out poverty," Kayanja said.
He also pledged support to the youth if they remained disciplined. Kayanja donated sh1.8m to a group dealing in crafts to purchase a machine to ease their work.
Addressing the youth, Mbabazi said: "This is not a political rally. We are here to build your hearts so that you know God. Eventually, you will learn to love your country and stay away from bad practices"
"It is not true that President Yoweri Museveni abandoned you as some politicians say, that it is the same people who speak ill about the ghetto people when they meet the head of state," she explained.
Mbabazi said they were on the road of changing that perspective. "My office is always open and ready to serve you," Mbabazi said.
In return, the ghetto youth are to visit Miracle Centre on Friday for prayers.