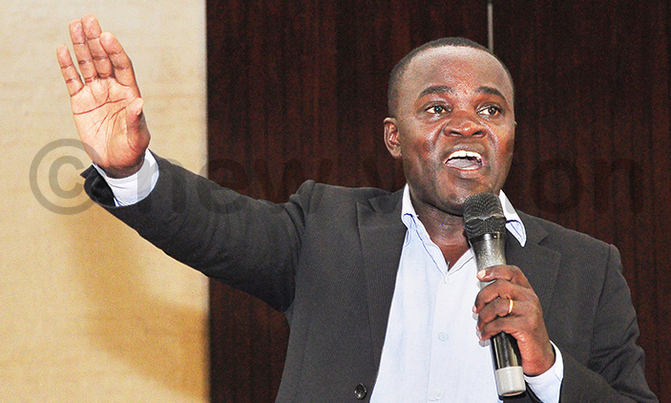 The lifting of the suspension has been one of the conditions by MUASA leadership to engage in any fruitful dialogue
The suspension of the Makerere University Academic Staff Association (MUASA) chairperson, Deus Muhwezi Kamunyu has been lifted and a court case by Kamunyu against the University and the vice chancellor Prof. Barnabas Nawangwe withdrawn.
The administration argued that he, together with two other leaders, were suspended for misconduct, indiscipline and involvement in acts that breach the terms and conditions of their employment.
The other leaders are Bennet Magara and Joseph Kalema of Makerere Administrative Staff Association.
According to a statement issued by the university's manager communication and international relations, Muhammad Kiggundu, Makerere entered into consent with Kamunyu in final settlement of matters before court in respect of the ongoing dialogue.
"As part of the consent, the suspension of Dr Muhwezi has been lifted and he (Dr Deus Kamunyu Muhwezi) shall submit to the internal disciplinary process before the Appointments Board," reads the statement issued on March 13.
The Appointments Board commenced hearing and handling of Kamunyu's disciplinary matters on Wednesday.
In the statement, Kiggundu assured staff and stakeholders that the handling of disciplinary matters shall adhere to the principals of fairness and natural justice.
Following Kamunyu's suspension Makerere staff went on strike at the start of the semester in February 2019 paralysing work at the University.
The lifting of Kamunyu's suspension has been one of the conditions by MUASA leadership to engage in any fruitful dialogue.
On January 21, the MUASA vice chairman Assoc. Prof. Edward Nector Mwavu noted that they condemn circumstanced under which their chairperson was suspended and want it rescinded.
Kamunyu was suspended by the Makerere University vice-chancellor Prof. Nawangwe on January 17 accused of continued to engage in acts that amount to misconduct including offences under computer misuse.
He was also accused using abusive language, making a false statement, continued incitement with the intention to cause disobedience, strike to undermine the university administration and intimidation of university officials.
A committee to investigate Kamunyu's conduct was set where he was invited to participate in it's the proceeding.
However, Kamunyu ran to court and sued the university and Prof Nawangwe challenging his suspension and the disciplinary process instituted against him.