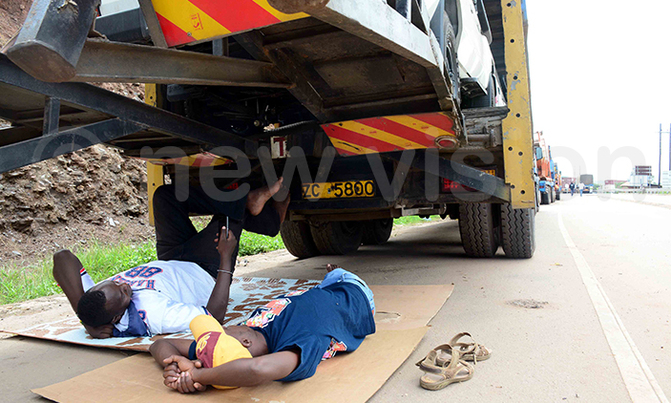 Rwandan trucks carrying goods to Uganda have also been stopped and ordered to return home
After being tossed up and down, Ugandan transporters have appealed to Parliament to debate and fix solutions to the prevailing impasse between neighbours Uganda and Rwanda who are locked up in a diplomatic row.
Several transporters of Ugandan products, both destined to Rwanda and the Democratic Republic of Congo are now stranded at the Mirama Hills and Kagitumba border posts, have asked Parliament to urgently intervene to save them from huge losses.
The transporters said Rwandan authorities had set tough conditions for mainly Ugandan goods, both going to Rwanda and those transiting to DR Congo.
Effective March this year, Rwandan customs officials blocked trucks transporting foodstuffs like cassava, maize, mangoes and other locally manufactured goods, a Ugandan customs official, Ali Kakande stated.
According to Kakande, apart from being tossed up and down, their counterparts have seen heavy charges slapped on them; almost triple the previous amount, something he says has discouraged many Ugandans from crossing into Rwanda.
He said no communication has been given to explain the blockage, but many transporters who have persisted and crossed into Rwanda have been subjected to tough conditions including the hike in the road charges.
"Our counterparts have slammed hard conditions for our transporters from Uganda and many have now realised and halted crossing into Rwanda," Kakande said.
He added that one truck carrying cassava was last week forced to hire a store at Sofia Trading Centre on the Ugandan side, offloaded the food and left after Rwandan customs officials for several days refused to clear his papers to enable him to proceed to Rwanda.
According to Kakande, Rwandan trucks carrying goods to Uganda have also been stopped and ordered to return home.
He, however, clarified that cargo trucks travelling under the Single-Customs Territory (SCT), either from Mombasa or Uganda, which pay taxes from the point origin, have been allowed to cross into Rwanda.
Interestingly, Kakande stated, goods from Kenya have found no challenge entering Rwanda but those bearing Rwandan registered number plates are not permitted to return to Uganda.
As a result, Kenyan and Congolese trucks and a few Ugandan registered trucks that are carrying goods from Kenya to DR Congo have dominated the border.
As a result, the traffic flow on this route (Mirama Hills/Kagitumba border post) has drastically reduced. Kakande said that on average, they register about 65 vehicles, cargo and small cars, as well as empty and loaded ones coming from Rwanda to Uganda. This is too low, he said, as compared to earlier when the trucks had just been diverted from Katuna.
On average, the post also clears 85 vehicles crossing into Rwanda.
"Our preliminary investigations indicate that the reduction in traffic flow is caused by uncertainties, where drivers from Uganda are not sure of the situation in Rwanda and decided to stay back to study the situation," he stated.
The transporters who have faced uncertainties are wondering why Parliament is not discussing the matter to find an amicable solution.
Wilber Wandyaka, who plies the route between Kampala and Bukavu in the Democratic Republic of Congo through Rwanda, said that he was part of a group of drivers with eight trucks carrying hardware goods that have been held up at Mirama and Kagitumba for weeks.
He said that for 14 days they had been trying to clear their papers using their agents in vain. They are going to Bukavu in DR Congo.
"We were diverted from Katuna to Mirama Hills but we have been stuck here for days," Wandyaka stated.
According to Wandyaka, four of his colleagues who were allowed to cross the border to Kagitumba have had the seals of their cargo broken by the customs officials and directed to offload and count the goods again.
He complained that the goods were in transit to DR Congo and breaking the seals would cause them issues crossing into the final country.
"During the counting, the officials told our colleagues that some boxes are missing," he said, adding that the trucks had been parked at Kagitumba.
He said that on Tuesday, the drivers of the four trucks were told to load the goods again and that they would be escorted by security personnel to Gisanga-Mazerwa in Kigali where they said they were directed to pay a fine ranging between $5,000 and $10,000.
"Our colleagues who had crossed and parked the vehicles walked back to Mirama Hills and slept here. They are confused, no one is telling them the offence they have committed," Wandyaka stated.
He said, as a result, the rest of the drivers fear to cross into Rwanda. "We now fear to cross into Rwanda because we know we are going to be subjected to the same conditions yet we don't know the motive behind this," he said.
Emmanuel Muhimbo, a driver from the same group said that several weeks after he was diverted from Katuna, he was last Saturday allowed to cross from Mirama Hills to Kagitumba and his cargo had been parked at the yard.
"I have just received a phone call from my agent that they are going to escort our cargo in a convoy to Kigali. We don't know what will happen there, whether they will let us proceed to DR Congo or not," Muhimbo said on Tuesday, adding that the process they had gone through was synonymous with mistreatment.
He complained that security officials at the Rwanda border were making too many checks and questioning them, including asking why some of them were found with tools like a carjack.
John Kipanda, another driver said he too had declined to cross into Rwanda since his colleagues who went ahead of him were being tossed around.
"Our clearing agents have advised us to wait as we study the situation. We have been here for weeks," he said and appealing to Parliament to intervene in the saga.
His colleague, Abubakar Mulabi said he parked his vehicle in no man's land at Mirama Hills as he awaits feedback from his colleagues who crossed to Kagitumba and were due to be driven to Kigali under escort.