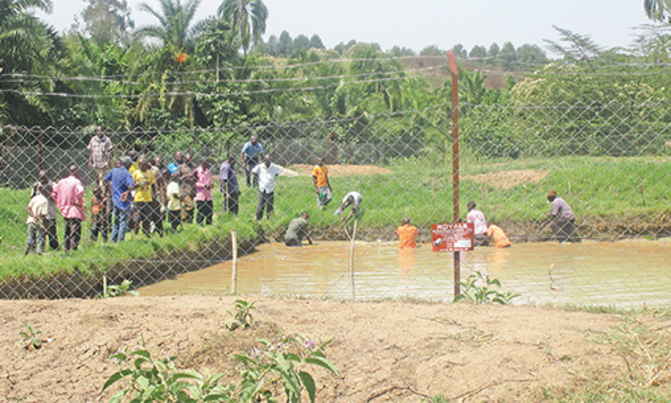 As part of the buildup to the week, New Vision is publish a series of articles on water and environment as drivers to achieving Sustainable Development Goals (SDGs)
Residents of Kamwenge at a fishing pond located in River Mpanga catchment area. Fish farming is one of the activities the Government and authorities in the area are promoting in order to protect the river and reduce silting.
The dirty water silently flows like it is crying out for help from the heavy pollution meted on it. It lazily snakes through mangrove swamps. This is what remains of River Rushango which used to exude a lot of life. Located in Nyamarebe subcounty, Ibanda district, the river nourishes the livelihoods of thousands of humans and livestock. It is a key tributary of River Mpanga in Kabarole district and forms part of its lower catchment. However, human activities, including uncontrolled planting of eucalyptus trees and crop production, have slowly but steadily eroded its vitality, leaving it silted, shrunken and contaminated.
These activities in the catchment are a threat to both Mpanga and Rushango rivers. This explains why the water ministry and local authorities have come up with interventions to restore the river system forming the Mpanga catchment. The sixth of the Sustainable Development Goals (SDGs) concerns clean water and sanitation. It focuses on people using safely managed drinking water services and the ratio of the population using safely managed sanitation services, including a hand-washing facility with soap and water. Brian Guma, the Mpanga catchment project manager, said the ministry has put in place a holistic management plan for the catchment area. Mpanga catchment falls under the Albert Water Management Zone (AWMZ) headquartered in Fort Portal, Kabarole.
It covers Kabarole, Kyenjojo, Kamwenge, Ibanda and Kiruhura districts. "We have developed a catchment management plan for River Mpanga through a stakeholder-driven process. This entails mapping of degraded hotspot areas and water demand under different scenario options such as climate change. The implementation of the degraded hotspots is guided by a catchment management committee headed by Kabarole district chairman Richard Rwabuhinga," Guma, also a senior hydrologist at AWMZ, said.
Chief administrative officers, district chairpersons and environment officers of the five districts in the river system are members of the River Mpanga catchment management committee, whose role is to protect the river. "We have implemented many interventions geared at river bank stabilisation and also carried out afforestation and wetland restoration within the Mpanga catchment in upstream, midstream and downstream areas in Kabarole, Kyenjojo and Kamwenge districts," Guma said in.
Although there is a catchment management plan for River Rushango, Guma said restoration activities in the lower part of the area in Nyamarebe in Ibanda have been hampered by limited funds. "We need to acknowledge that despite our continued interventions aimed at curbing encroachment and degradation in river buffer zones, there is a need for continuous sensitisation in the riparian communities," Guma said.
CLICK HERE FOR DETAILS