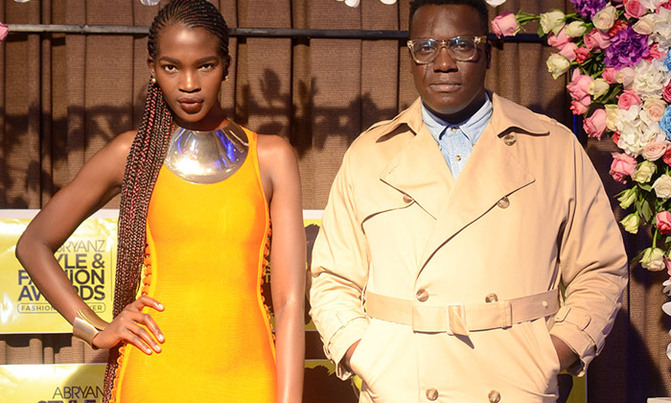 Ugandan fashion models are working in global fashion capitals like New York, Paris, London, Milan, Barcelona, Cape town and Spain, to mention but a few. Now most of the international agencies and model scouts are eyeing Uganda.
FASHION|BEAUTY

KAMPALA - In the last five years, there has been an increase of international agencies and model scouts coming to Uganda to pick models for international fashion runway.

One person who has been at the centre of promoting Ugandan models is Joram Job Muzira.

Muzira has a niche for fashion and you can tell he is special. It could easily be the prominent flamboyant scarfs, his eccentric sense of style or his aura. It could be all of those, and more. But at that first glance, you can tell he is not ordinary.

His voice rings in the minds of the models he trains as they strut the run way of renowned fashion shows.

For international models, Sarah Aliet, Winnie Aketch and Aamito Stacy Lagum, Paul Mwesigwa, Moussa Dhiako, Ayak Veronica and Akello Patricia, among others, he is more than just a model trainer. He is the father of their careers. He birthed and groomed and hoisted them to the international runways.

On paper, he is a casting director and international model scout. But to them, he is the guy that took them to the Gucci runway (Winnie Aketch) and Versace run way (Sarah Aliet, the first ever Ugandan model to walk for Versace.) He is the mentor of Aamito Lagum, the model who paved way for Ugandan models to the international scene after 'spiralling to dizzy altitudes' when she won Africa's Next Top Model competition in 2013.

Aamito has modelled for top world designers including rapper-turned-designer, Kanye West's Yeezy Collection in New York and shared the stage with legendary models, Naomi Campbell, Alek Wek and Veronica Webb.

Muzira also brags of having worked with Africa's top designers, including David Tlale & MAXHOSA from South Africa, MAI ATAFO from Nigeria, Alecool London from UK, Anita Beryl, Fatuma Asha, Brenda Maraka, Stella Atal, Sylvia Owori, and Santa Anzo, among others

He has also been casting and directing for most of the big fashion shows such as the ASFAS, Miss Tourism Uganda Forever Love Fashion and he will be directing UNAA Causes fashion weekend, which will take place in New York between August 29 to September 02, 2019.

Muzira talked to New Vision's Brenda Nakayiwa about his road to success, and Uganda's fashion industry.

Who is Joram Muzira?
I am the Creative Director at Joram Model Management (JMM), a casting director, international model scout, pageant coach, fashion show producer and director, voice over artist and a Child of God.

I was born in Jinja district to the late Dr. Eriab Geseri Ngobi Muzira and the late Lynne Ndeere Kiconco. All my parents passed on in 1994- my dad in June and mum in October 1994.

When my parents died, I and my siblings were always being moved from one relative's place to another so I went to a number of primary schools, including Kamuli Boys Primary School, Lake Victoria Primary School, Bushenyi Town School Primary School, St. Francisco Primary School and for high school, I attended Yale High School and Aggrey Memorial School. Then I went Makerere University where I graduated with a Bachelors Degree of Urban Planning.

Did you ever dream ever joining the fashion industry?
It has always been a dream for me to be part of the fashion industry right from the age of six. I used to organise village pageants and homestead fashion shows when we were growing up for the little girls in my neighbourhoods. I was also super active in music dance and drama. At high school, they used to call me "model and celeb'' because of my burning passion for fashion.

In spite of that, I tried joining all the biggest agencies that were in the country, including Ziper Models and Arapapa but all in vain. I was rejected most times because I was skinny. But I fought on and here I am doing what I love the most. I knew my burning passion, zeal and determination would one day yield results.

Who inspired you to join the fashion world?
I was inspired by my big sister, Drucilla Muzira who contested for Miss Uganda 2002 and was among the five finalists and also the Eastern Regional winner. We both had the same tastes and I always looked up to her so I decided to follow her footsteps. Later on, I used to follow a lot of successful super models such as Naomi Campbell, Tyra Banks and Alek Wek.

When was your turning point?
It was in 2012 when the god-mother of fashion in Uganda, Sylvia Owori gave me an opportunity to produce her Forever love fashion show. Everything kicked off immediately after that show. I will forever be grateful to Sylvia Owori for opening up this door for me.

Another turning point in my life was when I decided to quit most of my other part time jobs to focus on my agency and I realized that anything is possible, however tough the journey is. I am seeing a lot of dreams coming to reality now and I believe it is just the beginning of a bigger things ahead.

What are some of your outstanding achievements?
I have seven international fashion models placed worldwide in the global fashion capitals of the world, and just recently, one of my girls-Aliet Sarah was the first model groomed from Uganda to ever walk for Versace, one of the most powerful fashion brands worldwide.

I have won several awards to my name and for the agency in Uganda plus most of my models have dominated wins in these fashion awards we do have locally.

Lastly, I have groomed so many young girls that have won numerous pageants in Uganda.

Uganda has a number of international models, ahead of many of her East African counterparts. What has been your contribution to this success?
I am happy to be a part of a new generation raising Ugandan fashion models working in global fashion capitals like New York, Paris, London, Milan, Barcelona, Cape town and Spain, to mention but a few. Now most of the international agencies and model scouts are eyeing Uganda. I have worked hard to change the narrative of the fashion industry and I thank God Uganda now has a number of international fashion models.

Who are some of the models you have mentored?
I have mentored many of models locally and I am beyond happy to say that my hard work and effort have seen some thrive on the global fashion markets. Some of the global working international fashion models under wing are Akello Patricia, Aliet Sarah, Ayak Veronica, Aketch Joy Winnie, Paul Mwesigwa, Moussa Dhiaka and Aamito Lagum.

What are some of the shows you are proud of?
I have been blessed to work on major amazing productions as the casting director as well as the show director for many models. I have featured in shows such as Abryanz Style and Fashion Awards (ASFAS), where I have been the casting and show director for six years in a row since 2013. I have produced for Miss Tourism Uganda from 2016 to 2018, the 2012 Forever Love Fashion show by Sylvia Owori. I also produced for UNAA causes' Fashion Weekend in Washington DC last year and I will do the same this year in New York.

Any renowned fashion designers you've worked with
I have worked with some of the continent's top designers, including David Tlale & MAXHOSA from South Africa, MAI ATAFO from Nigeria, Sheria Ngowi from Tanzania, Alecool London from UK, Moshions from RWANDA, Adele Dejak from Nairobi, Patrick Muhire from Rwanda, Jamil Walji from Kenya, Anita Beryl, Fatuma Asha, Brenda Maraka, Stella Atal, Sylvia Owori, Santa Anzo, Latif, Mustafa Hasanali from Tanzania, Rafael Kasule, Gloria Wavamuno ,Ras Kasozi, Catherine & Sons, KONA, SKP, Martha Jabo, Xenson, Eguana, Monix Couture, Paple Rayn, Kaijuka Abass, Kalyn Atwoo, to mention but a few.

Now that you're up there, do you have any role model? And who is that?
I am inspired by established big agency owners and agencies in New York, London, Paris, Milan and South Africa because that's my direction right now for the markets I want. I am also passionate about casting so I am looking up to world class celebrated casting directors like Ashley Brokaw, Pier Giorgio Del Moro and Anita Bitton.

You are involved in another edition of UNAA Causes' Uganda Festival Fashion Weekend in New York, who are some of East African models and designers expected to show case?

We definitely shall be having models and beauty queens from East Africa. We are going continental, so expect a fresh new twist to the fashion weekend. The line-up will be incredible, and people should expect a breath-taking show.

How are such events impacting on the fashion industry in Uganda?
The Uganda festival fashion weekend has created massive awareness to a lot of people oversees. Now designers, models and beauty queens that are always part of it get more recognition. The project has also helped Ugandans network more with the Ugandans in the diaspora. It is creating more business opportunities for all parties involved. It is also a tourism initiative that gives us a chance to market Uganda on a global scale.

What's your say on the general state of the fashion industry in Uganda?
It is growing immensely. More people are appreciating their own home grown fashion designers and trusting them with their big days, be it weddings, events or day to day lives. Fashion designers are now making a fortune and living in fashion because Ugandans have now learnt to embrace them.

Where do you see the fashion industry in Uganda in the next five or 10 years?

I see more fashion models working on the global fashion markets, and more professionalism in the industry. There will be more international collaborations coming up. I call upon the government to come in and support the industry now that the business of fashion is growing steadily.

What are the challenges facing Uganda's fashion industry?
Exploitation! It often happens in the name of fame and clients acting like they are promoting the models. They end up using them without standard pay.

There are also designers who have failed to stay true to their signatures, but have resorted to copy and paste what other local designers do.

Some people still believe modelling is for the un-educated people, claiming that girls, boys and people in modelling lack what to do. This is a very wrong mentality.

How can they be addressed?
There is need to have a strong government body that supports the fashion Industry in Uganda. South Africa, for example, has African Fashion International (AFI) that supports their fashion weeks and designers in so many ways. Uganda should emulate the same. There is also need to set up a body that governs all creativity in the fashion and modelling industry to follow particular standards so that quality is maintained. This would help us compete favourably on the global scale.