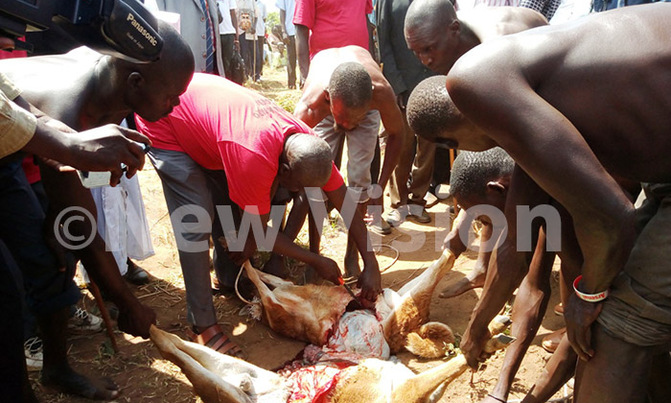 The process which started as early as 10:30am involved several rituals, among them, drinking of sheep blood mixed in local drink.
BURYING THE HATCHET

GULU - Joy and relief described the mood in Labworomo parish on Saturday following a reconciliation between the family of the late Brig. Pierino Okoya of Palaro sub-county in Gulu district and that of Capt. Raymond Oryema of Lamogi sub-county in Amuru district after 48 years.

During a heavily attended Acholi traditional justice system commonly referred to as Mato-put, it was believed that Brig. Okoya and his wife Anna Akello were assassinated by Capt. Oryema from their home in Koro Sub-County in Gulu district on January 25, 1970.


Since then, the two families became enemies and the most affected was the assassin's family members who believe that they faced several misfortunes including death of their young relatives.

Acting on behalf of his Army commander Idi Amin in Obote's government, Capt. Oryema who executed the successful mission against a fellow tribemate was also killed while heading back to Kampala around River Karuma where his body was thrown in the water.

Deogratious Odida, a nephew to the alleged killer told New Vision that as family members, most of them have died before making 45 years and the only surviving daughter to the main suspect deserted the family and promised to return after the rituals are done.

Apparently, only five of them are surviving and Odida said due to what has been happening, there's already fear that death would befall them anytime.

"My uncle was fulfilling the orders of his boss but because we did not have a link to the people of Palaro, we could not meet and reconcile," he added.

Reconciliation process

The process which started as early as 10:30am, led by Romano Okello an elder from Pageya clan cultural institution, selected men from both sides underwent several rituals coupled with drinking of sheep blood mixed in local drink.

After both sides drinking from the same container, they also exchanged the slaughtered sheep brought by each side, cooked and ate.

Later on, they proceeded with cash payments to compensate the lost lives. As part of government's commitment, a total of sh14m was given through the Pageya clan institution on behalf of the accused family.


The money was later divided according to the constitution of Acholi tradition. In what seemed to be known by everyone who turned up, it turned out to be a learning moment to both the young and the elderly as everyone struggled to have a closer look at how Mato-oput is conducted.

"We were previously not feeling relieved because by the time our father was killed, education of all the children was ruined and I want to thank the President for providing money to facilitate the process." Rtd. Capt. Johnson Lajul, son to the late Brig. Okoya added.


President commended

During the function, President Yoweri Museveni was commended for blessing the reconciliatory process as it's very important in ensuring that people live in harmony.

Lt. Col. Obura Kidega, the UPDF 4th division Intelligence officer was delighted to note that the rumors he had grown up hearing surrounding the killing of the Brigadier had finally come to an end.

Speaking on behalf of the division commander, Kidega said as UPDF they will sit with the people of Palaro and arrange for the reburial of the late at a date agreed by both parties.

Meanwhile, Martin Ojara Mapenduzi the Gulu district chairman asked the people of Palaro to sit and come out with a long lasting project that government will establish as promised by the President while in Kitgum municipality in February.

Yusuf Adek said the killing of the Brigadier was the beginning of confusion amongst Acholi and therefore asked the President to focus on the unification of the Luo's who have been divided under similar circumstances.

Conflicting reports about who killed Brig. Okoya

Samuel Oduny a former UNLA fighter said the deceased was not killed by Capt. Oryema in anyway adding that the mission was executed by Capt. Smutts Guweddeko. This was after Okoya pinned Amin for failing to respond when there was an attempted assassination of President Milton Obote at Kololo Airstrip in December 1969.

To this effect, when the army established a board of inquiry comprising of nine members and headed by Col. Obol, it discovered that it was Amin who had plotted the killing and all the suspects who were arrested excluded Capt. Oryema.