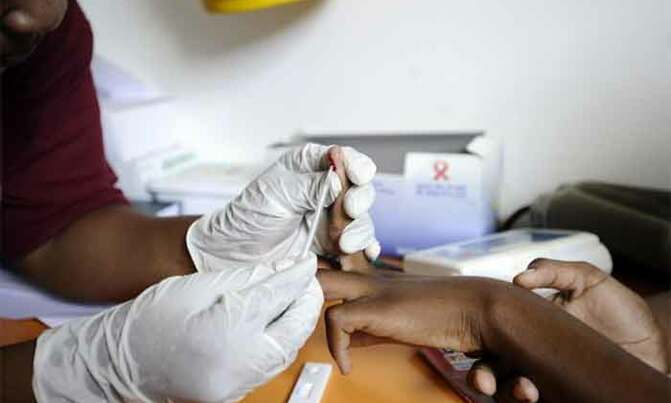 While the government has invested considerable resources in combating HIV and AIDS, there is still a lot of dependence on external foreign donors.
FIGHTING HIV & AIDS

What if the international funding for HIV and AIDS response ceases?

That is the million-dollar question the private sector and people living with HIV are asking. It is now 36 years since the epidemic started and nearly two million people have died of AIDS-related illnesses.

There are about 1.3 million Ugandans living with HIV, but 1.1 million are on treatment, meaning hundreds of thousands others are not. These represent those who have not tested though it is in their own interest to know their HIV status.

While the Ugandan government has invested considerable resources in combating HIV and AIDS, there is still a lot of dependence on external foreign donors, especially for the purchase of HIV and AIDS-prevention and treatment commodities.

"Dependence on donors is not only unreliable, but also unsustainable. There has been 50% reduction in a number of foreign donors funding HIV and AIDS activities in Uganda since 2015 and the trend is likely to continue," says Prof. Vinand Nantulya (pictured immediately below), former chairman of Uganda AIDS Commission.


The decrease in external support has affected major stakeholders in the HIV fight, forcing some of them to close. A case in point is the Health Advocacy Group, which wound up in 2016. This was an organization working around access to treatment.

Stella Kentutsi, the executive director of the National Forum of People Living with HIV Networks in Uganda (NAFOPHANU), says they have experienced significant constraints since the Partnership Fund wound up in 2016.

"True, as an umbrella organization of people living with HIV in Uganda, we have had a negative impact, which has barred us from playing our co-ordination role effectively since we cannot reach the people we serve in over 116 districts. We are financially constrained," she says.

This trend, she adds, is likely to affect the progress that has been so far gained. The AIDS Support Organization (TASO), Baylor Children's Foundation and Mildmay are among the big players grappling with decreased funding.

The annual budget for HIV and AIDS and tuberculosis drugs stands at sh90b, which civil society organisations have asked government to double to shs180b so as to avert drug stock-out. PEPFAR, Global Fund, Irish AIDS, Clinton Health Access Initiative (CHAI)) and other partners make 68% of the HIV funding while the Uganda government provides 12%. The remaining 20% comes in through support from the private sector.

"We are still grateful to our partners for what they have been able to do so far, and we pray that they continue to work with us in this tremendous fight. But we have to be worried about such scenarios of over dependence. We need domestic funding to mobilize resources," former Uganda AIDS Commission boss Nantulya says.


Counselor Peace Baguma (left) in a counseling session with a client at the Support on AIDS and Life Through Telephone Helpline (SALT) offices in Mengo


Donor challenges

A shift in donor priorities is becoming evident, given other emerging social and economic concerns on the globe, such as immigration, where a lot of money has been diverted to. According to Nantulya, HIV and AIDS is no longer an emergency, a chronic condition which is less appealing when NGOs go out there to raise money for it.

"There is need to think of innovative ways of mobilizing domestic financing for our national response. The AIDS Trust Fund, which is essentially a tax on beverages, is coming along but it is again more of government allocation," he says.



Need for One Dollar Initiative

In order to address the negative impact of the epidemic on business and also protect consumers, the private sector, led and co-ordinated by the Federation of Uganda Employers (FUE), recently launched the One Dollar Initiative (ODI) of HIV and AIDS.

This idea involves mobilizing domestic resources to leverage and intensify government efforts in the national response that will benefit the working population. Nicholas Okwir, FUE's chairman, says the ODI clearly aligns with the HIV and AIDS Prevention and Control Act, 2014.

This piece of legislation emphasizes the value of multi-sectorial collaboration and increased domestic investment in health as one of the ways to ensure its sustainable control. The ODI will inspire private sector business and individuals to collectively engage and contribute towards ending AIDS and its associated social and health challenges, says Okwir.


Stella Kentusi, executive director of National Forum of People Living with HIV/AIDS Networks in Uganda


FUE is assisted by Uganda Manufacturers Association (UMA) with technical support from Uganda AIDS Commission, ILO, UNAIDS, The Global Fund to fight AIDS, tuberculosis and malaria and Bill & Melinda Gates Foundation.

The ODI board comprises the private sector and was launched last year by UNAIDS executive director Michel Sidibe, and it is being chaired by Prof. Nantulya, who represents the private sector.

While launching the initiative, Sidibe called upon every member of the private sector to participate if we are to stop overreliance on donor support. At the launch $59,000 (about sh218m) was collected.


How the One Dollar Initiative works

Prof. Nantulya says they are asking every Ugandan to contribute at least $1 a year (nearly sh4,000). For an individual to invest $1, it is equivalent to the first line treatment of one client, including one viral load test.

Ugandan's population is about 40 million people, out of which 19 million are adults and most of them are earners. So, if each of these 19 million people contribute $1 a year, Uganda will be able to generate $19,000,000 (about70b) every year.

However, the big companies can multiply the contribution, instead of supporting one Ugandan on treatment for one year with one viral load testing at about $1, they can sponsor more people, say 100 or more.

The money is going to be governed by the private sector with absolute integrity and transparency, and it is strictly to be used for HIV and AIDS. With the same resources, an endowment fund will be established, the money one can invest in safe returns, such as treasury bills, to give him 10% or 12% interest every year.

"If we build up that reserve, the returns on investment will be available every year forever. And if we win the war against HIV and AIDS, the money will still be coming from the investment and can be used for addressing other health-related issues, such as cancer treatment," says Prof. Nantulya. "The money collected is to buy drugs and we can put down the prices if we have the money."

He assures people that the money is going to be used for the intended purpose since it is being driven very strongly by people of high integrity.


The resources will be mobilized through different ways. The first fundraising kickstarts with a charity walk this month (March) at the Lugogo KCCA ground next to UMA on a date to be announced under the theme: "Until it is over."

Kits are available for purchase at sh20,000 and the profits accrued go into the Endowment Fund. Prof. Nantulya says the charity walk is more for publicity to launch the maiden fundraiser, but much more money will be raised through private companies, professional associations, Ugandans in the diaspora, from pledges and through bank accounts and using mobile number.

The money will be given out in the form of grants through a call for proposals which will be evaluated by a technical review panel to decide which grant can be given to which implementer. Part of the resources will be invested to establish perpetual source of funding for the response.

If they succeed with HIV and AIDS, they will choose another health emergency to finance.

The money from ODI is, first, to support the private sector in the services they deliver to their employees, their clients of all kinds and general public that can access those services. The money will also support services delivered by civil society as well as faith-based organizations.

While appreciating the initiative, the executive director of Uganda Manufacturers Association, Maggie Kigozi, said they have often given out money to civil societies to support AIDS programs and never participated physically. But this would involve them as the managers of the initiative.

Gideon Badagawa, the executive director Private Sector Foundation Uganda, hailed the initiative as a unique one, the first to be driven by the private sector and one that is going to supplement efforts of government and donors for development. All funds collected will be managed by the FUE board.