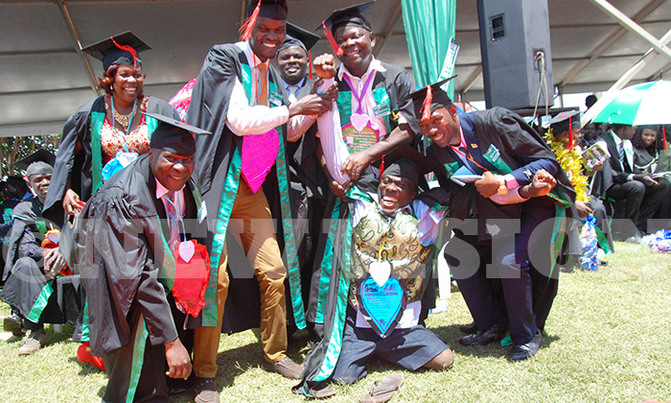 At 51 years, Bukaaya has been married to Mariam Takuwa for 23 years and have raised four children, two boys and two girls.
EDUCATION

KAMPALA - Steven Bukaaya's passion to study and achieve the fruits of education was evident as he graduated with a diploma in Public Administration.

His legs are crippled and can only move with a tricycle wheelchair but this didn't stop him from fulfilling his ambitions.

At 51 years, Bukaaya has been married to Mariam Takuwa for 23 years and have raised four children, two boys and two girls.

Having started studying in 1977, Bukaaya says his education journey has not be a bed of roses especially after he lost his mother who was the bread winner of the family and also paid his school fees.

"I wanted to study the advanced level but I failed because no one was there to support me after my mother's death. I had to lift myself and I started doing odd businesses in order to fend for myself," he revealed adding that that it was through his business that he was able to pay for himself at Makerere University, Jinja campus where he attained a certificate in Public administration in 2001.



He added that after the certificate he was able to get a job as a town agent in Buwenge town council, Jinja district where he has been working since 2011.

Getting a certificate was not the end for him as enrolled for a diploma in Public administration in 2016 in order to improve his qualifications in the civil service sector.

"I now have better qualifications in civil service and I have job security to continue executing my role as a town agent in my sub county," he said.
Bukaaya noted that he found it challenging to pay school fees for himself and his children at the same time having to fend for his home.

However, he said having side income ventures like livestock have helped him educate his children.

Bukaaya was one of the students that graduated in the 16th graduation of Kampala University where 3,352 students graduated with Masters, bachelors, diplomas and certificates.

Over 20 students were able to attain first class honors and were awarded with certificates with the over roll best students getting smart phone tablets.



The university chancellor Prof George Mondo Kagonyera cautioned students to be knowledge seekers and not mere students who pass through university just to get a degree.

"We need knowledge to solve issue that are disturbing Africa in order to fight poverty in our continent," Kagonyera said.

The chief guest, the Queen of Buganda Sylvia Nagginda congratulated the students and promised that Buganda kingdom will continue working hand in hand with the university

"We will partner with the university in promoting girl child education and youth skilling in order to be able to empower the coming generation," she said.