Dr. Munang said that climate change has grossly affected agriculture production worldwide and this has escalated food insecurity issues, malnutrition and poverty.
AGRICULTURE YOUTH EMPLOYMENT CLIMATE CHANGE
MUKONO - Agro-industrialization is one of the sure means of addressing unemployment among the youths, poverty and food insecurity in this Climate change era.
But the youth must take center stage at all levels of the value chains.
This advice was given by Dr. Richard Munang the climate change co-ordinator for Africa, United Nations Environment program during the youth empowerment meeting held at the Farmers media centre in Mukono recently.
Dr. Munang said that climate change has grossly affected agriculture production worldwide and this has escalated food insecurity issues, malnutrition and poverty.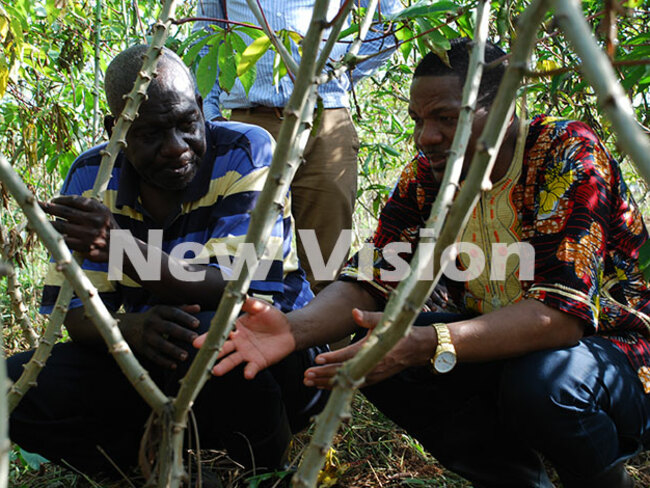 The situation is worsened by the poor post-harvest handling practices that bring about great losses to the farmers but also the community at large. Photo by Ssula Nsereko.
"Uganda is one the countries that produce a lot of cassava worldwide but suffers 290,000,000 $ loss because of poor post-harvest handling techniques. Dr. Munang said adding that if farmers, especially the youth are empowered with post-harvest handling skills and technology, they will realise more profit from their enterprises, more jobs will be created and food will be more available in the community".
Dr. Munang says that growing climate resilient crops such as cassava, using improved varieties that yield higher, and adding value to our produce is the answer to climate change related production constraints.
That plus networking, to bring on board as many stakeholders as possible, with different skills but a common goal, will give us great millage, as far as addressing our development challenges is concerned.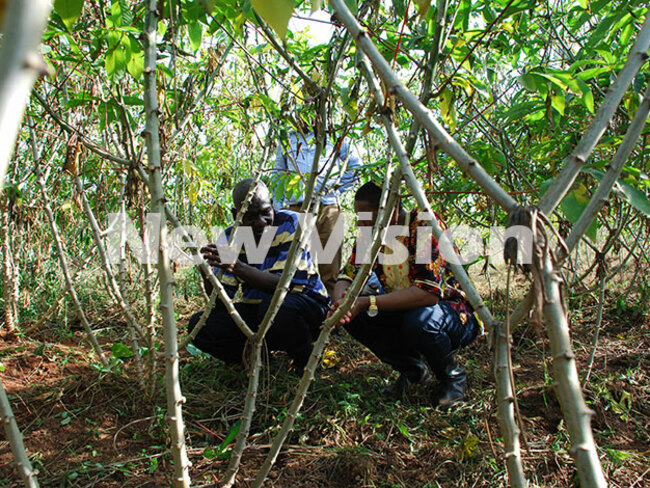 Dr. Munang hailed Uganda National Bureau of Standards for working closely with EBAFOSA, Buganda Kingdom and UNEP to come up with a standardized instrument to guide farmers to produce quality products that are competitive on the market.
"That standardized instrument is a big market incentive and that is a major step in the right direction. The instrument will be tested and piloted by the farmers in the Buganda and if all works out well, Buganda will be an example to the rest of the world to learn how we can drive economic prosperity in a social inclusive manner without compromising the environment". Dr. Munang.
The director of Ecological based approaches to food security assembly (EBAFOSA) Mr. Patrick Luganda said that with support from UNEP his organization is working closely with NARO, and the Buganda kingdom to empower the youth and other interested farmers with the recommended cassava production techniques and strategies have been laid to ensure easy access to quality planting material.
"The Buganda government provided a 10 acres piece of land at Sentema in Busiro County, where we have established a cassava multiplication garden to supply cuttings to the farmers but in phases. Luganda said adding that in the first phase, starting this season 7 counties will benefit namely. Kyaggwe, Bugerere, Singo, Mawokota, Busujju, Kyadondo and Busiro. Each of these counties is expected to establish a multiplication field from which all interested farmers in the respective counties will access clean cassava planting material".
Mr. Luganda says that the rest of the counties will receive cuttings in the second season. After all have received planting material and the cassava has grown, EBAFOSA and its partners will teach farmers how to add value i.e. process the cassava using clean energy and other affordable technologies.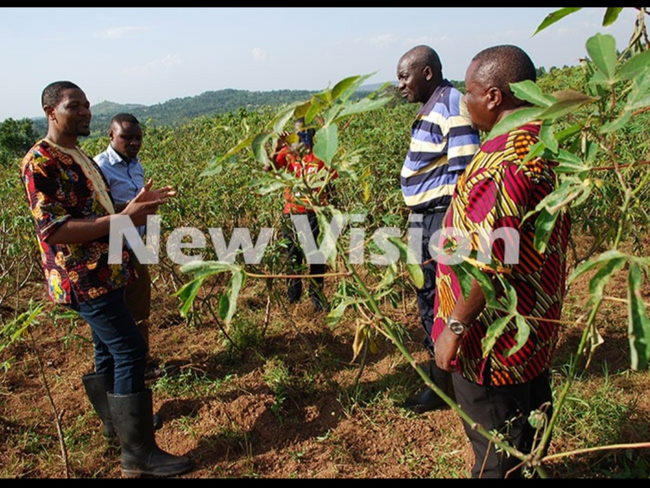 Richard Munang engaging with some of youth in attendance. Photo by Ssula Nsereko.
The farmers will also be taught how to package and market their products.
The chairperson of the Environment advisory committee in the Buganda kingdom Mr. Fredrick Kiwazzi said that this partnership is meant to cause development but not at the expense of the environment.
"If all of us employ improved techniques of production and also add value to our produce, we will get more benefits from our small pieces of land. Many people have cleared wetlands and forests because they want more land to increase production but that is unfortunate. The more we destroy the environment the more we contribute to climate change, further deepening the poverty, food insecurity and malnutrition and the associated challenges. Mr. kiwazzi asserts.
Mr. Kiwazzi called upon all people in Buganda to join hands with the Buganda government in an effort to restore the integrity of the environment while fostering development.