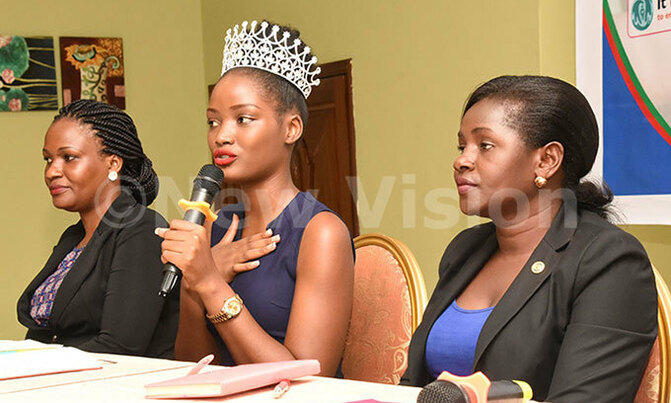 "He openly told me I had to sleep with him to get employed. I felt so offended and disrespected," she said.
SEXUAL HARRASMENT
Miss Uganda, who also doubles as Miss World Africa says she faced sexual harassment in her search for jobs.
Quiin Abenakyo says she was invited for an interview at one of the prospective employer's offices in Kampala.
Here, she met a man who told her he would give her the job only after having sex with her.
"He openly told me I had to sleep with him to get employed. I felt so offended and disrespected," she said.
"You never know, I may be the one to employ you one day," Abenakyo told her tormentor before leaving the office premises.
Abenakyo says she gave up on the hunt for jobs, until an opportunity for Miss Uganda Beauty pageant presented itself.
However, her decision to join the competition was also heavily contested by people who called it a 'useless' venture.
Abenakyo made the above revelation at a national young women's dialogue organised by Plan International, Uganda, at Imperial Royale Hotel on Tuesday, ahead of women's day celebrations.
The dialogue under the theme, "Realising the Potential of Young Women for Innovative and Sustainable Solutions to Gender Equality", brought together over 100 young women to deliberate on the issues affecting them.
Abenakyo, also Miss World Africa, believes that the greatest tool to girl-child empowerment is education, saying it not only boosts their confidence levels, but also enables them make good life time decisions.
"Learn to say no and always choose the right friends and role models who will help shape up your future," she said, adding that after her reign, she will not seek for a white collar job, but instead focus on agriculture and entrepreneurship.
Anne Adeke the national female youth Member of Parliament said six out of 10 young people complain about sexual harassment in their work places. These sexual advances she said, are mostly from bosses and male colleagues.
Adeke, however, said the Sexual Offenses Bill, yet to be passed by Parliament, will fight the sexual harassment vice.
"It is important for victims of sexual harassment to speak out so that they can get help because silence only makes things worse," she said.
Anna Mutavati, the UN Women deputy country representative, said specific programmes that target women should be amplified to ensure their full participation.
"We can no longer underestimate the role young women play in changing communities, because if we do, we shall be heading for tragedy," she said.
Mutavati said the achievements notwithstanding, more has to be done to ensure violence against women and child marriages are scaled down.
Greg Lavender, the Interim country director Plan International, Uganda, called for the creation of an enabling environment that supports young women's meaningful participation in all sectors of the economy to ensure they too can contribute and benefit from the available opportunities.
He also said young people must be supported to access sexual reproductive health information and services to help them make informed decisions and live healthy lives.
Lydia Apio, a young peer educator in Barr, Ogur and Angweng sub counties in Lira district said most young people in these areas drop out of school saying their parents have a negative attitude towards education.
"The moment a girl develops breasts and gets her menstrual periods, all the parents think of is marrying her off," Apio said, adding that boys are prioritised over the girls.
Maureen Nabbosa, another young peer educator based in Nakulabye said the high unemployment rates in the area, force young girls into working in dangerous places like bars and lodges where they are sexually harassed.