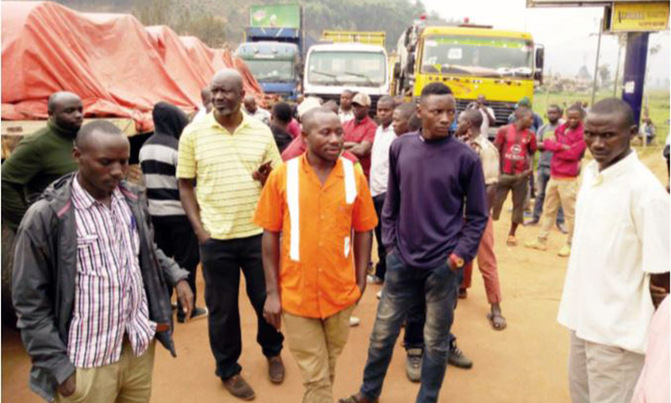 According to a post on the Modern Coast buses facebook page, other nationals apart from Rwandans can book for travels in Uganda.
BORDER SAGA
KABALE - Rwandans have reportedly been blocked from travelling to Uganda. According to information from some buses plying the route, passengers of other nationalities are free to move, but Rwandans have been blocked.

Modern Coast, one of the buses that plies Kigali-Kampala-Nairobi-Mombasa route, has informed its passengers not to consider travelling to Uganda, saying they have been asked to pass the information.

According to a post on the Modern Coast buses facebook page, other nationals apart from Rwandans can book for travels in Uganda.

At the border, reports indicate that some passengers were got off the buses.

According to Sam Serwanga Bunkeddeko, the chairperson for clearing agents at Katuna border, only buses were crossing the border, but without Rwandans.

"Those who came aboard buses told us that passengers with Rwandan Identity cards were stopped from travelling to Uganda, but rather clearance was given to Congolese, Burundians and other nationals," he said.

Meanwhile, business remains at a standstill as the closure of Katuna border by the Rwandan government continues.

Over 120 trucks full of goods from Uganda crossing to Rwanda are still at the border.

Drivers said they were forced to pack their trucks at around 5:00pm on Wednesday after their colleagues who had earlier on been cleared by the Ugandan customs officials were denied entry into Rwanda.

Nelson Nshangabasheija, the Katuna Town Council mayor says what is happening is disheartening and a sign of bad relations developing between the two countries.

"We cannot believe that Rwanda is doing this to us. We pray that they clear our drivers as soon as possible," said Nshangabasheija.

The traders were on Thursday informed that Rwanda wanted to divert traffic from Katuna border to Mirama Hills in Ntungamo district, saying there were construction works going on.

By 2:00pm Friday, no Rwandan registered vehicle had been allowed to cross to Uganda.

Simon Mukama, a fuel truck driver said he did not expect this closure and it continues to affect his programmes.

"I travelled all the way from Kampala with a hope of returning home two days after this trip, but I am so annoyed to find that I cannot proceed with my journey," he said.

Albert Gonzaga, another driver, said all he is waiting for is an opportunity to be cleared and he proceeds with his journey.

"They have advised us to go through Mirama Hills, but we hear that it is also closed. I cannot imagine moving all the way to Mirama Hills and then not being cleared," he said.

According to a letter by Rwanda Revenue Authority (RRA) to the commissioner of customs at Uganda Revenue Authority (URA), trucks carrying heavy cargo are supposed to divert to Kagitumba and Mirama Hills border points.

This according to the letter is meant to expedite construction works currently taking place at Gatuna border post.
| | |
| --- | --- |
| | |