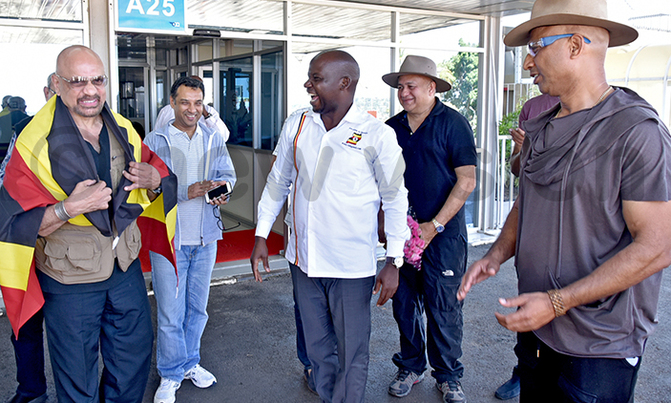 While in Uganda the delegation will visit four National Parks Kidepo, Bwindi Impenetrable, Queen Elizabeth, and Murchison Falls
A delegation of 12 Bollywood stars and members of Travel Agents Federation of India (TAFI) has arrived in Uganda where they will spend eight days touring the country and enhancing cultural ties.
Led by celebrated film director and producer Bharat Dabholkar, they arrived at Entebbe Airport of Wednesday where they were received by state minister for tourism Godfrey Kiwanda.
Speaking to New Vision, Dabholkar an advertising prodigy who has won 14 advertising awards and acted in 17 Bollywood movies noted that to be successful in tourism Uganda need to make people know of what it has.
"There is a lot here as we have been told and going to see. We have very many Indians who travel around the world and need to know about Uganda so that they can also come here," Dabholkar said.
On working with Ugandan film stars and producing films in Uganda, Dabholkar said that there needs to be favourable conditions like government subsidies and support for foreign producers.
"If we can get got subsidies for making films here it will help us but the film also helped promote Uganda a tourist destination amongst Indians," Dabholkar said.
He noted that subsidies can be in the form of accommodation, equipment, and discount for hotels among others.
While in Uganda the delegation will visit four National Parks Kidepo, Bwindi Impenetrable, Queen Elizabeth, and Murchison Falls. They will also visit Rubaga and Namirembe Cathedrals and Namugongo Martyrs Shrine.
Kiwanda said the coming of the stars is a boost to Uganda's tourism which is still facing marketing challenges.
"One of the biggest challenge we have been facing as the tourism industry is marketing what we have. We have very many tourism attraction but attracting very few tourists compared to countries which don't even have half what we have," Kiwanda said.
The Uganda Bureau of Statistics (UBOS) shows that tourist arrivals in Uganda are going up with at least 1.3 million visiting the country.
Uganda boasts of one of the biggest variety of natural resources on the African continent which ranges from freshwater bodies like lakes and rivers, Mountains, forests, numerous flora and fauna found.
The country has a vast range of bird species and most of all it is the home to over 50% of the world remaining mountain gorillas at Bwindi Impenetrable Forest.
"I hope after your visit you will be able to market our country even beyond India. We want to see Indians flooding our national parks. There are also beautiful locations where you can shoot films from," Kiwanda said.
From Entebbe, the team flew straight to Kidepo National Park, where Kiwanda said they will be able to interact with locals and learn the culture there.
Grace Akello, the Uganda High Commissioner to India said the Bollywood and TAFI visit to Uganda is one of the outcomes of Prime Minister Rugunda's tour of India in 2017.
"Bollywood is looking forward to developing a working relationship with the Uganda films fraternity to actualize its filming aspirations in the country," Akello said.
She noted that TAFI is looking for a special tourism niche it can promote in India.
"It wants to identify which aspect or areas in our tourism sector it can take and promote as being the special feature which makes Uganda worth visiting from a global range of tourist destinations," she said.
Shobanadri Yarlagadda is another famous name among on this trip. Shobhu, as he is popularly known, is an Indian American turned film producer.
Top names from the travel industry in India include Bharat Shah, Chairman of TAFI and Sumaji Natarajan of Travel Masters, one of the member agencies of TAFI.