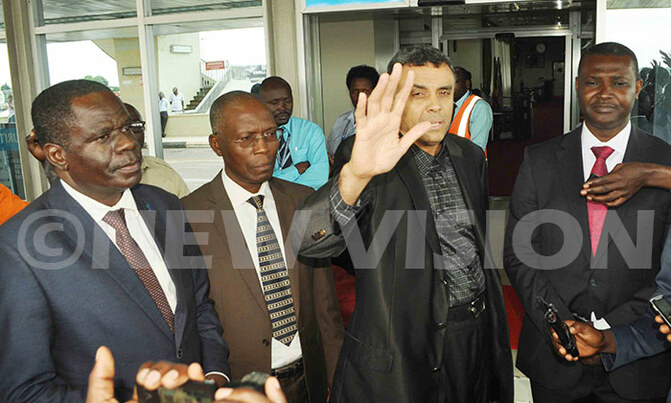 Dag will hold crusades in Mbarara on February 21 to 23, Masaka (February 24 to 26), Gulu (March 28 to 2) Soroti (March 3 to 5) and Mbale on March 6 to 8.
Bishop Dag Heward Mills praying shortly after arriving at Entebbe. Photo/Courtesy

ENTEBBE - Renowned international evangelist, Dr. Dag Heward Mills has arrived in the country to preach the gospel.

Bishop Dag, who is the presiding bishop of the United Denominations of the Lighthouse Group of Churches based in Ghana, is expected to hold massive crusades in five districts.

Dag, who is a medical doctor by profession, is also expected to express love and compassion to the needy by providing free health care.

According to his church, the Bishop intends to unite the church and to promote moral regeneration amongst the population.

Dag will hold crusades in Mbarara on February 21 to 23, Masaka (February 24 to 26), Gulu (March 28 to 2) Soroti (March 3 to 5) and Mbale on March 6 to 8.

"The Evangelist will minister the word of God with great signs and wonders. As part of this campaign, there will be a series ministers' conferences in each district for all pastors and leaders desiring to be empowered to do the work of ministry," noted Pastor Daniel, the Public Relations officer of the National Fellowship of Born-Again Pentecostal Churches.

With a ministry spanning over 30 years, he has authored several books including 'The Art of Leadership, Loyalty and Disloyalty' his books are currently in 45 languages. His ministry has developed into a network of over 3000 churches. He oversees the charismatic denomination in Africa, Europe, the Caribbean, Australia, the United States and South America.

He established Anagkazo Bible and Training Ministry Centre, a renowned bible school for the training of ministers of the Gospel.

The moment he stepped at Entebbe International Airport on Thursday, he prayed over the country and declared peace and blessing.

"I am in Uganda because God wants me to be here during this time. I pray for peace and blessings to all Ugandans. This is a blessed country that God has never forgotten," noted Bishop Dag.

Workers' Member of Parliament, Dr Sam Lyomoki, said that as Government, they are going to render all the support to the evangelist and his team for all the days he is in the country.

"This is the first time we are having an evangelist who is going to tour the entire country. He has come at a time when the country is going through a lot of bad things. Leaders do not listen to each other, with his preaching, we are not going to remain the same. We are calling upon people to attend these historic and monumental event in Uganda," noted Lyomoki.

"Bishop Dag is a gifted preacher and teacher whose ministry is marked by a powerful evangelistic anointing and incredible miracles after the model of Jesus. We are grateful to have him," said Pastor Rendy Morrison Erasimas, the evangelist international co-ordinator.

The International healing evangelist Dag is married to Adelaide Heward Mills and they are blessed with four children.

He serves on various boards including International World Pentecostal Fellowship (USA) Pentecostal World Fellowship and Church Growth International.