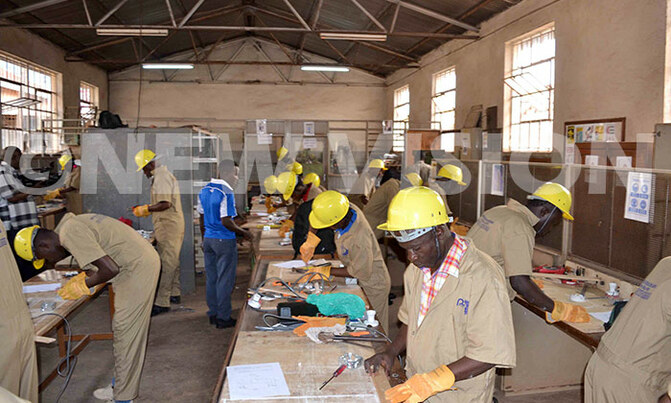 The ministry says the move will enable employers to know the competencies and skills of their employees as opposed to employment without prior testing.
The ministry of education and sports has recommended that all artisans, casual labourers working both in the formal and informal sector should be certified for their respective skills.

The ministry says the move will enable employers to know the competencies and skills of their employees as opposed to employment without prior testing.

In addition, the move will also allow Ugandans to competitively seek for jobs, contracts, from companies, institutions especially those in the oil and gas sector.

The move targets to assessment professionals such as electrical and mechanical engineers, front desk managers (receptionists) and computer scientist, among others.

After assessment, learners would be issued with certificates of competence, which assures that someone has the said skill, and that they are certified.

Assessment will be conducted with the help of professionals, and experts drawn from industries, institutions and employers in the country.

Patrick Byakatonda, the Acting Director at DIT, said that the proposal is enshrined in the DIT Strategic Plan, the BTVET Strategic Plan and the Skilling Uganda project which all focus on assessment and accreditation.

"Employers need to ascertain what skills their workers have, this would guarantee security and quality work," he said.

He made the remarks on Thursday while addressing journalists at Lugogo Vocational Training Institute in Kampala during assessment of electricians.

The team is set to be certified as professional electricians by the Electricity Regulatory Authority (ERA).

There are a number of occupations assessed and accredited by DIT and they include artist and designer, brick layer, carpenter and joiner, caterer, beautician, computer applications, domestic electrician, hair dresser and leather designer.

Others occupations include motor vehicle mechanics, brick layer, knitter, weaver, painter and decorator, plumber, tour guide, welder and agriculture, among others.

Mandate

DIT derives the mandate of issuing certificates of competence form the Business, Technical, Vocational Educational and Training (BTVET) Act, 2008.

Section 20 (3) of the Act on the Uganda Vocational Qualifications Framework (UVQF) principles of competence, allows DIT to recognize both formal and informal training.

The graduates and those from vocational institutions fall under formal recognition.

For the artisans especially that informal sector, they are awarded workers' Practically Acquired Skills (PAS) an instrument to show that they are competent.

George Shillingi Mweisgye, the Principal at Lugogo Vocational Training Institute backed the proposal of certifying workers, adding that it would enable, especially in the informal sector, to work abroad.

"We have skilled people in Katwe, with over 20 years of experience in mechanical engineering. Most of them have not been at any school but learnt on the job. The certification would enable them to even win contracts and work elsewhere," Mweisgye said.

Jamila Nabukenya has been practicing illegally as an electrician commonly known as "Kamwufu" to wire and connect electricity to people's houses.

However, she said the venture was risky with several punishments by authorities once you get arrested.

On many occasions, after wiring people's houses, she said, UMEME would decline to connect such houses saying it was done by an unqualified electrician.

Nabukenya said as part of the regulations, ERA recommends that a house must have a certificate of completion for it to be connected to electricity grid.

"I would not issue the certificate because I was yet to be certified by ERA and assessment is a requirement," she said.

Nabukenya, who was among the 150 technicians to have undergone assessment by DIT added, "We need the certificate and assessment."