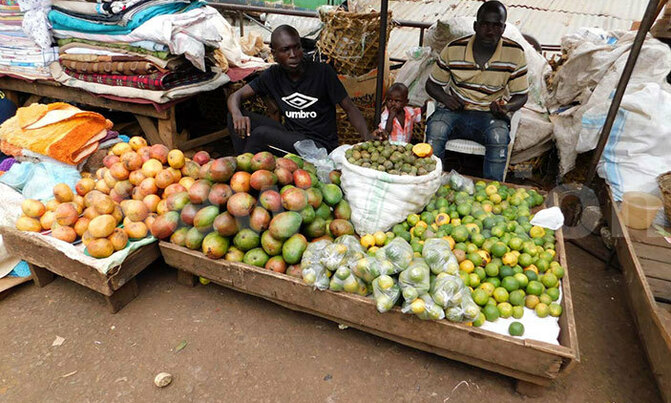 "Uganda is endowed with a diversity of tribes and shapely people."
MISS CURVY TOURISM
KAMPALA-As some citizens shout themselves hoarse about the "Miss Curvy" beauty contest launched by Minister of State for Tourism Godfrey Kiwanda recently, he has again rolled out another product code named tourism friendly markets.
"When domestic or foreign tourists travel," Kiwanda stressed to an audience of more than 5000 vendors in Nakawa Market. "They want to feel the pulse of the destination by interacting with the markets which are endowed with organic fruits, food and vendors smiling from ear to ear as they whisper karibu (you are welcome.)"
Kiwanda made the remarks while launching the World Wildlife Day to be celebrated on March 3.
"Besides the big five, mountains, birds, water bodies and greenery," paused Kiwanda before driving the point home. "Uganda is endowed with a diversity of tribes and shapely people."
Adding that, it is time Uganda beat her competitor showcasing the same attractions by adding ebigenderako (spicing) their destination.
"And there is no better place than markets to sell mementoes to take back home, serve cuisines like Eshabwe, Luwombo and Emolokony,"stressed Kiwanda. "The challenge is upon us to make ourselves desirable."
The area Member of Parliament Michael Kabaziguruka urged the vendors to mind about hygiene, price and standard of goods on their stalls if they want to reap from the tourism industry.
"Egypt, the Bahamas and Greece have reaped from similar ventures," said Kabaziruka. "It is time Nakawa styled up. KCCA ought to collect the garbage in time and the incomplete sections of the market need to be finished."
The market hollered "Minister Curvy! Minister Curvy!" as Kiwanda and Kabaziguruka wore gloves. They hastened to grab spades, at one time the brooms to flag-off the new tourism venture.
A representative of the vendors Simon Baligo asked the minister and MP to strengthen their business by providing sources of loans with friendly lending policies.
"We are left at the mercy of money lenders with harsh terms, cried Baligo.