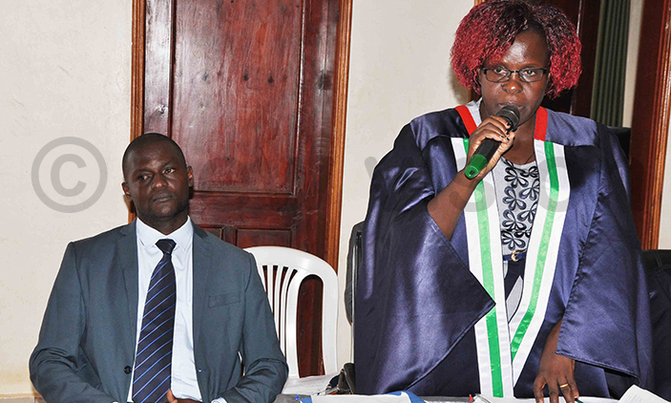 The budget is the burning issue at hand for the new executive
Nansana Municipality Council in Wakiso district has finally approved the new mayor's executive members after four months of confusion.
The municipality has spent almost four months without an executive after mayor Regina Bakitte dropped her first executive who in turn protested the reshuffle.
The new executive is made up of three members including the deputy mayor Paul Kato, secretary for finance and planning Patrick Nsubuga and Florence Nassuuna the secretary for health.
Bakitte hailed the new municipality town clerk Jimmy Ambrose Atwoko for perfectly guiding the council in following the law.
"The old town clerk Daniel Christopher Kaweesa was behind all the confusion in our council and he intentionally refused to guide the councillors but the new town clerk has done great work that has resulted into the approval of my executive members," said Bakitte.
According to Bakitte the executive members are to undergo an induction for them to know what to do and start executing their work immediately.
The budget is the burning issue at hand and according to the mayor it was supposed to be laid out on February 14 and be approved by the council on February 28 but they are behind schedule.
Bakitte called upon fellow leaders to accept changes and slammed her former deputy mayor Keith Isaac for resisting the reshuffle.
Speaker Moses Kalungi asked the executive members to immediately start their work and change the municipality.
The speaker revealed that for the council to be able to approve the executive, they had to engage the High Court in Kampala where Isaac filed a case protesting the reshuffle.
Kalungi pointed out that he got involved in the matter and that he wanted the two parties to solve the matter out of court but the process failed.
The court advised them to go ahead with council business since there was no court injunction or an order stopping the council from doing its business, according to the speaker.
Councillor Regina Nakivumbi representing people with disabilities in the municipality said they were tired of the confusion in the council.
According to Nakivumbi, the confusion has been affecting service delivery in the municipality yet politicians are directly answerable to the people.