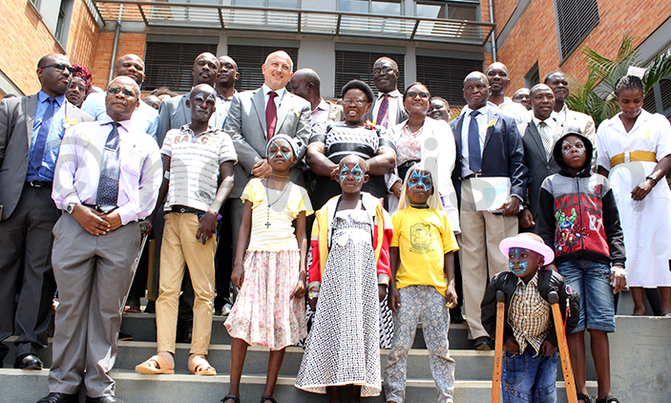 The payment policy sets the price charges of foreigners higher than the nationals
The recently ratified treatment charges at the Uganda Cancer Institute (UCI) have barred many refugee patients from accessing treatment at the facility.
Dr Samuel Guma the executive director of Kawempe Home Care, a civil society organisation caring for children with cancer, said most of the refugee children are dying as a result of the inability to afford the various treatments whose prices are quite high.
He said that the health policies in the country are unfavourable to refugees and therefore, these policies tend to exclude refugees from accessing medical care services.
"As civil society organisations caring for children with Cancer, one of our biggest challenges is the un-inclusive policy which is unfavourable to refugees. Most of the refugee families in Uganda are very poor to pay for radiotherapy or chemotherapy treatment," he said.
Guma stressed that there are times refugee parents have had to run to the United Nations High Commission for Refugees to seek funds for medical care.
He called on to the government to revise some of the health policies to make them inclusive of refugees.
Guma made the remarks during the celebration of World Childhood Cancer Day which was commemorated last week on Friday under the theme; Better Access to Care for Children and Adolescents with Cancer Everywhere.
According to the recent statistics by UCI, refugees account for a total of 50,000 patients that visit the facility a year.
UCI director Dr Jackson Orem said 10 per cent of the patients received at the institute are residents from neighbouring countries while 15 per cent are non-residents staying in Uganda seeking cheaper treatment.
In December last year, UCI released a price list for various cancer treatments for both national and International patients.
The payment policy sets the price charges of foreigners higher than the nationals. International citizens under the private arrangement pay $2000 (sh7.4m) compared to sh500,000 required of nationals.
Dr Moriko Kaducu the state minister for health said; "every child has a right to access lifesaving essential medicine, right to appropriate and quality medical care, right to treatment of pain and suffering and a right for to have a pain free death regardless of where the child lives or comes from."
She added that the government has prioritised cancer control and care for children and still the government has committed to ensure that cancer in children is prevented, detected and children with cancer receive timely high-quality care.
State of paediatric oncology
Childhood cancer is a leading cause of death among children worldwide. Every year on 15 February, the world commemorates World Childhood Cancer Day.
According to Dr Joyce Balagadde the head of paediatric oncology at UCI, over 300,000 children between the ages of 0-19 are diagnosed with cancer worldwide, every year. However, the cause of the disease among children remains unknown.
She reported that 80 percent of the childhood cancer cases are of children in low Income countries and sub-Saharan Africa, and the increase is attributed to the lack of diagnosis, misdiagnosis, toxic death, relapse and treatment abandonment.
It is estimated that a total of 2093 children in Uganda between 0-14 years develop cancer according to a Globocan report. Last year alone, UCI received over 582 children.
The commonest cancers include; leukaemia, lymphomas, kidney and muscle cancers followed by Kaposi Sarcoma.
However, the cure rate for childhood cancer in developing countries is much lower compared to the developed countrie while the cure rate in high-income countries is 80 per cent, only 30 per cent of the children with cancer survive in low-income countries.