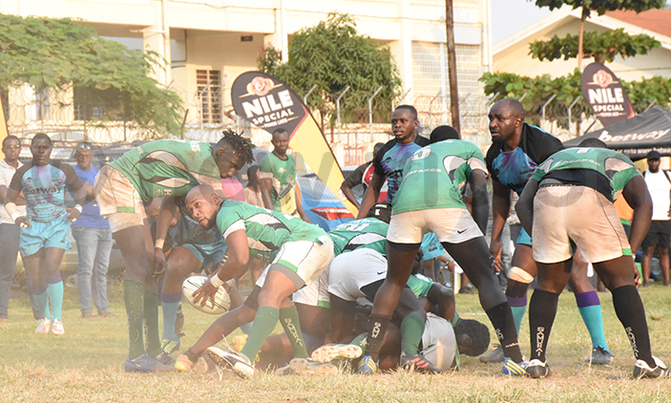 The victory pushed Kobs' tally on top of the table
Nile Special Premier Rugby league
Kobs 26 Heathens 21
Buffaloes 23 Rhino 10
Hippos 24 Warriors 25
Rams 48 Walukuba 3
Mongers 13 Pirates 38
A 26-21 win over Hima Cement Heathens gave Betway Kobs a three-point cushion in the Nile Special Premier Rugby League on Saturday.
The result increased Kobs' chances of recapturing the league title they last won in 2016 as they only have Plascon Mongers and Stanbic Pirates as their only threat in the five remaining fixtures.
The victory pushed Kobs' tally on top of the table standing to 59 points ahead of challengers Heathen (56) and defending champions Black Pirates (49).
Coach Fred Mudoola was excited with the win, but urged his charges to stay focused because, he said, the remaining fixtures are tricky.
"Heathens are our main challengers, but beating them does not mean we are in control. We have to step up our game especially our fitness levels," Mudoola noted.
"The competition is still very tight and it is not yet over till the last game. We have to just step up our game," Mudoola added.
Heathens' coach Muhammad Athio also promised to take the fight to his challengers.
"It is good we lost with a bonus point and we have not given up yet. There are still five fixtures and they can make a change," he said.
Heathens put up a spirited fight as they trailed their opponents 20-3 by half time break.
But they could not overturn Kobs' lively game in the first half that saw Davis Kiwalabye and Edgar Sseruwagi ram in tries that were ably converted by Joseph Aredo who also drilled in four penalties.
In the other games, Pirates made sure they remained in contention after beating Mongers 38-13.
Toyota Buffaloes defeated Shell Rimula Rhinos 23 -10 while Jinja hippos fell 25-24 to Dusupay Warriors.
The race for the title continues in earnest on Saturday with leaders Kobs face Plascon Mongers.