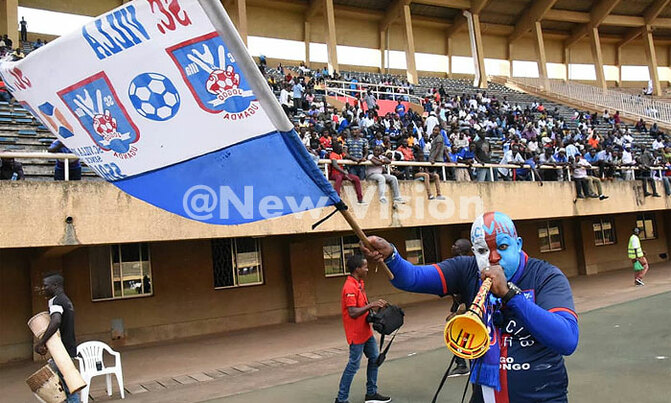 Tuesday's sumptuous six-game menu sees SC Villa beat Paidha Black Angels at home while holders Vipers SC are held by Tooro United and Ndejje University beat Maroons - plus other results.
STARTIMES UGANDA PREMIER LEAGUE


| | | |
| --- | --- | --- |
| TUESDAY RESULTS | | |
| Villa | 2-1 | Paidha Black Angels |
| Bright Stars | 0-0 | Mbarara City |
| Kirinya | 1-0 | Police |
| Maroons | 0-1 | Ndejje University |
| Onduparaka | 0-0 | URA |
| Tooro United | 1-1 | Vipers |

By Joseph Kizza
____________________________________

It was another busy day in local football as a dozen teams were in action in the StarTimes Uganda Premier League - but all of that produced a measly seven goals in total.

Tuesday's sumptuous menu had holders Vipers SC held by Tooro United FC while SC Villa beat Paidha Black Angels at home. It was a goalless affair at the Champions Stadium as was the case at Greenlight Stadium in Arua. Maroons were beaten at home by Ndejje University while Police FC could not build on their recent resurgence with defeat at Kirinya-Jinja SSS FC.

Let's take a quick look at the six matches:


Villa make it two wins in two



When Villa traveled to Paidha Black Angels 45 days ago in the first round, the game ended in a drab goalless draw. But a lot has happened in between then and present time.

The hierarchy at the Jogoo have since brought in 13 new players to inspire a resurgence at a club that was plunging into the abyss.

The ship has yet to get steadied, but on the evidence of their last two performances - wins against defending champions Vipers on Saturday and against Paidha today - , Douglas Bamweyana's side are showing signs of revival.

But their resuscitation, which lifts them one place to 11th place on the log, has been a thorn in the side of strugglers Paidha, who remain anchored at the foot of the table, with their latest defeat registering as their second in a row and 12th since the season started.

At Namboole Stadium, they fell quickly behind - after three minutes - when Pius Wangi pounced to give Villa an early lead.

The striker then completed his brace and the winner in the 22nd minute as the hosts took a cushioned lead to the break. But Paidha were not to go down without a fight - and pulled one back eight minutes into the second half through Dickens Okwir.

Chances were created on both ends of the vast stadium, but the scoreline would not be altered.

Can Villa keep the pedal to the metal? Their next test is an away trip at BUL FC Wednesday next week. Meanwhile, Paidha will host fellow relegation zone side Nyamityobora FC the following day.


Vipers slip up - again


The Venoms, who are the defending champions, are failing to establish a comfortable grip on a title they won with relative ease in the previous campaign.

Three days after letting their remarkable unbeaten streak slip through their feet at home against Villa, Vipers again had to fight hard to rescue a point in Fort Portal against Tooro United, who are on form.

Kenyan Michael Ouma's side fell behind 16 minutes into the opening half when Godfrey Lwesibawa struck to give Tooro an advantage. In a physical game, Hamis Kiiza, who joined the Kitende-based side this year, levelled matters eight minutes before the break.

And that was it. Both sides had to settle for a share of the loot after 90 minutes of action.

The result helps Vipers close the gap at the top to three, but leaders KCCA FC could peel further away with a positive result on Wednesday against BUL FC. Next up, Vipers will be on the road to face Bright Stars FC on Wednesday.

Meanwhile, Tooro remain firm in 6th place and will be hoping to stretch their unbeaten run to nine games against Ndejje University FC, also on Wednesday.


Mbarara blow chance of climbing to second


If Mbarara City had won today's game, they would have gone into second place, after Vipers drawing away at Buhinga Stadium.

But in sports, favours come in short supply and teams know all too well that you have to fight your battles first. After winning five of their last nine games in an impressive unbeaten spell, Mbarara had their sights locked on second place - of course in the hope that they won their game and their most immediate rivals at the top drop points.

One of the two things happened. Vipers did slip up, but Mbarara failed to grind out a maximum result in a goalless duel with Bright Stars.

They remain third and two points adrift of Vipers while Bright Stars, who have not had a taste of victory in their last ten games, remain in 9th. Next up, Matugga-based Bright Stars will be at St. Mary's Stadium to face Vipers while Mbarara will host Onduparaka.





Kirinya arrest Police's resurgence


After beating Express and Ndejje University in their last two games, Police FC had appeared to be on an upward trajectory.

The Cops had hoped to hold onto this chapter for a little longer, but how quickly that progress got snuffed out!

It was always going to be a tricky trip to the east, as Kirinya-Jinja were keen to apprehend an unflatttering run of seven games without a win.

On the pitch, after a goalless first half, Joel Madondo found the all-important breakthrough ten minutes after the interval to set the hosts on course to a much-needed victory. In the end, it was three points in the bag and a lift one floor above on the table to 10th place for Kirinya.

Next up, the school side will be at URA FC on Thursday while Police, who have dropped from 7th to 8th, will host table-toppers KCCA in what should be a tricky game for the hosts-to-be.





Maroons edge closer to the red zone


Only four days ago, Maroons scrambled over the 90-minute mark away at URA with a narrow 1-0 win. Tuesday showed the prisons side just what karma can do. Defeat at home leaves a bitter aftertaste, and Maroons experienced that too.

Richardson Asaba provided respite for relegation-threatened Ndejje University shortly after the half-hour mark with a neat strike.

The hosts couldn't recover and gifted Ndejje with a first win in 14 successive games.

Maroons are dangerously bordering the relegation zone in 13th place while Ndejje have risen to 14th to patrol the fringes, waiting for any further slip-ups by the teams immediately above them to seize their opportunity to escape the drop zone.

Next up, Maroons are away at Express FC on Thursday. By that time, Ndejje will have hosted Tooro United the day before.


The Caterpillars miss the mark - again



Finally, the last game to end on the day was this one.

Again, it's not a good picture for Arua-based Onduparaka. The Caterpillars may have had a lift to 7th place with Tuesday's result, but a run of seven successive games without a win could provide you with a more honest sense of how things are not going well with a club that finished 4th last season.

Like their motto says, Onduparaka's struggle continues.


URA, on the other hand, have had their fair share of mixed results - two wins, two draws and two defeats in their last six. Can the tax collectors, who remain in 5th, produce a better result against BUL next week on Thursday?

And will Onduparaka have pulled off a brighter performance against on-form Mbarara City the day before?

Whatever the results in the respective games mid-next week, the second round of Uganda's top-tier football is cruising. And hopefully, we shall get treated to more goals than the lowly seven of this week.



Also related to this story

What happened in the UPL? Vipers beaten, KCCA held