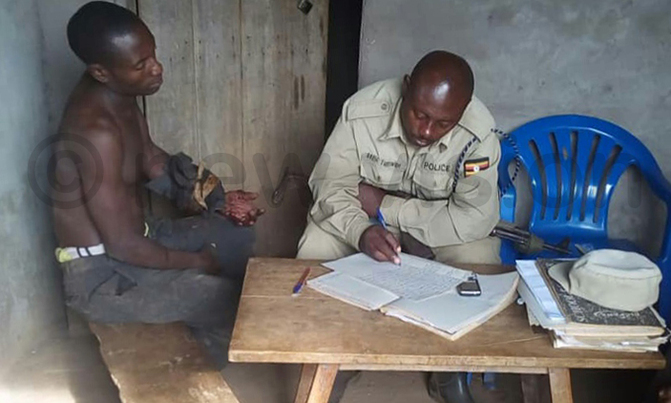 Some residents blamed the priest's actions on the lack of enough offertories to sustain the priest and the church's administrators
Rev. Zadoch Bahwera of Kyaruyimuka Church of Uganda in Kagamba sub-county was admitted in Rakai Hospital in critical condition after he was hacked by a farmer in Bukenke village who suspected him of trying to steal a bunch of matooke (plantain) from his plantation.
The farmer, Joseph Rukuuta, was on Friday evening patrolling his plantation when he reportedly found the priest carrying the matooke. He made an alarm, prompting the priest to drop the bunch and take off.
Bahwera's attempt to escape was futile as Rukuuta was able to chase him down and catch him. A scuffle ensued and Rukuuta struck the priest several times with a machete.
Bahwera sustained deep cuts on the head and hands and the motorcycle he used in the failed heist was seized.
Angry residents dragged the bleeding priest to Kyaruyimuka Police Post from which he was rushed to the hospital to seek treatment.
An officer at the Police post said they could not keep the suspect in their custody because he needed urgent medical attention.
In his statement to Police, Bahwera said he tried to steal the matooke because he needed to feed his family of five. He said he had been unable to find anything to feed his family.
Rukuuta, however, said he would have offered the priest a number of bunches of matooke had he approached him and explained his plight.
He explained that theft of food and animals is rampant in Kagamba and that farmers have resorted to sleeping outside their houses so as to protect their plantations and livestock.
Dr Yasin Kiyemba, the Rakai Hospital medical superintendent, said Bahwera's hand was nearly cut off clean.
He added that they are treating him although they are not so sure when he would recover and how long it will take.
Simon Barigye, one of the church members, attributed the incident to lack of enough offertories to sustain the priest and the church's administrators.
He said that the church currently has few followers who contribute too little in terms of church collections.
On average, he noted, they receive about 20 people every Sunday, adding that it is only on days such as New Year's Day, Easter and Christmas where the number increases to up to around 50 people.
Ben Nuwamanya, the Rakai district Police commander, said the priest is a suspect and they will produce him in court after conclusive inquiries.
He appealed to the church leaders to always lead by example to avoid embarrassing their followers.
Canon Nkambo Mugerwa, who heads Rakai Archdeaconry, regretted Bahwera's actions, saying they have left the Police to handle the matter.