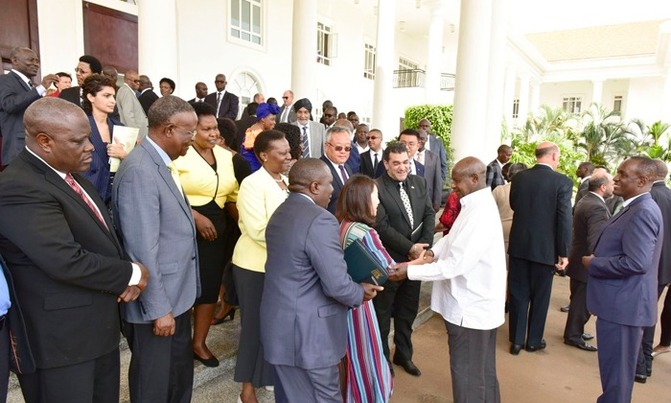 "I suspect these young people were being creative. One of these young people Ann Mungooma is a sharp shooter. Her father was an officer in the army who represented Uganda in shooting, she is good. We should talk to them quietly," says Museveni
TOURISM MUSEVENI KIWANDA
President Yoweri Museveni has said he is firmly behind the Makerere University administrations' efforts to restore discipline to one of Uganda's Highest and greatest institution of learning.

"Nawangwe is an Engineer, a professor of Technology and wants to restore discipline to this institution. People want to continue with buyayesism. Imagine a professor who stripes naked and is cheered on. Makerere is a centre of study not stupidity. I am firmly behind him," the President said.

The President was responding to questions about the conflict between Makerere University administration and academic staff from journalists who 'ambushed' him shortly after he launched the six phase of the Presidential Investors Roundtable at State House today.

The conflict between the University administration and its academic staff follows the suspension of various lecturers for misconduct, indiscipline and involvement in acts that breach the terms and conditions of their employment.

President Museveni was also asked about Minister Kiwanda's support of an initiative by a group of young people led by Ann Mungooma promoting 'Miss Curvy' campaign which has stirred controversies among women activists.

President Museveni said while promoting Ms Curvy is not a cabinet decision as insinuated by one of the journalists, his suspicion is that after Uganda embracing and appreciating Ms Quiin Abenakyo who won the Miss World Africa Contest in China and was later hosted by the President and by the Parliament of Uganda, the young people in their thinking must have said if beauty is a selling point for a country and the world, lets be creative.


"I suspect these young people were being creative. One of these young people Ann Mungooma is a sharp shooter. Her father was an officer in the army who represented Uganda in shooting, she is good. We should talk to them quietly. I suspect when Ms. World won the beauty contest, in their simple reasoning they started this and talked to Kiwanda. We shall advise them and understand where they are coming from. They may have thought if beauty is good, how about structure," he said.

The President cautioned that instead of so called activists who are full of themselves criticizing these young people, they should talk to them and handle them with sympathy.

"What is the boundary between beauty? If you can compete for beauty (Nalulungi), how about structure (Nabitege). I can't explain to my young people that Nalulungi is more beautiful than Nabitege. How do you say who is right? This whole idea started with appearance. If you appreciate one, why not the other?
"We should discuss if appearance is an issue. Maybe we made a mistake by appreciating Nalulungi. I was wondering…could I allow my grandchildren to participate..Noo! I had my private views but did not want to raise them when I hosted Abenakyo. I only commented on her wig. The question is should our children be involved in exploitative appearances," he said.

The President said the whole country encouraged Ms. World Africa Abenakyo to sell Uganda. "If we did that, were we right, only slim ones? Of course people should not come to look at our women. When we had AIDS, I came and shouted, 'avoid skirts and trousers', people said am discouraging tourism. I told them if the tourists come, they should stick to their terms of reference," he said.

On the president's comments at PIRT that his ministers and most Ugandans are sleeping instead of exploiting the vast economic potential that the country has, the President urged leaders and young people to associate with the right people and change their attitudes.

"They are not exploiting the opportunities available and this is an attitude problem which must change. I was speaking to a young investor from South Africa who deals in Wood. I told him in Sweden pine trees take over 70 years to mature. In Uganda, it takes between five to 15 years, he is exploiting that. There is laxity among our people which is curable if you associate with the right people," he said.

On the raising fuel prices, the President said he had not studied what the problem was, but suspected that fuel prices world wide had gone down, but are raising again. He, however, said he would study the issue and brief the country later.

On fears by the tourism sector that the upcoming election roadmap is may disrupt the flourishing tourism sector, President Yoweri Museveni assured the country that the elections will not in any way disrupt tourism.

"How can elections disrupt tourism, in any case if there are riots, we know how to handle them. Nobody will disturb Uganda.

On concerns that PIRT had great ideas that would drive government policies ahead but are hampered by lack of implementation, President Museveni said despite the Challenges, Uganda's economy has been growing between 6 - 7%.

"Despite the sleeping ministers and some Ugandans, the economy is growing, Kampala is growing and has expanded to Mukono and Entebbe. While some Ugandans are sleeping others are awake and are building their country. It's a question of Preaching. Its like religion, it has been here for 4000 years with only 10 commandments but they are still preaching."
"Some follow some don't. As long as the direction is clear, we shall progress. The World is more religious now than it was during the time of Moses and the ten commandments 4000 years ago and that of Jesus with 12 disciples 2000 years ago. If the Gospel or message is right, it will grow," he said.

On Whether Uganda will work with the new government in Kinshasa to bolster trade between the two countries. President Museveni said the problem with DR Congo is lack of security that affects both Congo and its neighbours.

'I have been in touch with former President Kabila and now President Felix Tshisekedi about solving the problem of ADF and interahamwe. Even with insecurity trade is going on. We shall solve this," he said.