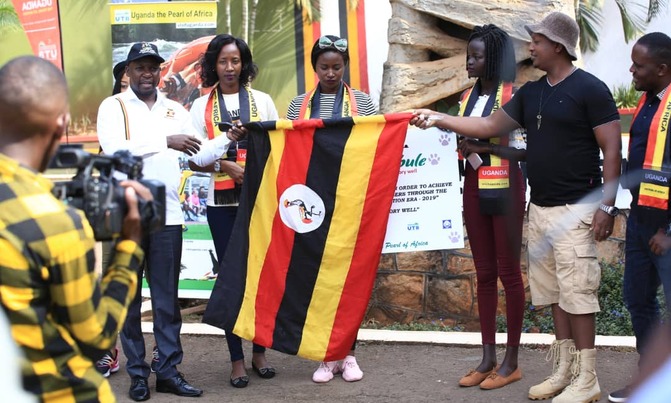 The minister on Tuesday announced the Miss Curvy beauty pageant to attract tourists.
WOMEN ACTIVISTS TOURISM
Women activists in the country have demanded the resignation of Godfrey Kiwanda as tourism minister.

Irked by what they dubbed as the objectification of women, the activists have also demanded a public apology from the minister.

Kiwanda, who was recently awarded as the most active minister, by born again faith leader Pastor Joseph Serwadda, for his tourism campaign dubbed 'Tulambule' (Let's tour), has been using women as the face of this new innovation. The notable ones include socialites Zari Hassan and Anita Kyarimpa Fabiola.
Anita Kyalimpa Fabiola on a journey to Kidepo on Tuesday. Photo by Solomon Muleyi
The minister earlier this week, launched a Miss Curvy beauty pageant, a product expected to promote Uganda's tourism.
While endorsing the campaign, Kiwanda said: "We have naturally endowed nice looking women that are amazing to look at. Why don't we use these people as a strategy to promote our tourism?"

However, critics have said this tourism campaign does not have the gender parity issue whereby popular male figures have not been picked, for example, Africa's best Football Goal Keeper Dennis Onyango.
Dennis Onyango

It is against this background that the women MPs under their umbrella Uganda Women Parliamentary Association (UWOPA) and activists under the Uganda Women's Network (UWONET) have started punching holes in a campaign that has resuscitated enthusiasm in the tourism sector.

"Will he (Kiwanda) put these curvy women in a cage, or a hall or display them strategically in national parks? We know that those who neighbour national parks are supposed to get some loyalties. How many royalties will go to the husbands and relatives of these curvy women? He should apologise and withdraw this campaign," said Winnie Kiiza, the Kasese district Woman MP.
Activists addressing the media in Kampala. Photos by Ivan Kabuye

Kiiza wondered why the minister did not bring men on board to 'display' their endowments for the tourism campaign.

"It is unfortunate that in this century, a man can think of using women as a tourist attraction when everybody knows that Uganda is naturally gifted by nature," she said.

Sylvia Rwabwogo, the woman MP Kabarole district, said the campaign in its current form will force women to use drugs to enhance their bodies.

Kaberamaido Woman MP Veronica Eragu said the curvy campaign was a cheap way of promoting tourism.
We are not sex objects
Ritah Aciro, the UWONET Executive Director, said the statement and action of the minister demonstrates the patriarchal beliefs that women are objects or commodities that can be bought and sold, which not only dehumanises but undignifies women.

"Women have tremendously contributed to the social-economic and political development of this country through their intellectual expertise. We are not sex objects and should not be referred to as such for any benefits," Aciro said.

"We, therefore, want the minister to apologise and voluntarily resign from his position because he surely does not understand his work," she said, calling upon tourism stakeholders to discuss further on what should be done to promote tourism in Uganda.

Background
Kiwanda is not the first legislator to make controversial statements against women.

In September 2013, Ronald Kibuule, the then youth affairs minister while attending the launch of Kajara Youth Development Cooperative and Savings Society, said the police must scrutinise each rape case reported to them to establish the dress code of the victim.
Kibuule
Kibuule said that once it is established that the victim was indecently dressed, the suspect should be set free, adding that indecent dressing was "an open invite to rapists".

In March last year, Bugangaizi East MP Onesmus Twinamatsiko said men need to 'beat' their wives in order to 'streamline' them. His controversial comments were in response to claims from President Yoweri Museveni who said that men who beat women are "cowards" and should be brought to justice under the law.
Twinamatsiko
Twinamatsiko's remarks, however, caused outrage from women's rights groups and religious leaders who demanded that he makes a public apology.