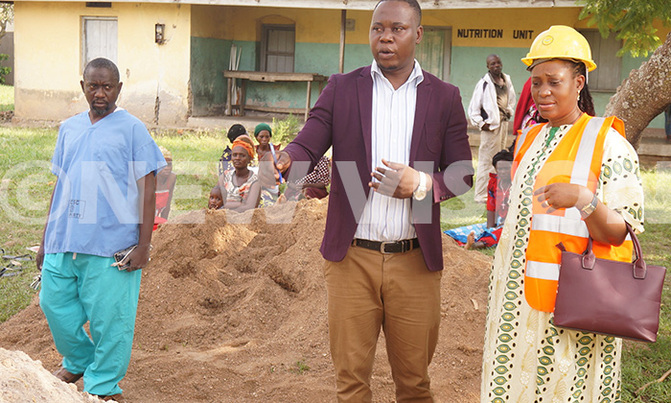 Dr. Yasin Kiyemba, the medical superintendent, said after expansion, the number of operations will increase hence minimising referral cases.
HEALTH

RAKAI- Following a significant rise in number of patients in need of operation, Rakai hospital has embarked on expansion and refurbishment of its theatre to handle more operations and minimise referrals.

The Hospital Administrator Patrick Ssekidde, said the sh50m project is being funded by Operation International (OI), a mission by medical volunteers offering free services.

The funding came through Kooki Chiefdom's Bwowe Children Foundation. He explained that theatre's old design would not allow speedy operations.

"The corridors were very small and would limit movement of both patients and medical staff. Now we are expanding them," he said.

In addition, the small stores inside the theater are to be removed and built outside the theater to create more space in the theatre.

Once completed, Ssekidde said they will install an air conditioning system in the six operation rooms for the convenience of patients and medical staff.

"The new design was proposed by Dr. Medhat Allam, the Operation International managing director, and was later approved by the hospital administration," he noted.

Currently, as part of the project, a modernized well is being drilled as a backup plan during a water crisis.

Dr. Yasin Kiyemba, the medical superintendent, said after expansion, the number of operations will increase hence minimising referral cases.

On average, Kiyemba said they refer five patients every week and about 80 referrals per quarter.

He added that the theatre will be equipped with a laundry machine and sterilizer to enhance hygiene before and after operation.

With the presence of modern equipment and training from a team of specialists under OI, Kiyemba noted that they can now handle common operations and surgeries except for orthopedic and Neural cases.

"Our people will no longer be referred to other hospitals except for difficult cases that need more advanced equipment and specialists to handle," he noted.

He added that the hospital would on many occasions be overwhelmed with complicated cases received from various lower heath units. "And due to lack of enough space, we would refer them elsewhere, which is costly to most of the"

Project Engineer

Rock Art Designers Ltd was contracted to do the expansion and modification. George Ssentongo, the site engineer said the process began on January 16 and will conclude in March 16 this year.

He further said the process follows the funder's approved plan. He added that the expansion of both minor and major theatres will enable the medical team to do more advanced surgeries and operations.

"We are going to add a staff room inside the theatre since it's on plan. Our role is to ensure quality standards as per the funder's design and Bwowe Children Foundation, which contracted us," he said.

Omugo Tours project

Kooki's queen (Omugo) Rebecca Tulituuka led a delegation of officials that recently toured the project.

She received digital and hard-copy plans of the expansion process and shared ideas on how to improve it.

"Thank you for the work. I can see progress, hope the process will be completed in the scheduled period of time," she said.

Hospital equipment

Last year, Operation International donated medical equipment worth sh8b.

They included an ultra-sound machine, operating room table, anesthesia monitor, EKG machine, patients' monitor, autoclave machine, suction machine and wheel chairs, among others non-medical items.

Some equipment were delivered while others, including an x-ray machine, are still pending.

Apollo Ssansa Kabumbuli II, the Kooki chiefdom's head, lobbied for the equipment through Bwowe Children's foundation.

The hospital has not had an X-ray machine for the last 20 years when the one they had broke down. The x-ray room is being used as a store for different items.

Currently, patients with internal complications, fractures or bone dislocation travel about 12km to Kalisizo hospital or over 40km to Masaka regional referral hospital and other private units for the services.

At a private unit, the services range between sh20,000 and sh25,000 at a private unit.

Dr. Kiyemba, said x-ray reports done outside the hospital are usually misleading and cannot be relied on for any medical recommendation.