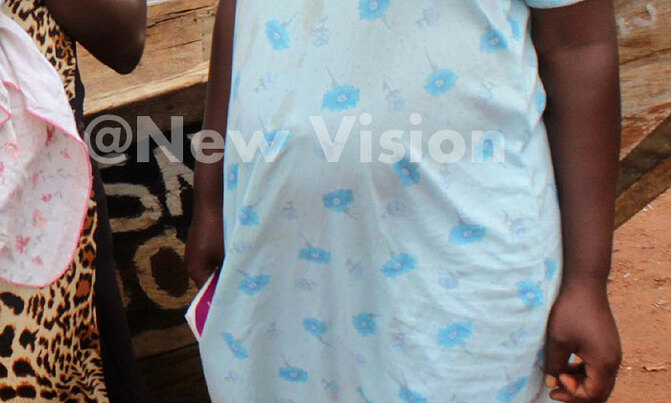 One couple in eastern Uganda did not have the money to travel to the district hospital. So they looked at a more convenient option: a traditional birth attendant.
(Photo credit: Elvis Basudde)

HEALTH FEATURE

When 35-year-old Prossy Nabbosa left home with her husband one Sunday evening in February last year, she had no idea she was about to take one of the darkest journeys of her life. After all, she had done this several times before.

The couple from Butembe landing site in Buikwe district in eastern Uganda did not have the money to travel to the district hospital, 60 kilometers away, to deliver Nabbosa's third child. So, as in her previous deliveries, Nabbosa enlisted the help of a traditional birth attendant (TBA).

During the birth, she started experiencing complications.

She had twins but she did not know. The TBA told her that the baby was "standing" in the stomach, a sign that she had been "bewitched".

Normally, inside the womb, the baby is head down, with their face facing the mother's back. The unborn baby's chin is tucked into their chest and their head is ready to enter the pelvis. But for Nabbosa's case, she started bleeding a lot and the baby could not come out regardless of how hard she pushed.

The TBA had performed an episiotomy on her. Meaning, she had made a surgical cut at the opening of Nabbosa's vagina to aid the difficult delivery and prevent rupture of tissues.

But Nabbosa still failed to get her baby out.

The TBA kept giving her herbs throughout the night. When the situation worsened, a Good Samaritan rushed the exhausted Nabbosa to Nyenga Hospital, a district health facility, but it was too late. She bled a lot and died. The doctor revealed that she had twins and needed surgery.

Elsewhere, 41-year-old Moses Busulwa took his pregnant wife, Josephine Namutebi to a TBA in 2016. It would be a decision he would vow never to consider again - ever.

The TBA - traditional birth attendant - used to a kitchen knife to perform a caesarean section, which in the process, cut through Namutebi's uterus and sliced open her bladder.

A panicked Busulwa hastily rushed Namutebi to hospital on a motorcycle, where she underwent reconstructive surgery. She was lucky to survive, but more than three months later, Namutebi was still receiving treatment in the hospital's maternity ward.

Nabbosa and Namutebi's experiences represent those of several pregnant women, especially in rural areas, who still seek the services of TBAs. According to Dr. Julius Paul Muzale, this option exposes them to a high risk of neonatal death.


"A lack of skilled staff at a health facility, little obstetric equipment and poor treatment put expectant women in danger if complications arise. TBAs lack proper equipment and are not prepared to handle delivery complications. They rely on traditional techniques," he says.

He urges expectant mothers to shun TBAs, saying they risk losing their lives if they continue delivering with them. Instead he encourages pregnant women to seek maternal health care services from health facilities.

"Most TBAs do not have gloves and they wear polythene bags. They do not have razor blades and so use the sharp edge of sorghum stems to cut the umbilical cord. And to stop bleeding, some get women to drink millet flour stirred into water," explains Muzale.

"They splash cold water onto the vagina as a technique to free a retained placenta, and use a stick to cause the new mother to gag and clench her abdomen. This is both unhygienic and dangerous."

Muzale was rolling out a programme dubbed 'Maama na Mwana' (Mother and Child), whose goal is to reduce maternal child mobility and mortality, courtesy of St. John Ambulance, Kampala in collaboration with Christ The King Medical Centre, Kitigoma in Njeru Municipality.


The two-day clinical outreach held at Busaana landing site in Tongolo parish of Nyenga division and Butembe landing site in Namabo parish both in Buikwe district benefited 710 people.

Attendants got services on antenatal care, post-natal care, family planning, HIV counseling and testing, malaria screening and testing, child growth monitoring and outpatient treatment.

Annet Nampiima, a nurse at Christ The King Medical Centre, said maternal mortality remains a public health challenge worldwide, with Uganda having one of the highest levels (338 per 100,000 live births), and Buikwe district has one of the highest maternal death ratios at 540.

One of the salient challenges in this district, particularly at the landing sites, is the terrain of the area, which makes the pregnant women to delay to reach the health facilities. For example, the roads are impassable, some people have to climb hills and others have to go on water.

"The health facilities in this area stop at health center II, which cannot manage deliveries. There are also many TBAs, which has attracted many young women to deliver in their hands yet they (TBAs) don't have the expertise to handle abstract emergencies and to manage severe bleeding if it occurred," said Nampiima.


One mother of a two-year old baby agrees with Nampiima, saying the journey to health facilities is long and and many families are unable to pay for the transport costs or the cost of treatment.

"We lack money for transport plus money to pay for the hospital bills. Those who manage to go to Jinja Hospital or Nyenga find long lines at the delivery facilities. You can die right there waiting in the queue. For that reason, many of us end up delivering at the traditional birth attendants," she said.

Thirty-three-year-old Naigaga Sumayi from Busaana, who is seven months pregnant, said she had come for the outreach to be reviewed to see how her pregnancy was faring. She expects to deliver next month. Nurses checked her pregnancy and it is progressing well.

Sumayi said the important message she got here was to not deliver at the traditional birth attendants in her village, but instead to seek the safer option of a health facility.

Peace Mirembe from Tongolo, a mother of four, came for treatment after learning that St. John Ambulance had set up a clinic outreach in the area. She said she felt better after being treated, and revealed that she has never given birth at a TBA.

Muzale, who is also the programme co-ordinator of the outreach, says all districts bordering Lake Victoria, especially Buikwe, have unique health challenges. One main one is having hard-to-reach areas, which bar women from going to health facilities.

Nonetheless, he stresses that it is important that mothers are encouraged to attend antenatal services when they are pregnant, deliver from health facilities under skilled supervision and go for postnatal services. With this, a number of mishaps can be avoided, he said.

'Maama na Mwana' is being implemented in five countries: Uganda, Kenya, Zambia, Zimbabwe and Malawi.