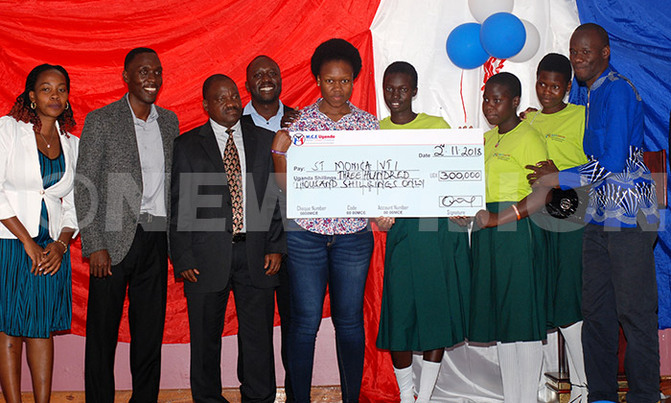 The co-founder of M.C.E, Solomon Kayiwa Mugambe has said that less than 12% of youth complete secondary school country wide yet they need to have a living.
YOUTH|UNEMPLOYMENT

KAMPALA - The senior education officer in Ministry of Education, Samuel Bagombeka has asked youth to get employment opportunities from the problems and demands that are in their communities.

He said according to National Planning Authority (NPA) statistics released in March 2017, 610,000 youth are unemployed yet 700,000 youth join the job market every year but only 90,000 jobs are available in the market, which means that 87% of youth are ready to work but can't find a job.

"If the youth use the problems and demands in their communities to create their own jobs, the problem of unemployment among youth will be reduced. Youth do not need a lot of qualifications to make a difference in their lives but if they have a skill, it's the best tool to make a difference," Bagombea said.

He was speaking at the youth award giving ceremony for the best youth groups that have used their skill in creating their own jobs organised by Mentor Coach Empower Uganda (M.C.E) last weekend at Uganda National Industrial Research Institute (UNRI) in Kampala.

The co-founder of M.C.E, Solomon Kayiwa Mugambe has said that less than 12% of youth complete secondary school country wide yet they need to have a living.

He added that most youth who drop out of schools tend to enroll into formal or non-formal vocational training with a belief that they can easily create their own jobs.

''Unfortunately, this is a false promise given the lack of practical entrepreneurship and workplace readiness experience in the national curriculum.

To this therefore, M.C.E empowers youth in exploring their potential to get skills and build confidence within them to start their own jobs," Kayiwa said.

The Executive Director of M.C.E Uganda, James Katumba said that the organisation that started 2014 has so far trained over 4,000 youth in entrepreneurship skills which helped them create their own jobs in different fields and is targeting 100,000 youth by the year 2028.

Officiating at the function, the MP for youth Ann Adeke Ebaju, said most youth receive money from the fund before monitoring and evaluating projects that they are going to do, that's why most projects fail.

She advised the youth to monitor and evaluate the projects they want to start before applying for funds so that they can benefit in them.

Monica Girls Vocational institute scooped the first prize which was worth sh300,000. It was given to them to invest more in their project.

What some of the beneficiaries of M.C.E say

Martha Nakanjako, one of the beneficiaries of M.C.E says that after her S.4 in 2012, she enrolled for a two year certificate in early childhood development at Mirembe Community College, Busiika, which she completed in 2014.

She immediately got a job at Wilton Preparatory School, Mukono, at the beginning of 2015. She said that around February 2017, M.C.E Uganda came to Nama sub-county where Nakanjako lives. It introduced its programme to the community through the local council of the area to prepare youth that drop out of school for productive community life by equipping them with marketable skills to start enterprises or find employment and thrive in the employment market. Under this programme, I learnt how to sew sweaters, a side business I am doing on top of my teaching profession.

Joseph Kiyemba, another beneficiary of M.C.E Uganda says that in 2014 he enrolled at Lugogo Vocational Training Institute in Kampala for a certificate in radio and television servicing and during that time M.C.E introduced their programmes to the institute in the form of a course.

Being optional, Kiyemba decided to join it where they were trained in book keeping, investments, starting a business with limited finances and growing a business.

He now owns a workshop that offers radio and TV repair services and where the MCE course is helping him to run his business smoothly.

Joseph Ntambala is also a beneficiary of the MCE programme
Ntambala, 23, had to drop out of school after her provider could no longer help him. So he decided to break out of his comfort zone. Down the road, thanks to determination, he set up a soap-making business after a year-long training. His is a topsy-turvy affair. He shares his story.

One day in March 2015, while in a pensive mood at home, I heard information off a public address system mounted on a car moving around our village. M.C.E Uganda was calling on youths to attend trainings that would give them entrepreneurship skills to enable them become self-employed.

The social enterprise empowers young people to thrive and drive economic development by equipping them with the skills and opportunities to stay in school, find and keep a job, start and grow a business or get involved in their communities. I registered for the trainings and one month later, I received a call. I was among the selected youths to attend the one-year training in entrepreneurship skills at Nama Wellness Community Centre.

Part of our year-long training included financial literacy, starting a business with a small amount of money and making chalk and liquid soap. I grasped the soap making technique in only two weeks, which motivated me to start my own business. But I did not have money for that.

Currently, I supply seven schools with 10 20-litre jerrycans of liquid soap every term in addition to other occasional orders. I also supply to individuals. I also supply two cartons of chalk to two schools.