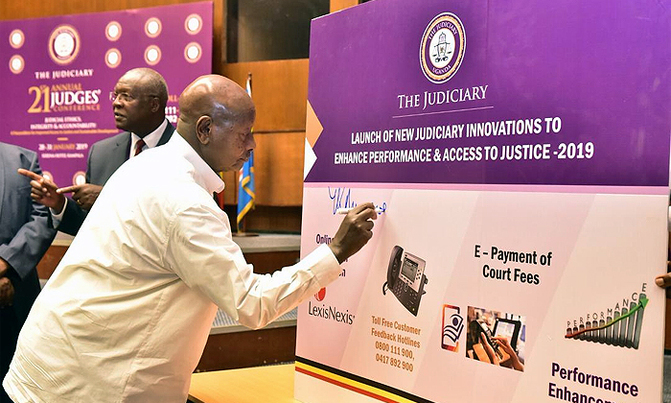 "Don't enter the trap of too many human beings before you are ready," President Yoweri Museveni cautions the judiciary.
21ST ANNUAL JUDGES' CONFERENCE


KAMPALA - President Yoweri Museveni has emphasised that while he supports the idea of enhancing salaries of judicial officers, it should be done alongside the improvement of the economy.

Against a backdrop of a historical discourse on the rise of states in the Ugandan context, Museveni said instead of insisting on more numbers in the judicial sector, he would rather "we remunerate better the ones we have - and then see how to deal with other shortages".

"Don't enter the trap of too many human beings before you are ready," he cautioned.

The President was presiding over the 21st Annual Judges' Conference in Kampala on Monday, during which he launched the new judiciary innovations aimed at improving the performance and access to justice.

A toll-free feedback line, e-payment platform for court fees, and PET - a performance management tool - are ingredients of the judiciary's quest to improve operations within the sector.

In his delivery, Museveni rallied support for his idea of a unified salaries board, which would evaluate service delivered and therefore reward work according to need.


'Other institutions are understaffed too'



Museveni underlined that other sectors beyond the judiciary too are short of staff, yet if his government concentrates on staffing, other critical areas would have to be abandoned.

"You cannot convict me that I only pay salaries and leave roads, electricity and other services. That I cannot agree because it is suicide."

What the President urged is to prioritise within the sector by improving the salaries of the available staff. "If we don't prioritise within the sector, we are going to fail," he said.

After scientists, he acknowledged that judicial officers rank second at the top of the priority list because they mediate between conflicting groups yet they do not have the luxury to moonlight - that is, have a second job to complement their regular employment.

"On that one, I am always with you," he said.



On land issues, admitting that "we were getting into a crisis state", Museveni said he was glad Chief Justice Bart Katureebe, who had spoken earlier, had taken a "tough stance" on judicial officers.

He also backed the electronic equipment for the judiciary and the paying of court fines through the bank account instead of by cash.

On his part, Katureebe said mobile courts are in the judiciary's pipeline. These will handle cases in especially hard-to-reach areas.

The plan is to have courts convene within the vicinity of the dispute.

"We believe that taking courts to the people will facilitate timely settling of disputes and restore public trust and eliminate cases of illegal evictions," said the Chief Justice.