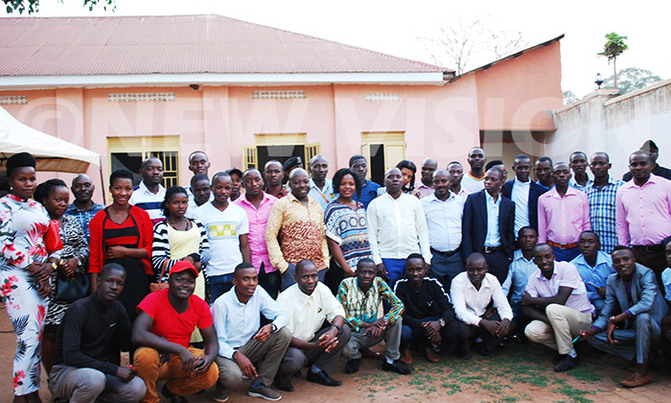 We do not want you to disseminate wrong information to the public about oil and gas activities
MEDIA

KAKUMIRO - East African Crude Oil Pipe line Company (EACOP) in Conjunction with Total- Exploration and Production (E&P) has commenced its activities with mobilising journalists from pipe line routes in Albertine region.

Speaking at the launch of the Constitution and Annual get together Party of Bunyoro South Journalist Association (BUSOJA) at Classic Hotel in Kakumiro district on Friday, Chris Ochowun, the Public relations officer Total-E&P-Uganda, said East African Crude Oil pipe line Company has commenced with the mobilization of journalist located in pipe line routes in a bid to disseminate authentic and factual information to the public about exploration and production of crude oil & gas.

"We want journalists from the oil and gas pipe line routes to be well conversant with our activities and cover the events objectively and factually. We do not want you to disseminate wrong information to the public about oil and gas activities,'' he said.

Ochowun, disclosed that the ongoing Hoima-Tanga Oil and gas Pipe line survey indicate that the route will cover nine districts in Uganda, which include, Hoima, Kakumiro, Kyankwanzi, Mubende, Gomba, Kyotera, Lwengo, Sembabule, Rakai across Tanga in Tanzania.

He added that it will cover about 1445km long and 24 inch diameter with six pumping stations and crude bulk heaters, power generators, two pressure reduction stations, 53 block value stations, and 23 heating stations.

He said the Oil pipe line from Kabaale-Buseruka in Hoima district, will end in the Indian ocean Port of Tanga in Tanzania, where oil will be shipped to internal market.

Stella Amony, the communications officer Total-E&P-Uganda, told journalists that their colleagues in Nebbi and Hoima districts have already formed media association for collective and team work spirit in covering events on Oil and gas exploration and production.

"I applaud the leadership of Bunyoro south Journalist Association for coming up with the initiative of organising journalists from Kagadi, Kibaale and Kakumiro and enacting the constitution that will guide reporters as well as reminding them of their professional ethics,'' she said.

She told journalist that in addition to Oil and gas exploration and production in Albertine graben, Uganda also prepares for petro-chemical industry, which will produce polymer, the raw material for plastics and that at least 60,000 barrels will be produced a day in addition to estimated 150,000 metric tonnes of polymeters to be generated annually in accordance to Uganda National Oil company.

Amony disclosed that oil refinery and oil related factories are to be built in 29.57sqkm industrial park in Kabaale oil refinery center-Buseruka sub-county, Hoima district.

Ismael Kasooha, the Bunyoro south Journalist Association president said the objectives and aims of forming the association was to enable journalist in greater Kibaale to come up with one voice and encourage teamwork spirit, empower journalists economically and abide by the media ethics.

"We want journalists in greater Kibaale to not only cover development events for other people but also empower themselves economically and benefit from government programmes like youth livelihood funds, Uganda Women entrepreneurship programme and operation wealth creation,'' he said.

Eric Musana Acaali, the Buyaga East MP who donated sh1m to run the association activities encouraged journalists to form savings and credit cooperative societies in order to improve on their livelihood.

He implored the members for their commitment towards the transformation of the societies and asked them to report factually and objectively.

Joseph Sentahi, the Kakumiro District Chairman who also supported the association with sh200,000 asked journalist to exhibit high level of professionalism and media ethics and use the opportunity of the oil and gas exploration and production to improve on their welfare.

"It is good that the oil and gas pipe line will pass in greater Kibaale, particularly Kakumiro but ask yourself, how will you benefit from the wealth opportunity?" he asked.

Sentahi, thanked Total E & P -Uganda officials for sponsoring Journalists in Bunyoro in the formation of their association.

Some of the media associations formed to stir activities of East African Crude Oil pipe line- Exploration & Production in Albertine region include, Nebbi Media Association, Hoima Media Association and Bunyoro south Journalist Association.

It should be noted that there are other companies running oil and gas exploration and production in the Albertine graben notably King fisher operated by China National off shore Oil Corporation(CNOOC) located in Kyangwali sub-county -Hoima district on southern shores of Lake Albert, which are likely to produce between 35000-40,000 barrels of Oil per day.

Tullow Oil and Total E&P companies are also in operation in the Albertine graben stationed in Bulisa district for the same mission.