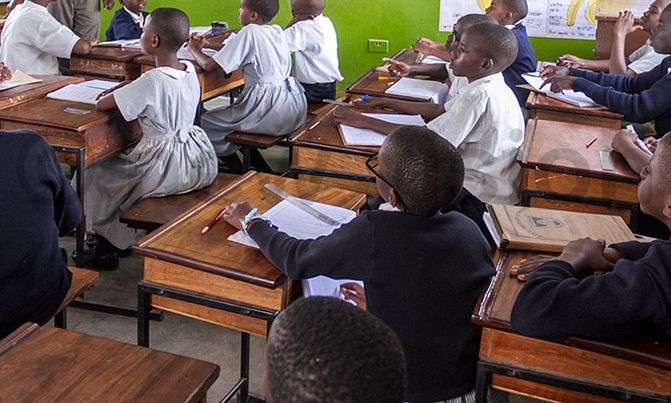 Over 17,345 pupils have been enrolled in the private schools that are set to be closed
A total of 201 unlicensed private schools in Iganga district that have been operating illegally will not be able to re-open for the first term this year.
The private schools spread across the 10 sub-counties in Iganga district have been operating without authorisation from the district and education ministry, lack qualified teaching staff, toilet facilities, sports fields, text books and also operate in noisy rental premises.
The Iganga district education officer, Baker Kasadakawo, said proprietors of the private schools had earlier been notified about the need to improve on their services in vain.
Kasadakawo said the unlicensed private schools have contributed to the declining academic performance especially in the Primary Leaving Examinations (PLE) in the district.
"They keep on registering students who are academically weak, contributing to the failure rate in the district" Kasadakawo said.
He urged parents to always ensure they enrol their children in schools that are fully registered with the education ministry to ensure they are safe.
Over 17,345 pupils have been enrolled in the private schools that are set to be closed and have a teaching staff of 2459, majority of who are unqualified.
Kasadakawo said operations will be conducted throughout the entire district to arrest any school proprietors who will be found violating the directive not to re-open the schools after being notified.
"I am being informed that some schools that are meant not re-open have quietly started doing business despite being cautioned" he said.
Iganga district registered 1195 failures in last year's Primary Leaving Examinations. Majority of the failures were recorded in privately owned primary schools across the district while government schools performed well this time around.
The Iganga LC5 chairman, Patrick Kayemba , said the move to close the unlicensed private schools is aimed at improving the academic performance in the district.
"Some politicians might take advantage of this to talk ill of me yet it is for the benefit of all of us" he said
Kayemba said some teachers in most privately owned primary schools end up engaging in criminal acts.
The Iganga resident district commissioner, Eva Kwesiga, said no closed school will be able to re-open unless all requirements are met.
The Iganga secretary of education, Yakuti Kalange, attributed the slight improvement in performance in last year's PLE on regular inspectionof schools by education officials besides blocking weak candidates from registering to sit for examinations.
However, some of the proprietors of privately owned schools have accused district officials of blackmailing their schools for selfish interests.
The director of Hope Nursery and Primary School located in Nampirka village, Nakalama sub-county, Juma Barasa, said he recently acquired three acres of land and constructed a multimillion seven class room block but was surprised to be informed that the school will not re-open for the next term.
"Being a politician, I know there are some people who want to tarnish my image by closing down the school" he said.
Barasa said 12 pupils sat for PLE last year at the school and all passed in division two. He said he believes this is a success because the school has been in existence for only three years.
"For only this short time, I have managed to register such a tremendous achievement and they are closing me down," he said.
Some school proprietors who spoke on condition of anonymity, threatened to drag Iganga district local government to court for shutting down their schools when they have all the necessary requirements to operate.